What does your dream home look like?
One simple question. Yet it floods your mind with ideas.
For many, they see a modern home design with clean lines, natural materials, and neutral color palettes that make you enter and say: ahhh. It takes advantage of natural light, letting it stream in and wash over the room nicely. It's all about an open concept with as few walls as possible, letting furniture lead the way to each space.
Are you starting to see your dream home come alive? If you're in the planning stages of a home remodel, taking modern home design as your queue, the best to start is by considering your flooring options. It's what gives you structure to build and plan the rest of your home.
What is modern style? 
When you start doing your research on style, it's easy to get confused. Modern, contemporary, mid-century – what's the difference?
Modern style refers to a designated time period. It began early in the 20th century, influencing modern design and architecture for decades. The original style was influential around the turn of the century as we moved into the industrialization period. Mid-century changed looks and patterns, referring to the 40s to 60s. Contemporary refers to modern day. It doesn't refer to any specific era because it's constantly evolving, always changing.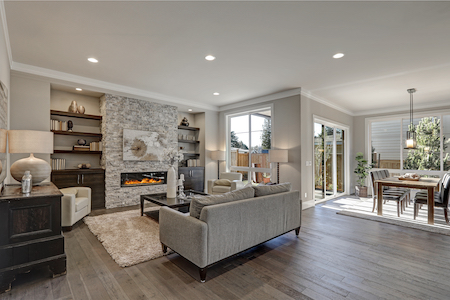 Modern home style is built around a specific era. It includes Art Deco, modernism, and minimalism. Contemporary is influenced by everything around us. It may take a few modern elements, and sprinkle them with today's lifestyle. Contemporary doesn't mind adding copper or chrome, adding stainless steel, and mixing natural furnishings with a pop of color.
Do today's homeowners mix a little of both into something they truly love? Of course.
What many homeowners prefer is to start with flooring options, use a modern approach, then mix and match their furnishings to create a look they love.
3 modern flooring options you'll love
Ask a designer what flooring options encompass a modern design, and you'll likely hear three types: hardwood, tile, and carpet.
Hardwood
Hardwood is often the flooring of choice because of its natural aesthetics and earthy color palette. When you shop for hardwood, you'll find an array of options all built around what modern style calls for. You can mix hardwood flooring with virtually any furnishings you choose and create a home and a lifestyle that works well in all circumstances.
Modern hardwood doesn't mean standard shades. What gives it a modern appearance is its sleek lines and classic good looks. Want to go light – try whitewash. Prefer dark – how about mahogany? How you define your modern style home is entirely up to you. Still, one of the most common hardwood looks is a light, natural wood floor, from light oak to a warm honey wood, where you can see the natural grain that shows off its classic good looks.
While we say hardwood here, a lot has changed in the flooring industry. Do you love hardwood's classic looks, but know it will never work with your lifestyle? There are still many options for you to choose from that wear differently from traditional hardwood.
Engineered hardwood adds strength and durability by using a hardwood veneer on top of a durable core.
Laminate provides an economical option that gives you the look and feel of traditional hardwood at a budget-friendly price.
Luxury vinyl planks mimic traditional hardwood in a believable way, yet offer waterproof qualities that make sense for some homeowners.
How about porcelain tile planks designed to mimic hardwood, yet give the functionality of stone? It's growing in popularity for those who want indoor/outdoor living. It works well with radiant heating too.
Tile
Because modern style incorporates natural materials into its aesthetics, tile tops the list for many modern home designs. Tile creates clean, beautiful lines that work well in any situation.
https://pro-flooring.com/using-the-perfect-tile-for-every-room-in-your-home/
What's more, you'll find an almost unlimited supply of tile options. Have something specific in mind? You can create it with tile.
Natural stone is a good place to start. You'll find natural stone tile flooring is simple and minimalist, leaving an open color palette for the rest of your decor.
While most choose to go with a smooth tile look, you'll be able to choose from many types, including slate, marble, limestone, travertine, granite, and sandstone. Each has its own characteristics and durability features – shop around to find the best solution to suit your needs.
If you're thinking of small, square tiles, you'll be surprised at what's available. Today's manufacturers offer a world of options for you to choose from. How about tile planks that resemble hardwood? It gives you the look of traditional hardwood with the effortless maintenance of tile.
Or maybe you're ready to go big and bold. Large format tiles offer more tile, less grout. With thin grout lines between large tiles, it gives a seamless look that emphasizes natural beauty.
Carpet
Before you settle on one of the previous two choices, don't forget about carpet as you finalize your selection. Carpet is still one of the most popular flooring choices because of its looks, comfort, and warmth.
To stick with modern floor design, think of natural materials, simple color palettes, and low pile.
In modern design, you'll find low-pile carpet that creates seamless transitions from room to room.
Stick with natural colors – earth-toned carpet that's beige, gray, or brown. It provides a neutral baseline for which you can liven up the room with your furnishings and decor.
If you choose to stick with hardwood and tile, area rugs can soften up the look, and provide warmth to a room. Modern area rugs move towards natural materials such as wool or jute. Leave the color in other decor – stick with natural beiges or grays, with light patterns and textures that help take the stress away.
What's the right modern style flooring option for you?
With so many choices to consider, sticking close to your style is your first step. Think clean. Think minimalist. Think natural and beautiful.
What's the right flooring option for you? Only you can decide. No matter which you choose, you'll love the look.