With spring around the corner, you are probably thinking about the home improvement projects you want to complete around the house. Take a look at three reasons to replace the carpet in your home below.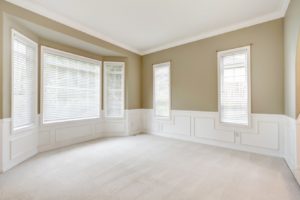 Stains
Whether you have pets or children, your carpet is bound to have different types of stains from over the years that you are unable to remove. When you are ready for new carpet, you can turn to our friendly team to help you decide which style is right for your home.
New Home
If you recently purchased a new home, you might want to replace the carpet before moving all of your furniture into the house. Many people often have the carpet replaced before moving in because it is less stressful to have done because there is no furniture in the house that you have to worry about moving.
Trends
Following trends is always a creative way to keep your home up-to-date. When you are seeking the latest trends when it comes to carpet, you can rely on our staff to show you options you will fall in love with for your home.
Reach out to the team at PRO! Flooring Brokers by calling (303) 788-0113 when you need carpet replacement in Colorado.