Nothing beats the look of hardwood floors. Still, there may be times when the thought of installing hardwood flooring into your home leaves you more than unsure. Do you really want to worry about how your dog's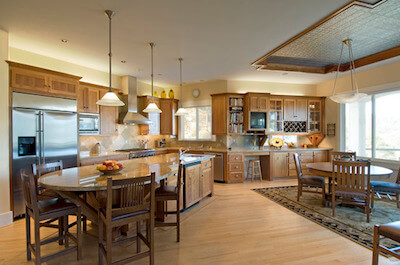 claws will dig into the wood? Or how a dropped toy from your toddler's hands will dent the texture forever?
While hardwood flooring is a beautiful addition to any home, it's not the perfect choice for every family.
Advances in the flooring industry, however, can give you the look of hardwoods with a more durable product. Why not choose a wood look tile instead?
Wood look tile has many benefits over its hardwood plank counterpart.
1. Durability
Wood flooring is difficult to maintain, especially in high traffic areas. It scratches, dents, warps, cracks and chips from regular day to day use. It needs to be cleaned regularly and refinished and resealed every few years, depending on your traffic level.
Wood look tiles give you the look of hardwood and the durability of tile. It's easy to maintain and easy to clean. You won't have to worry about a dropped plate or your dog's nails doing damage. And if damage does occur, it's easy to replace a single tile without having to rip up the entire floor.
2. Install it anywhere
Love the look of wood but debating how well it will perform in the bathroom or kitchen? Wood can be a difficult product in high humidity and high moisture areas. But with wood look tile, you can install them anywhere and have them be a beautiful addition to your home's aesthetic value. And with so many colors and choices available, you can match any pattern or theme you desire for your home's décor.
3. Customization
Because tile comes in a wide variety of colors and patterns, customization is easy to do with any flooring in your home. Use wider planks, different colors, and vary the pattern. With tile, you never have to worry about warping that comes easier with wider plans, tile will help you maintain uniformity no matter how you incorporate it into your final design.
4. Comfort and warmth
Always wanted a heated floor in your bathroom? With radiant heating under your tiles, you can have the cozy flooring you've always dreamed about. Not only will the look be modern and stylish, but you'll enjoy having a comfortable place to get ready in the morning with just a flip of the switch.
5. Cost
What holds many back from installing hardwood flooring? Cost. Wood floors can be expensive depending on the type of wood you select. Add in installation and maintenance costs, and you can quickly leave your dreams of a hardwood floor behind.
Tile isn't as labor intensive as hardwood, and maintenance costs are less by comparison. Meaning tile is the perfect choice for budget-friendly families that want a unique look to every room in your home.
Have additional questions about wood look tile? Just ask..