When most people remodel their homes, flooring is the base of new design. Depending on where you're installing it, new flooring tops your list because it adds aesthetics to your space, and it's the one thing you hope not to be replacing shortly after. Done right, flooring can last for a decade or more, depending on what material you select.
Still, there's a lot to learn about any flooring choice you may be deciding on. Vinyl planks – what is your instant thought? Before we get into the details of what makes vinyl planks a good choice, it's a good idea to dive deeper into what vinyl planks are.
Vinyl as flooring
Like many products, vinyl didn't come around until the industrial age. Vinyl was discovered in the 1800s, but it wasn't until 1933 that vinyl flooring made its first debut. The concept was shelved until after the war, but once progress moved us forward into the 1950s and 60s, vinyl became a popular choice in a lot of settings.
Vinyl flooring was a popular choice because of its affordability and durability. The more popular it became, the more manufacturers increased styling and production, taking vinyl into all kinds of directions.
Vinyl planks debuted in the 1970s bringing wood grain and different colors to homeowners and businesses alike. It was the first way homeowners had to bring wood-look flooring into places not conducive to traditional wood. Basements, bathrooms, and kitchens have too many moisture and below-grade problems for traditional hardwood to be a good choice. Vinyl planks changed that, and gave homeowners a chance to have the flooring they loved anywhere in the home.
As technology moved forward, and manufacturers got better at what they did, a new level of vinyl planks entered the market in the 1980s. Over time, a new level of vinyl planks known as luxury vinyl planks, or LVP, was born.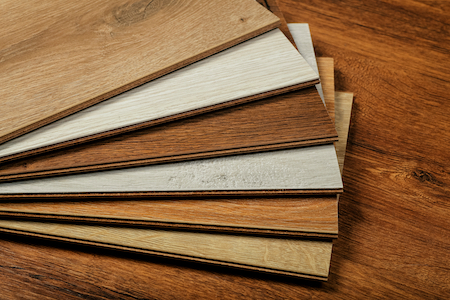 LVP utilizes the floating plank technology found in laminate flooring for ease of installation. They offer a wood-plastic composite (WPC) or stone plastic composite (SPC) core for strength and durability. Depending on the technology used, you'll find today's LVP is either water-resistant or waterproof, a characteristic more homeowners are falling in love with.
While hardwood can't hold up in high-moisture spaces like bathrooms or laundry rooms, or stand the test of time in below-grade living spaces like a basement, you won't have that problem with luxury vinyl planks. That makes LVP a great choice in modern homes where kids, pets, and busy families are always making messes.
Major Differences between standard vinyl and luxury vinyl planks
Standard vinyl is either sold in sheets or tiles, and is a flexible product that consists of a thin backing layer of felt or fiberglass, with a solid vinyl bonded to the front. This vinyl layer has a printed design and a protective coating to keep it functional and aesthetically pleasing. Most standard vinyl planks have a wear layer of 10 to 15 mil, which equates to 10/1000 to 15/1000 of an inch.
Luxury vinyl planks are a different product, matching the same characteristics as PVC. The wear layer ranges from 2 to 8 mm in thickness, or 8/100 to 3/10 on an inch thick. This thickness gives it a rigid nature which adds to its strength and durability.
It's also created with up to eight layers of material, which makes the wear layer thicker and able to withstand more pressure. That makes this new level of vinyl plank flooring last as long as 25 years with care and maintenance.
https://pro-flooring.com/how-long-does-vinyl-plank-flooring-last/
Shhh. It's a secret. 5 reasons we love luxury vinyl planks
If you do any Googling at all, you may already have an interest in luxury vinyl planks. We've talked about the benefits right here in this article.
Homeowners are falling in love with LVP for many reasons, but the top tend to be:
It's waterproof
It has a realistic look that is even fooling professionals
It's durable
It's economical
It's easy to maintain
We would highly recommend luxury vinyl planks for even one of the reasons above. Today's product is truly a great flooring choice.
But if you're still on the fence, we have five reasons that aren't quite as well known. Reasons we feel should be talked about more as you're settling in on making luxury vinyl planks your flooring of choice. Here are a few other things to keep in mind if you're considering luxury vinyl planks.
https://pro-flooring.com/7-questions-to-ask-before-buying-lvp-for-your-home/
1. LVP comes in different textures
Texture is what makes LVP even more realistic. But you may not realize there are different textures if you look at only one product, or study the internet looking at options.
LVP manufacturers work hard to create realistic textures. You'll find products have varying degrees of grain-like texture to add to the realness. These uneven marks can make it slightly more difficult to clean, but can also disguise dirt better.
2. LVP may require new baseboards too
What do you currently have on your floors? Carpet? Vinyl? Because LVP is a thicker, more rigid product, it often needs new baseboards during installation. That can add into the cost and time it takes for installation. But that will only make your room shine even more!
3. LVP color is key to maintenance
Most designers tell you to pick the color of your new flooring based on personality and taste. We think you should also base it on lifestyle. Have you ever paid attention to the dirt on your floor? Does your family have light hair or dark? How about your pets? What activities do you participate in regularly? What ends up on the floor more often than not? Dark spills on light floors will show. Light spills on dark floors will show. If you want dirt to blend in, choose the flooring that best suits your family's needs.
4. LVP comes in different plank patterns
A plank is not just a plank. Manufacturers realize that if every plank were the same, it would create uniformity throughout your room. They mirror hardwood and create different patterns when printing the final product. How many patterns are different based on the manufacturer. Higher numbers are better. This gives you an opportunity to mix and match the pattern throughout your floor without being repetitive enough to notice it.
5. LVP is best left to the professionals
LVP is often touted as a flooring easy enough for a DIYer to install. And while that's true, to ensure it's installed correctly the first time, we highly recommend having a professional install it. They do it for a living, and know all the little secrets that go along with installation.
If you want a flooring that will last and last, hiring it done is your best bet.
Are luxury vinyl planks the right flooring choice for you?