Hardwood floors are a thing of beauty. And here in Colorado, they've become the norm. 
When you purchased your current home, it's probably one of the first things you noticed as you walked through the front door. Hardwood creates the right amount of ambiance. It sets the stage for the way you decorate your home.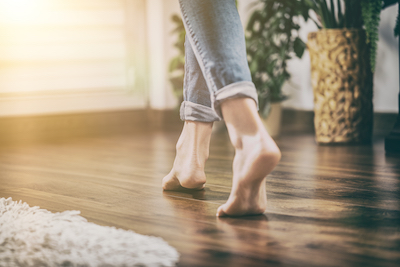 It doesn't matter if you go with traditional oak, you select an exotic cherry, or lighten things up with a modern whitewash, nothing compares to hardwood. 
That's also why you'll cringe when you find the first scratch, and feel the pain when you notice the first stain. You wish your hardwood floors would last forever. And in many cases, they can last for a very long time. But there are some things that will destroy your hardwood floors quickly, and cause repair and replacement bills to escalate. 
Sharp Objects
The quickest way to destroy your hardwood floors is with sharp objects. And it doesn't take you long to figure that out. One pull across the floor with a dining room chair will teach you that. One game of chase with your pet will clue you in. 
All of a sudden, your hardwood floor has a line across the planks, and your love for your flooring choice begins to wane. 
The best way to avoid this is to make conscious choices long before they become problems. 
Keep your pets' nails short and neatly trimmed
Be sure to put felt pads on the legs of chairs, sofas, and other furniture
Avoid wearing high heeled shoes
Leave shoes by the door to avoid tracking in dirt and small rocks
A little preventative maintenance goes a long way. 
Rugs
While you may love the look of hardwood flooring throughout your home, chances are you'll want to add a pop of color, or warm up the rooms you use most with decorative rugs. Whether you use small rugs for accents, or stretch them out to room-size – underneath a dining room table, for instance – to help protect your flooring, rugs are a great accent to every room. 
However, it's equally important to think about what's underneath the rug too. If you select a rubber-backed mat, or a rubber mesh pad, they can easily dull your floors finish. If left in place too long, they can cause discoloration that might not even go away if your restain. For full protection, be sure to use a combination of felt and rubber pad to keep your rugs in place. 
Sunshine
Colorado boasts well over 300 days of sunshine a year. And if your house accentuates the sun with big, beautiful windows, the heat can feel great especially on a cold, winter day. 
But as much as we love the sunshine as Coloradans, your hardwood floors do not. As the sun streams across your hardwood floors day after day, it can cause a change in the color of the wood. 
The best way to combat this is to be aware of how the sun flows into your home. Keep in mind it changes throughout the year. Keep blinds closed when the sun is the strongest. Be sure to limit exposure to limit discoloration and drying out of the wood's finish. 
Vacuuming
Today's vacuums are designed for every flooring you have throughout your home. With the touch of a button or a twist of a knob, you can adjust the brush's rotation to pick up dirt on carpet, and just as quickly change to clean up messes on your hardwood. 
Or so the manufacturers say. 
That rotating brush can be very abrasive to the finish of your hardwood floor. While you can use a vacuum, just be aware of what makes contact with the finish. Avoid using harsh rotating brushes with stiff bristles that beat against the floor. Look for hardwood attachments that use softer processes for picking up dirt and debris. 
While it is important to pick up dirt and dust particles quickly, if you use the wrong tools for the job, the cleanup can be worse than the mess. 
Mopping
Our natural reaction to cleaning up a mess is to use water and a cleaning solution to really get it clean. But your hardwood floors don't need it. Unless they get a lot of foot traffic, and your family brings in a lot of dirt and debris, vacuuming will keep them clean. Spot cleaning messes will take care of the floors just fine. 
Mopping can actually do more harm than good. Every time moisture comes in contact with hardwood, it runs the risk of seeping into the fibers of the wood. Water and hardwood don't mix; it can quickly dry out and even warp the finish. When in doubt, don't use water. 
Floor Cleaner
If you shop at the big box store looking for the perfect home cleaning solutions, you'll find a lot of products promising to be gentle on hardwood floors. Don't believe them. 
Floor cleaners have chemicals in their solutions. Even the ones that promise "natural" products or "gentle" solutions can be harsh and abrasive to your floor's finish. 
Just like you should avoid mopping and using water as much as possible, continue that avoidance on to using chemical solutions. We're happy to make recommendations for the perfect cleaner to use when things get a little messy around your home, and water just won't do. 
Steamers and Professional Cleaners
Have you ever received an ad in the mail, promising a sparkling shine if you use professional cleaning or steaming on your hardwood floors? We've seen the ads too. While they might be believable, as flooring specialists we know they simply aren't true. 
Steam and hardwood don't mix. Water and wood flooring causes problems.
Like water, steam adds humidity directly to the wood. The longer steam is applied, the more it can penetrate the fibers. And that means your wood floors can suffer anything from discoloration to warping of the planks and boards. 
When in doubt, don't to it. Simple is always better to keep your hardwoods looking new. 
Now that you know what not to do with hardwood flooring, we hope you're excited about the opportunity of adding this wonderful flooring choice to your home. Nothing says Colorado more than hardwood flooring. Nothing adds warmth and elegance more than wood planks. And no matter what color, pattern, or style you've been dreaming about, we have a solution for your home.