The coughing. The sneezing! It can leave you searching for relief.
And eventually, it can lead you to look at your home as a source. What can you do to make your home a little more friendly towards keeping you feeling your best? A little research may lead you to your flooring – it's a great place to start.
Hypoallergenic means a product contains few allergy-producing substances known as allergens. They have been proven not to trigger allergic reactions.
Combine it with flooring – hypoallergenic flooring – and you create a base that allows you to have a room you can live in all the while feeling your best.
Some flooring materials are better than others.
Getting to the root of the hypoallergenic movement
Before we start discussing hypoallergenic flooring choices, we thought we'd dive deep into understanding hypoallergenic a bit more, since it's a relatively new term. You might start noticing "hypoallergenic" on a wide variety of products – flooring, cosmetics, even the paints you use on your walls.
After a series of court cases, the U.S. Court of Appeals for the District of Columbia ruled that FDA's regulation defining "hypoallergenic" was invalid. This means there is now no regulation specifically defining or governing the use of the term "hypoallergenic" or similar claims. And because of the lengthy procedural steps required to establish a new regulation, that is likely to be the situation for some time to come.
Every individual has varying degrees of sensitivity to allergy-causing products and chemicals. It's up to you to decide what's right for your situation.
Still, doing your research can help you discover the best materials on the market today, and use that to make decisions that can impact your health.
What is hypoallergenic flooring?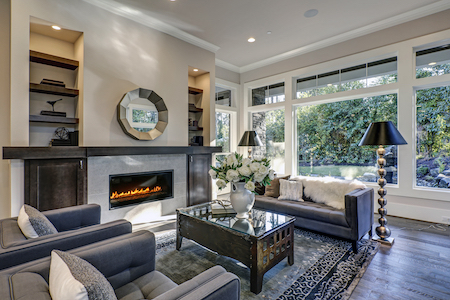 While there might not be clearly defined rules on what hypoallergenic flooring is, you can still look to manufacturer's guidelines to help you find the best fit to suit your needs. Because the top lines are working hard to create carefully crafted products, they often work with other organizations to create the best products possible.
Hypoallergenic flooring of any kind will resist moisture and block bacteria, fungi, and other contaminants that may impact your health. They use materials that have a lower chance of causing a reaction, and push away from using things like VOCs and toxic chemicals.
To ensure flooring meets these standards, you can look for certification programs that test materials and issue it to certain manufacturers who are going above and beyond.
A UL Greenguard Certification mark on the package will ensure the product has been scientifically proven to have low chemical emissions. In other words, it tells you that the flooring material has low levels of volatile organic compounds VOCs.
Standard 100 by OEKO-TEX is another certification program that ensures non-hazardous end-products and all of the materials and components in the final product are tested and proven free of harmful levels of toxic substances.
LEED (Leadership in Energy and Environmental Design) is a green building rating system that ensures all building materials are healthy, highly efficient, and offer cost-savings. Many commercial buildings are now working towards their LEED certification, which not only helps create healthier space, but can make the building more desirable too.
Sold on hypoallergenic flooring? Here are some options
Every flooring you'll find across our showroom is created by manufacturers who are working hard to create a better product. But if you're specifically looking for the most hypoallergenic flooring choices on the market today, we suggest a few of our favorites.
In general, hard surfaces will work the best at creating hypoallergenic flooring space. That's because it's easy to clean, easy to sweep and mop up any messes you make, and it won't attract dust mites or other pollutants. But keep in mind that all hardwood is not created equal.
Solid hardwood is typically your priciest option, but it will also be your healthiest option. Solid hardwood is hard all the way through, and is a living material that provides natural benefits to your living space. Like a tree in the forest, hardwood can be impacted by moisture and humidity, so it's important to maintain it well over time.
Engineered hardwood is made from layers of wood or high-density particleboard bonded together with adhesive, and topped with a thin wood veneer. This lowers the cost compared to solid hardwood, and makes it harder and more forgiving in places where solid hardwood might not work, like basements.
Laminate is made from particle board topped with a photograph designed to simulate real wood. It can be highly durable in places where solid hardwood might not hold up. And at a lower cost than solid hardwood or engineered hardwood, it's a viable option for a lot of homeowners.
With either, it is important to pay attention to the production process, and be careful about ensuring they meet guidelines of green certification boards. Some manufacturers will use toxic chemicals in the production process, with adhesives having things like formaldehyde as a binder, which is a common asthma trigger.
If you love the look of hardwood, but want a twist to your design, there are other options. One of the best alternative options for hardwood flooring is bamboo. It's an all natural product made from bamboo, which is considered one of the most sustainable flooring materials in use.
Bamboo is a durable material that has been proven to last up to 50 years when well cared for. Like hardwood, it's important to pay attention to the production, and look for certification programs listed on the packaging. Certain brands can use adhesives with higher levels of VOCs.
Another product that simulates solid hardwood is cork flooring. Cork is made from the bark of a cork oak tree, sustainable because the bark can be harvested multiple times without harming the tree. It has a softer texture than solid hardwood, making it a good flooring choice in homes with small children or elderly. It also has a natural resilience against things like dust mites, making clean up a breeze.
Thinking of hypoallergenic flooring in your next remodel? 
Before you make your final selection, stop by and see our entire line. We can help you find the flooring material perfect for your lifestyle. We'll help you select wisely, so you love your flooring for years to come.