The term resilient means:
An object able to spring back into shape after bending, stretching or being compressed. Flexible, pliable, supple.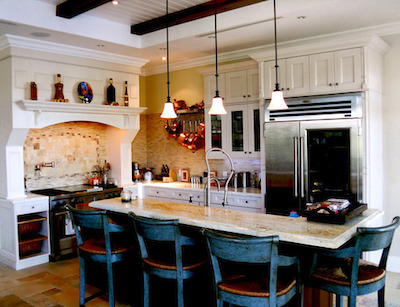 Add another term – resilient flooring – and you'll have one of the most popular and practical flooring materials on the market today.
Resilient flooring is a general term that is made up of flooring manufactured from vinyl, plastic laminate, linoleum, cork, and other similar materials. They provide a cushion feel beneath your feet, and are skid-resistant, quiet, more comfortable, and warmer than other materials like stone or tile.
Drop a glass of water onto a resilient floor and not only will your mess be easy to wipe clean, the glass itself may survive the fall.
Compare resilient flooring to other popular choices: wood, tile or stone. You'll find materials that are less expensive, available in an unbelievable array of patterns and colors, and ready to take on all of your daily activities with ease.
And resilient flooring can be used in any room, take on any look, and function in an easy-to-maintain way, making your daily chore list just a little shorter.
Some of our favorites?
Laminate plank flooring takes on the appearance of a hardwood floor, yet gives you easy, maintenance free living. Laminate plank flooring provides you with plank wood look and feel, easy click in place construction, and the softness and durability that comes with being a resilient floor. Perfect for family and living rooms, and kitchen spaces with lots of traffic.
Cork flooring is another favorite. Cork is growing in popularity because of its beautiful look and its incredible versatility. You can use cork in any room in your home. It's softness makes it easy to stand on for long periods of time. And because it's an eco-friendly product, it provides you with the benefits of being sustainable too.
And of course we can't forget vinyl. Vinyl flooring is the perfect choice for many rooms in your home. How about the bathrooms? Or the laundry room? It's a perfect choice when you desire a seamless look with beauty and style. It's a perfect choice for rooms with high moisture, high humidity.
Ready to make resilient flooring a part of your home? Stop by today and see all of the options waiting for you.