Humans have long since realized the advantages of using tile.
Thousands of years ago, the first tiles were fired and created in the Holy Lands, weaving their way through history as the Romans and other civilizations brought them inside their homes. Individual clay tiles were pressed and imprinted by hand until the first machine made it possible to mass produce.
The Victorian era pushed tile even more into popularity with their demand for cleanliness and public health. Tile is one of the best surface areas to clean and sanitize with little effort. What they fell in love with was the almost unlimited color and design possibilities, as well as its durability.
Those are the very reasons that tile remains popular today. You don't have to look very far to see the advantages of using tile in almost every room in your home. (Inside and out!)
If you're finalizing your next home improvement project, and you're considering tile, here are just a few of the advantages for finalizing and selecting this popular flooring choice.
Unlimited design potential
What captures most homeowners' attention is the unlimited design potential tile brings to possibilities. No matter what color or pattern you've been dreaming of, you'll find it with today's tile selections. They can be made from a variety of materials:
Cement
Ceramic
Glass
Marble
Porcelain
Slate
Travertine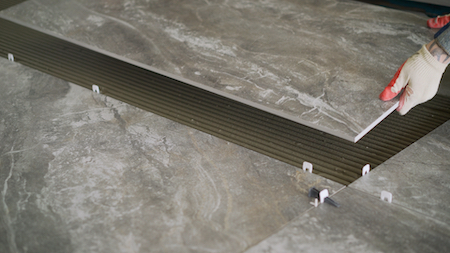 Because there are so many options, you'll find them at just about every price point you can imagine. Whether you're looking for an affordable option, or want the finest luxury, there's an option for you.
Durability
There's a reason why digs in ancient civilizations find tile in various shapes and formats – it stands the test of time. While we're not saying your tile floor will last thousands of years, with care and maintenance, it can last for decades. You'll grow weary of the design and color long before the tile itself wears out.
If you're looking for flooring in a high-traffic situation, tile will always be one of the flooring choices that tops the list. If water, moisture, dampness, or other messy situations will be a constant in the room, tile will again work its way up the list of possibilities. That's why you'll see tile recommended in almost every room:
Kitchens
Bathrooms
Entryways
Hallways
Basements
Even in outdoor living spaces like patios and porches
Keep in mind that every material will function differently. If you have specific needs, be sure to research thoroughly and select the right material for you. There are even waterproof choices if that's important to you.
Low maintenance
With the right tile in place, it can be one of the easiest flooring choices to maintain. That's why you'll find tile in residential as well as commercial settings. There's a reason restaurants, supermarkets, and even hospitals use this popular flooring product.
It just takes a regular routine of some water and a mop for cleaning up quick messes. For something deeper, there are many household cleaners that will do the trick. You can keep this process as eco-friendly as you desire, or turn to industrial strength cleaning if that's more your style. Just ensure the tile you select can take the chemicals you apply, and won't harm the finish.
Low cost
One of the biggest advantages of using tile is their affordability. Because certain types of tile are produced on a mass scale, you can find high quality tile at a price that suits every budget.
Yet if you want uniqueness and you're looking for a one-of-a-kind look, there's a tile for you too.
Keep in mind that installation costs will also include preparing the subfloor, adhesive costs, as well as grout and possibly a sealer.
One of the advantages of using tile in a room is it's easy to fix potential problems. Keep a few extra tiles on hand for replacement. That way you won't have to rip up a floor with one problem area, and can simply replace the tile that's broken or cracked.
Environmentally friendly
Going green is on everyone's minds these days. And there's a good reason why tile continues to make the list. A lot of tile materials provide you with some of the most eco-friendly flooring materials. Think sand, glass, stone, and clay. These materials are found readily in nature, and take very little processing to create the finished product.
Tiles can also make it easier to heat and cool your home. Tile is naturally cool to the touch. In the heat of the summer, they can feel cool on your feet, and make it easier to keep your home feeling cool no matter how high the temperatures climb.
Colordoans are often leery of installing tile because of the coolness in the dead of winter. Don't let that hold you back. Radiant heating is one of the most energy efficient heating systems around. Because it uses water to heat a space rather than air, it will be more energy efficient. That means it can improve your utility bills as well as stay warm and toasty under feet. Imagine that when you step out of bed in the morning and head into your master suite.
Cleaner, healthier living space
Tiles can also create a healthier living space. Because they have a hard, smooth surface area, they won't attract dirt, pollen, or other allergens the way other flooring products will.
Most tiles are fired in kilns at high temperatures, removing toxic volatile organic compounds (VOCs) from the mix. If you've ever said "no" to other flooring products because you're nervous about what they'll do to your air quality, say "yes" to tile and you'll love the results.
Plus, when it comes to cleaning and sanitizing, you'll be able to swish away dirt and germs whenever you please. And that's more important now than ever after all we've lived through in the past couple of years.
Are you ready for the advantages of installing tile flooring?
The benefits of tiles are almost never-ending. That's why they remain one of the most popular choices for a home.
Whether you're remodeling a room, or looking at replacing the flooring in every room in your home, there's a tile that will work for you.
Stop by today and view our entire selection.