When you install hardwood floors into your home, you're making an investment into your future. Hardwood floors can last years – decades – making them something that can grow and change with you as you change out your decor.
Want to sell in the future? Not a problem. They continue to be one of the most in-demand flooring materials requested by homebuyers.
But if you have hardwood floors, to make them last, you have to care for them. Adding area rugs, especially to high traffic areas, can give them the protection they need. Plus, area rugs are a great way to bring a pop of color to your room, and add warmth and sophistication depending on which rug you choose.
That's where you might get stuck. What type of area rug should you get? Are natural rugs good for wood floors? Does it matter?
Area rugs are used to protect the wood floors underneath. Get the wrong rug, and it could damage the wood and leave your floors marred.
What should you do?
Read on for a guide to help you select the right rug for your home.
Types of rugs
When you start shopping for an area rug, you'll find they come in every shape, size, and material you can imagine.
The first place to start is by measuring your space. Are you looking for an accent in front of the kitchen sink, for example? Or are you looking for a large rug in the dining room, one to accent a dining room table built for a dozen people?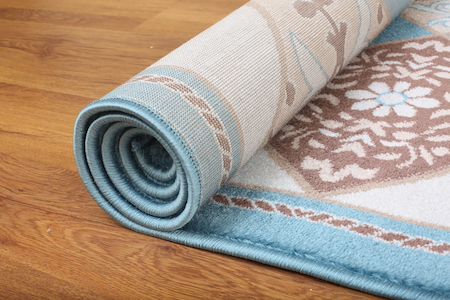 As you start to shop, it's easy to focus on the size and the color. Those two items will ultimately determine how your finished room will appear. However, don't ignore materials. The fiber used to create the rug is what adds longevity and functionality into your space.
Natural rug fibers offer something synthetic fibers don't – they are created using natural materials.
Synthetic fibers may tout durability and state they add flexibility in the way the rug will handle over the years. Yet with synthetic rugs, you do need to watch what the material is made from. If it's made from rigid plastic backing, it can easily scratch your hardwood floors.
Natural fibers are more flexible. They are made from natural fibers and often are interwoven with natural backing materials to make the entire rug easy to use and care for.
Jute
Jute is a popular choice in the natural rug category. It comes in earthy tones and can be woven into a variety of shapes and patterns. Jute isn't known for softness, however. It's maintenance-free, meaning you won't need much work to keep it clean. But the stiffness of the fiber won't feel good on your toes as you step out of bed in the morning.
For that reason, you'll usually find homeowners placing jute rugs in places like hallways or foyers. Just be sure it has a softer, rubber backing, or you use a high-quality rug pad underneath to keep it in place and keep your hardwood floors safe from scratching.
Sisal
Sisal is another natural fiber that looks good and satisfies homeowners' desires to stay with a natural fiber. Sisal is known to be strong, durable, and affordable. It's an environmentally friendly material that comes from the Agave Sisalana plant. It comes in rustic tones, and makes a good addition to your home.
Sisal will hold up well to foot traffic. It's a popular choice in hallways, entryways, and mudrooms. But like Jute, it isn't soft to the touch, and isn't something you choose to get down and lay or play on. Pay attention to the backing to ensure it stays safe on your hardwood floors.
Cotton
Cotton is known as a soft material that works for a variety of things, including area rugs. They aren't known for their durability, but they do make fun additions to a room by being able to add a pop of color. Cotton rugs are usually pliable, can be easily cleaned, and in some cases can be thrown into the washing machine. Just be sure you pay attention to the backing or rug pad, as cotton can also be slippery when laid on hardwood flooring. It'll be soft to the touch in the bedroom, but you don't want to slide as you get up out of bed.
Wool
Wool may not be as budget-friendly as the other fibers listed above, but if you want a rug that wears well and will be a part of your home's decor for years to come, you can't go wrong with wool. They are a perfect way to bring texture and warmth to any room in your home.
Wool rugs have natural stain resistance, and can be a welcome addition to any place in your home. They'll feel good underfoot as you hop out of bed in the morning, and handle well in living spaces where they receive a lot of foot traffic.
Silk
At the high end of the marketplace are silk rugs. In many cases, homeowners invest in silk rugs for their beauty rather than durability or practicality. They've been around for centuries, and well easily stand the test of time with proper maintenance. It gives any room a luxurious look and feel.
You'll also find silk is often mixed with other fibers such as wool. That increases the price tag, but can create truly beautiful works of art.
Where to place area rugs
Wherever you have hardwood flooring is the perfect place to bring in an area rug. The reason they are in such high demand is because of their versatility.
You can put them to work – they can help keep your floors looking good if you use them in the kitchen or in an entryway.
You can use them for functionality – in a dining room, underneath the table is a great place to protect your floors from messes.
You can also use them for design – a gorgeous area rug will compliment your decor and high-end furnishings, just choose the perfect natural fibers for you.
It's easy to get pulled in by color and size. More importantly, pay attention to the fibers used.
Fibers dictate longevity and how well the rug will function overall. Choose wisely, and you'll bring in a great addition to your home that will last for years to come.