It's easy to mistake vinyl flooring and linoleum. After all, they both look similar when you're shopping for sheet flooring for your home.
You might also find that a lot of homeowners don't know the difference, and use the words interchangeably when referring to their own flooring. They both offer tough, easily maintained surfaces that can be installed just about anywhere.
But even though they are similar in the way they perform, there are distinct differences between vinyl and linoleum that you should understand before you select one for your home.
How vinyl and linoleum are constructed
Vinyl flooring comes in a variety of styles. You'll find it in sheets, where you roll it out and cut it to fit the length and width of your room. You'll find it in tiles – perfect for a do-it-yourself project around the house. You'll also find what's referred to as luxury vinyl tile, or LVT, which can take on the appearance of other floorings such as hardwood or stone.
No matter which style you prefer to install, they are all made in a similar fashion:
Top wear layer – a top coat made of urethane or other materials is laid into place to protect the floor from scratches and stains.
Image layer – this is what gives the floor its classic good looks. Manufacturers create the image layer by taking high quality photographs of materials and using them to create specific appearances. Yet this process also gives the ability to stretch what's possible, giving you access to more colors and patterns then you would find with more natural products.
Core – the core gives vinyl it's strength and durability. Depending on the product use, this can produce dent-resistance, water-resistance, stain-resistance, as well as rigidity too. While some products like vinyl sheets may feel flexible before you install it, other products like LVT are firm, almost plank-like, designed to resemble the look of hardwood or stone.
Underlayment – different vinyl flooring choices have different underlayments. Some add cushion to make the floor softer when walking on it. Some are designed for noise reduction. Some add additional strength for a more durable flooring choice.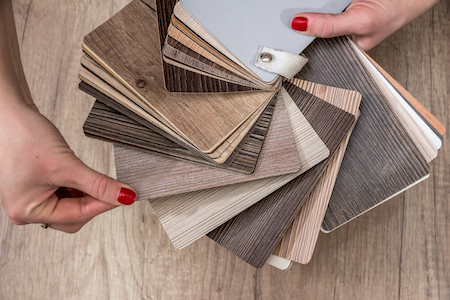 While linoleum may look a lot like vinyl, it's a completely different product. One of the reasons it's growing in popularity again is because it's a mix of renewable natural materials. Linoleum is made from linseed oil, which comes from flax seeds. It also contains a variety of other materials such as cork powder, wood flour, and tree resin. The design layer isn't a separate layer, but is instead embedded throughout the material. You won't have the patterns and color options associated with vinyl, but the natural looks can be beautiful.
Because linoleum is a natural product, it needs a wear layer to protect it from day to day living. Many require a protective sealant to block out stains and scratches, and may require reapplying it more regularly than with other flooring materials.
Which is better vinyl or linoleum?
Better is a subjective word. Better for one homeowner might not be the same as for the next.
If you want variety, vinyl flooring might be your choice. Vinyl flooring comes in a variety of styles, patterns, and looks. If you're trying to match a specific color, vinyl may be a better choice. If you want the looks of hardwood or stone without the high cost of those products, vinyl is your better choice. Vinyl offers:
Highly realistic image layers that can take on the look of just about anything
Greater trend options, giving you choices of everything from reclaimed and rustic hardwoods, to wider planks and more color choices
More options for installation – sheets can have your floors rolled into place in no time; planks may be the perfect choice for a do it yourself project.
Linoleum has an equal amount of perks:
Linoleum is made of natural products, helping you stay on track if you're attempting to go green
It has anti-static properties, which can be perfect if you're using it where static can impact equipment
It's resilient, meaning it's softer underfoot
It's antimicrobial, giving you anti-bacterial and hypoallergenic flooring choices
It's also more consistent with coloring because the pattern is all the way through the material
How do you tell if a kitchen floor is vinyl or linoleum?
Both vinyl and linoleum have been around for years. If you're moving into an older home and you aren't sure what type of flooring is in place, we have a few ways you can tell.
Start by looking closely at the material. Get down on the floor and look at the wear patterns, especially in high traffic areas. Is the pattern still in place? Or can you see through the pattern, with a more natural color peeking between the wear marks? Vinyl has an image layer that doesn't bleed down into the core. If that layer is penetrated, it will start to show as the image layer separates. Linoleum has the pattern throughout, so no matter how the flooring wears, the pattern will remain in place.
You can also tell by the coloring of the flooring product. Because vinyl is human crafted, it can take on any color or pattern the manufacturer can create. If it's vibrant in color, no matter how old it is, chances are it's vinyl. Linoleum takes on a yellowing color, especially over time due to the linseed oil base.
What about durability?
Both vinyl and linoleum are easy to care for. For daily maintenance, simple mopping, sweeping, and vacuuming will have your flooring looking good. Linoleum is a little more sensitive to cleaners as it's a natural product; check with the manufacturer to ensure you don't use a product that will strip the finish. Linoleum also requires periodical waxing and an annual sealant to keep it in top condition.
Be sure to purchase extra product when you install linoleum or vinyl. If one section is damaged, you can patch it or replace it in sections without complete replacement.
While vinyl, in general, is less expensive than linoleum, they are both excellent choices for budget-minded homeowners. Vinyl can be expected to last ten years or so, depending on where its installed and the traffic levels. Linoleum will last 20 years or longer.
In areas where water is a problem – kitchens, bathrooms, laundry rooms, basements – linoleum can wear well if properly installed. But nothing holds up to water the way vinyl does. If water is an issue, vinyl will always be your best choice.
Which is the right flooring choice for you – vinyl or linoleum?