Homes and lifestyles changed when everyone stayed home for a year. Suddenly, you looked at your space a bit differently.
Do you really need a guest room that sits idly by almost every day of the year?
Or how about that extra space in the basement, the one with boxes stacked in the corner?
Why not turn it into usable space? Why not make it a home gym? It's the perfect solution to ensure you get your workouts in each day without having to make time to go to the gym.
People have found that working a fitness routine into their lifestyle when the gym is at home is easy. In fact, Three out of four respondents said gyms are becoming more obsolete due to the pandemic because it's easier than ever to incorporate fitness routines into their lives right from the comfort of their own homes.
Is the time right for you to add a gym to your home? Where do you begin?
It starts with the floor.
The best floor choices for a home gym
If you've ever placed a piece of workout equipment in your living room or bedroom, sitting it on top of carpet, you know the damage it can do. It crushes the fibers, compresses the padding, leaving divots and bumps in the carpet.
Even one simple machine can cause extensive damage. So you know the flooring in your home gym has to be carefully thought out.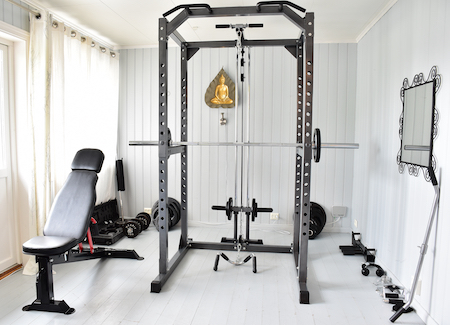 Home gym floors should be durable to stand up to your routines, without impact from the weights or machines. It should cushion your body as you jump and bounce during workouts, but also withstand and protect from scratches, dents, or gouges.
Take a look at commercial gym flooring choices to be your guide as you finalize your selection. The most popular floor choices include:
Rubber
Foam
Vinyl
Wood
Carpet
Of course, the final selection is dependent on your desired workout routine. What type of equipment will you be using? What exercises are a part of your routine?
Ultimately, your choice should provide you comfort, wear, and durability.
What's the right home gym flooring? Ask these questions first.
The easiest way to create a home gym is to find a spot, move furniture and boxes out, and get your new workout equipment in.
It might not take very long to discover the problem. Carpet may hinder your HIIT routine. Hardwood may scratch as you drop weights onto the floor. Without considering your actions first, your flooring can quickly be compromised.
Ask these questions first:
What workouts will be a part of my routine?
Everyone has a different approach to fitness. Some love the elliptical. Some prefer lifting. Some like to change things up and move through various routines. Carefully consider the equipment you'll need, the exercise you'll perform, and what your flooring must withstand in the process.
Who will use the gym?
You may have your own routines, but what about the rest of the family? Will you be investing in different equipment to meet everyone's goals? The best gym flooring works well for everyone in the household, providing comfort, safety, and durability.
Will you use free weights?
Free weights are one of the most impactful pieces of equipment you can own. If you'll use them in your home gym, be especially aware of your flooring choice as the sudden drop can cause extensive damage. Be aware that you may need to build up the subfloor as well to handle the additional weight.
Is moisture a problem? 
Even small home gyms can be impacted by moisture. Will you crank the heat for a hot yoga session? Are your routines especially rigorous, leaving you sweating throughout the sessions? In small spaces, moisture can be a big problem. If you add a small sauna for after workout sessions, it can be an even bigger problem. Consider how much moisture you'll bring into the room before you finalize your flooring decision, or you could face a problem down the road.
What about equipment?
Machinery is heavy. It's bulky. It might need special attachment features to the walls or floor. It can also move around as you use the machines, further damaging the floor. Don't forget about the lifecycle of the machinery. If you'll be upgrading or switching out the machines periodically, the wrong flooring can leave divots, further impacting your routines.
Finalize your home gym floor with one of these best flooring choices
Are you leaning towards a specific flooring choice for your home gym? If you have several options in mind, here are a few more ideas to keep in mind.
Rubber is always a good choice in a home gym setting. Walk into just about any commercial gym or fitness studio and you're likely to see rubber flooring. There are many different types of rubber flooring – tiles, rolls, and mats. It comes in a range of thicknesses to best suit your needs. Tiles are a great DIY choice, allowing you to take control over the installation process. Rolls provide a seamless appearance that is great for wide open spaces. If you want multiple options in your small space, mats can be especially beneficial for customizing the space based on your requirements. If you're using free weights, thicker is better to help prevent impact on the floors.
Carpet tiles are another popular flooring option that are relatively inexpensive, comfortable to the touch, and are fairly easy to maintain. What's more, tiles make it easy to change out and replace if damage occurs to part of your space. Select low-pile, commercial-grade carpet that is designed for high traffic and high impact. The touch of softness works well if you'll be up and down between workouts. You'll also be able to customize the aesthetics by having a wide variety of color options to choose from.
Luxury vinyl planks are also an option. Be sure to select waterproof rigid core for the best durability. The right vinyl plank can withstand many different activities, including weights, heavy equipment, and more active workout routines such as basketball. Vinyl planks have a natural tendency to prevent mold and mildew growth. They're naturally scratch and stain resistant, and did we mention waterproof? Depending on your workout routine, luxury vinyl planks are definitely worth a second look.
What's the best flooring for your home gym?
Still have questions about the right home gym flooring for your home? Stop by today and see our complete selection. We'll help you find just what you're looking for.