Buyers remorse. It's the one thing every homeowner weighs as they shop for home improvement items.
When buying a new area rug, for example, you might imagine vibrant colors and added warmth to your room's decor. Yet when buyers remorse kicks in, you might discover the area rug has too much color, or doesn't stand up to all your family dishes out.
Top worries before people buy a new area rug include:
Cost – will I pay too much?
Size – will the area rug look good once it's installed in the room?
Color – will the color and pattern blend well with my decor?
Longevity – will the area rug look good and wear well for years to come?
If you've had any of these fears, we have a few tips for you. Ultimately, homeowners want value. An area rug that looks good and handles well over time is key.
What we recommend is spending a little time thinking about your ultimate goal before you finalize your purchase.
Where will the area rug reside?
How much foot traffic will it receive?
Will food be a constant factor, such as in a dining room?
Will pets be part of the equation?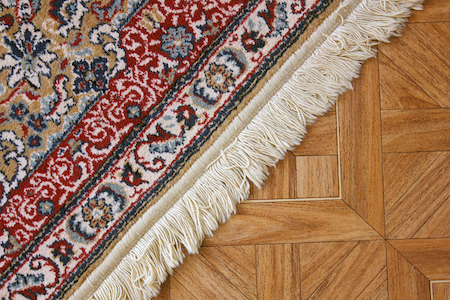 Start with the end in mind. You may fall in love with an area rug, but if it isn't the right material to suit your needs, you'll hate it almost from the start.
Want your area rug to look good for years to come? Here are a few tips to keep in mind that will help you extend the life of your purchase, and make you love your area rug for years.
Pay attention to the patterns and colors
Spills and stains will happen. It's part of residing on the floor. However, you can plan for spills and stains long before laying the area rug into place.
Consider where the new area rug will be. Dining rooms have a far greater chance of being stained than something in the bedroom. Use this to direct you to colors and patterns that will handle well in each unique situation.
Most area rugs today are stain-resistant. Yet area rugs are made from fibers, and fibers will stain over time. A forgiving pattern can hide the stain better, and will ensure it looks good, longer.
Regular maintenance is key
There are many ways you can preserve the fibers. Take off your shoes at the front door. Be careful with food and drink.
Yet because an area rug will always receive foot traffic, occasional messes will frequently land on your area rug.
Vacuuming should be a part of your regular routine. Whether you pull out the vacuum daily or weekly is dependent on the kinds of messes your rug sees. Cleaning regularly allows you to pick up dust and dirt as it sits on the surface, before it has a chance to be ground into the fibers.
If you have pets or kids, your cleaning routine may be more frequent. Vacuuming a few times a week can help remove pet dander before it settles into the fiber.
You should also check with manufacturer's guidelines. Many have specific guidelines about cleaning schedules, and will tell you what products are considered safe.
If you do spill, clean it right away. Never rub it in; blot the stain instead. The sooner you work to remove it, the better chance you have of helping it disappear from view for good.
We also recommend that you plan on rotating your rug 180 degrees at least once a year. This helps prevent wear marks or fading in certain areas of the rug.
Use an area rug pad
There are two steps to installing a high quality area rug: lay down a rug pad and place the area rug on top. A rug pad acts as a buffer between the hard surface underneath and the fibers of your area rug. The pad acts as a buffer to ensure the fibers aren't crushed.
A rug pad also acts as a holding agent, preventing the rug from slipping as you walk.
This isn't the time to skimp on quality. It's as much about protecting your area rug and floors as it is giving your investment longevity. A poor quality pad will decrease your area rug's life.
What fibers are used for your area rug production?
Just like carpet, area rugs can be woven from a variety of different fibers.
Synthetic fibers make up the majority of area rugs on the market today. There are four different synthetic fibers used: olefin, nylon, polyester, and the newest, triexta.
If you prefer natural fibers, wool is the staple used for Berber. You might even be able to find other natural fibers such as silk or cotton.
The differences between the two vary greatly.
Natural fibers are considered more eco-friendly. They are made from sustainable resources, and will have the least amount of volatile organic compounds (VOCs).
Synthetic fibers are considered to be more stain-resistant, although wool does a fairly good job at protecting the fibers.
Both can be extremely durable, especially if you get a high quality fiber and construction. Pay attention to manufacturer details, as that can lead you to an area rug that will handle well considering your lifestyle.
Size and shape matter
It may seem like an elementary point, but size and shape of your new area rug do matter.
In general, area rugs come in an array of sizes and shapes, with the most common being:
2'x3'
4'x6'
5'x8'
6'x9'
8'x10'
Of course, you'll find many larger, and with different measurements to suit every homeowners' needs – rectangle, square, oval, circle, even octagons and runners.
While area rugs ultimately depend on personality and your individual tastes, there are a few ground rules that help homeowners to be happier with their purchases for the long haul.
Measure your room.
Measure the space where your area rug will reside.
Have measurements of the furniture and design of the room.
Spend some time looking at design sites and magazines for direction.
It can be difficult visualizing an area rug in place before you bring it home. The more research you do ahead of time will help you prepare for the final look you're trying to achieve.
Then bring your ideas in, and we'll help you find exactly what you're looking for. With our knowledge and expertise, we can help you select an area rug perfect for your location, one you'll love for many years to come.