Getting new flooring is an exciting time for homeowners. You've waited months – years – to select the right flooring material. And now that the big day is here, you can't wait for the results.
Once they're installed, it's life as usual. You can put your furniture back into place, and start living with your new floors.
Or can you?
Can you put your heavy wood furniture back into place without a problem? What about putting your sofa and chairs down, and start living once again? That might mean the kids jumping up and down, putting pressure on the legs of the sofa. Will that hurt your new floors?
It depends on the flooring you have installed.
Carpet
Carpet continues to be a popular choice, especially in bedrooms. It may take a few hours to rip out the old and install the new. And it might be tempting to move furniture in right away and get back to living.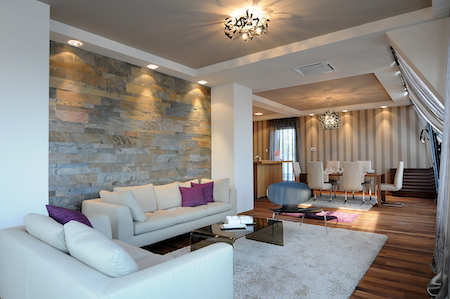 While it's important to read manufacturer's guidelines, it's equally important to note that for most carpet installations, it's recommended to wait 24 hours before placing furniture back into the room.
One reason is that heavy furniture will impact the shape of your carpet. Think for a moment about how carpet is brought into your home. It's rolled, carried in, stretched into place, and tacked and glued down. The carpet wasn't designed for the shape of your room; instead, it melds to the shape as it's laid into place. If the glue doesn't dry properly, and you shift it with heavy furniture, it will end up buckled and misshapen, especially if you move your furniture once again.
The heavier the furniture, the worse it can be.
The weight of the furniture can also have an impact. With so much force pushed into tiny legs attached to your furniture, it can cause the carpet and backing to sink lower, causing the glue to spread out and mold differently. Those tiny indentions may be there for the life of the carpet if you add weight too soon.
Laminate
Laminate is in a unique position. It's a product that looks like wood, acts like wood, but offers benefits to homeowners who want something a bit easier to handle.
In most cases, laminate is laid into place using a click and lock system. The boards actually hover over the subfloor, floating instead of being glued into place.
That gives laminate a unique feature of being able to move in the moment it's in place. Heavy furniture won't hurt the structure of the flooring because its "locked" feature is what gives it its strength.
Yet it is important to keep in mind that laminate does give you the look and feel of real hardwood, and with that comes the ability for scratching the surface. While you can move heavy furniture back into place soon after installation, be sure to do so with care. Consider adding felt pads underneath your furniture for maximum protection.
Luxury Vinyl Planks
Luxury vinyl planks are one of the fastest growing flooring choices. That's because they give you the look and feel of hardwood, yet offer additional bonuses that work for some homeowners. Want easy care and easy maintenance? Luxury vinyl planks are a great choice. Want waterproof flooring? You won't find anything better than luxury vinyl planks.
Depending on which product you choose determines how the planks will be laid into place. Some manufacturers provide a click and lock structure, while others offer a glue in place method.
How you install your luxury vinyl plank determines how quickly you can move your furniture back into place. If it's glued down, most manufacturers will suggest waiting 48 hours to allow the glue to dry thoroughly. If it's click and lock technology, you can move back in the same day.
Keep in mind that there are other things at play that will ultimately determine how long you should leave your floors furniture-free. Is it cold outside? It might take adhesive a bit longer to dry.
When in doubt, check manufacturer's guidelines. They'll give you the advice you need to make a decision about moving back into your room and start living again.
Hardwood 
Hardwood is one of the most popular flooring choices for homeowners across Colorado.
If you've looked at hardwood, or owned it before, you know it takes special handling to lay it into place. Hardwood should always be acclimated to your home's climate before installation. That gives the wood a chance to settle before it's installed.
The same applies after installation.
Like other types of flooring, it depends on how your hardwood is installed. Is it glued into place? Allow enough time for the glue to thoroughly dry before you move and shift heavy furniture into place.
Furniture can bring all sorts of problems to hardwood flooring. Small legs on sofas and chairs can be sharp, and mar hardwood before it has time to settle. It can indent into the hardwood, leaving permanent marks.
Waiting for glues and adhesives to harden and dry will ensure your hardwood stays in place. Using felt pads and furniture bumpers will ensure your floors aren't scratched and dented as you move your furniture back into place.
Get ready for installation
No matter what type of flooring you're planning to install, a lot of your success comes from being properly prepared.
Talk with one of our associates before installation day. They can help you better understand the process, and give you advice on how soon you can put your room back together.
Prepare your floor's surface area as much as you can. Move furniture to another room for storage, a place you can leave the furniture until your flooring is properly acclimated.
Get manufacturer's guidelines before you install. This will give you a better understanding of what to do throughout the installation process.
Error on the side of giving your floors more time to settle rather than less. This will give your floors a good chance to settle in, and give you great results for years to come.