We've been changing the way we work for a long time.
Think back to the offices of yesteryear. Almost everyone who worked outside of the home went to the office. Individuals had offices where they could close the doors. Even workers had partitions between them, helping to define their workspace.
No more.
According to a report by JLL, flexible space has been growing at an average annual rate of 23 percent since 2010, with no signs of stopping.
It really comes as no surprise. Large companies are changing the way they do business. Employees are demanding different ways to work. And because it's easier than ever to find talent anywhere in the globe, and let people set their own hours, flexible office space is becoming our new norm.
But this new way of working is also bringing in a different set of problems. Open floor plans are great; they can create a cohesive space that brings people together for collaboration and brainstorming. But it can also make us sicker. Recommendations for personal space vary greatly, with only 60 square feet per person in open environments.
There is evidence that if you share office space and are closer together, you're more likely to get sick.
Choosing the right flooring for your office space
The first thing to realize is not every room in your office space needs the same type of floor. Office space receives a lot more traffic than your residential home. And in most cases, we aren't as careful to pick up after ourselves in a work environment as frequently as we do at home.
In an office, what would you consider to be the most germ-infested place in the building? If you said restroom, you'd be wrong. One study found the worst place in an office building to be the break room. That's because there's a lot of action and a lot of spreading germs between people who never meet.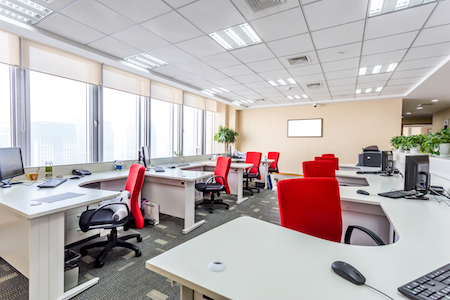 What's more, this same study found that in the restrooms, germs might not be lingering where you'd expect them. Nope, they aren't on the toilet seats or even the door handle; the germiest place is actually the floor.
What works in the break room or restroom might not be the best choice for the lobby or for conference rooms. What makes a good choice for office floors?
Lobby areas
This is where people enter and exit all day long. Durability and ease of maintenance are your two key considerations. The lobby is also the place of first impressions. It should be able to withstand everything visitors bring in, as well as make it easy to clean on a daily basis. Some flooring choices to consider are:
Luxury vinyl tile – this can give you the impression of hardwood plank, stone, or even granite, with the ease of use of vinyl. It's a budget friendly way to create a great first impression.
Hardwood – nothing says elegance quite the way hardwood flooring does. This is a great option for office buildings that want a flooring that will stand the test of time.
Stone – one of the hardest flooring choices can give you longevity too. Stone tile can deliver no matter what the office building occupants can dish out.
Open office space
Office spaces can vary greatly in desire and need. Your flooring should be chosen based on aesthetics, noise levels, and production requirements. Meeting clients for financial advice would have different needs than meeting patients for medical treatment. Durability might not be your biggest factor, but it should be easy to maintain and look good in the process. Suggestions would be:
Carpet – commercial grade carpet can hold up well under all kinds of pressure. Consider carpet tiles for easy replacement, as needed.
Luxury vinyl time – another great choice to give you the look of hardwood or stone, while being easier to maintain overall.
Hardwood – for elegance and sophistication, it's hard to ignore the classic good looks of hardwood.
Kitchens and break rooms
This is where the action is. All flooring should be slip-resistant, spill-resistant, and water-resistant. Expect water, food, coffee, and other items to be spilled, yet not cleaned in an urgent manner. How well will it stand up under pressure? How easy will it be to clean?
Tile – always makes a great choice, and with the right tile and sealant, it will look great for years to come.
Luxury vinyl tile – this is one flooring choice that's easy to clean, even when spills stay in place for minutes (or hours).
Linoleum – if you want a more eco-friendly option, don't forget to check out linoleum. This is as beautiful as it is durable.
Conference rooms
Conference rooms are a continuation of your business, it's the place where first impressions can be everything. Consider who uses it most: employee meetings, potential clients, training, board meetings. What do you want your conference room to say? Consider your aesthetics carefully too; you don't want private conversations to echo and filter out into general working environments. In general, you have less square footage while increasing the number of attendees shuffling around in the room. Equipment may be prevalent. Chairs will constantly be scraping the floor. Be sure to choose a flooring that's up to all of those challenges and more.
Hardwood – if you go with hardwood, be sure to select a harder substance that can take the abuse. Consider moving to an eco-friendly option like cork or bamboo for a new look.
Carpet – carpet can warm a room as well as cut down on noise and echo. Plush carpet can increase the look and give a sophisticated feel.
Stone – natural stone can also add a touch of elegance to a conference room. Play with different sizes, styles, and shades to create a one of a kind look.
What office flooring will you install in your space?
With so many choices to choose from, there really isn't a top recommendation. Instead, carefully weigh your wants with your needs, and select the perfect office flooring to suit your office space best.
From wood finishes to luxury vinyl tile, to carpet and stone,  the perfect solution for your office flooring needs is waiting for you.
How can we help you?