Wanting to replace the flooring throughout your home? Having trouble deciding the right flooring for each room? Don't worry, you're not alone. There's an ongoing debate among homeowners as to which flooring choice is best throughout.
Living here in Colorado, you might be one of many who has jumped on the hardwood-only mindset. Coloradoans love their hardwood floors.
But does it make sense to install it throughout your home? For many people, a bedroom is their inner sanctuary, a place they retreat to for rest and relaxation. They want quiet, softness, warmth. And that's hard to get with hardwood. Doesn't carpet just make more sense in the bedroom settings?
Read on if you're still in the debate.
Let's start with hardwood
Hardwood is the flooring of choice, except for kitchens, bathrooms, and other areas where moisture is prevalent. Bedrooms are often no exception, especially if they are located right off the main living space.
And hardwood makes sense in a lot of areas in the home. The pros are hard to ignore:
Durability – hardwood is one of the most durable products on the market. When well cared for, it can last for years. And when it starts looking dull and scratched, simply sand it down and refinish it. A high quality wood floor can last for decades.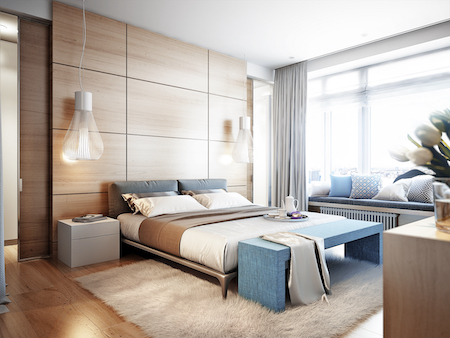 Ease of maintenance – especially with today's technology, the surface material on your hardwood planks makes it easier than ever to care for. Use a broom or swiffer regularly to keep dirt and other particles off the surface. Vacuum weekly. A damp mop on occasion to remove any residue or spills. That's it!
Natural surface – hardwood is one of the most natural surfaces you can install inside your home. If you care about going green and sustainability, look no further than hardwood. That also creates a hypoallergenic surface area too which can help keep sickness at bay. If you suffer allergies or asthma symptoms, hardwood flooring can be a great choice throughout your home.
Style and functionality – no matter what design personality you have, or what decor you plan on introducing into your home, hardwood is the perfect backdrop for it all. You can select hardwood flooring in all shades and colors, making it a versatile flooring choice that ages well as we move into the future.
All good reasons for installing hardwood throughout your home. But it still doesn't answer the question: is hardwood right for the bedrooms?
Carpet in the bedrooms
Think about your bedrooms for a moment. What is the bedroom for?
A quiet place – with living rooms, family rooms, media rooms, and more, the bedroom is now a place where we retreat to for quiet time and sleep. That means unnecessary clomping across a wood floor can create heightened awareness, even anxiety as you're moving around. Carpet muffles the sound and absorbs the noise, while adding ambiance you just can't get with hardwood.
Warmth – here in Colorado, the temperatures can fall rapidly. Thirty degrees, twenty, ten. Even a few below zero days can leave you shivering at night. Those one in the morning trips to the bathroom can be miserable as your toes hit cold hardwood. But with plush carpet, the softness, cushion, and fibers underneath can make it just a bit easier.
Noise reduction – young children often retreat to their bedrooms for quiet playtime. But there's nothing quiet about it if their toys consistently bounce off the hardwood. Especially in multiple story homes, you'll notice every clunk and ping from underneath, making you wish for softness and padding of carpet to help damper the sound.
Safety – you're more likely to be in socks in your bedroom. You're more likely to be half asleep and not paying attention as you move around in the middle of the night. Slippery floors can be hazardous no matter what your age. Carpet provides better grip, and also a softer landing.
Do buyers prefer carpet or hardwood in bedrooms? 
When you install new flooring throughout your home, often, it's with the understanding that you'll be placing it on the market soon. Then the question becomes: do home buyers prefer hardwood throughout, or do they still like carpet in the bedrooms?
According to real estate agents, you'll never go wrong with hardwood. Some buyers and homeowners love hardwood enough to weave it through every room in the home.
There are others that want softness in the bedrooms. These homeowners prefer plush carpet with ample padding for softness, warmth, and creating the cozy factor inside each bedroom.
Plus, when you have a multi-level home, carpet can help muffle sound. With active bedrooms upstairs, installing padding and carpeting can act as a noise reducer, helping make the activity less noticeable from underneath.
Is carpet in bedrooms outdated?
Let's start with your gut instinct. After reading the above advice, if you're still worried about a house full of hardwood, if you prefer softness and warmth in the bedrooms, listen to your gut.
In 2020, carpet sales fell, thanks to stay-in-place orders and few people thinking about remodeling. But even by the end of 2020, the market was starting to rebound. Carpet is and has remained the largest flooring segment, accounting for 48.4 percent of all flooring sales.
With so many choices, you can find carpet that complements any decor, and adds richness to the surrounding area.
If you're really not sure what to do, how about a compromise?
Add hardwood throughout. And follow it up by adding area rugs to the bedrooms. To keep your room soft, warm, and comfortable, make sure the area rug is large and covers a lot of the space inside each bedroom. Place it under the bed, and have it extend beyond the bed on all sides. You should be able to step onto it as you get out of bed. With a large bedroom, you may also wish to place smaller area rugs in critical places throughout the room. At the sides of each bed for warmth as you rise, plus in front of dressing areas, or other spots you spend time.
Carpet or hardwood – which is the right choice for your bedrooms? There really isn't a "best" choice. It entirely depends on you.
If you need a little extra advice, stop by today. We have the answer to your questions, and can help you make a well informed decision.