Whether you are building a new house, or renovating the flooring throughout your home, you may be considering your options when it comes to hardwood floors. Nothing is as beautiful as hardwoods; why not install them in every room of your home?
Yet something may be holding you back. Is it wise to install hardwoods in every room of your home? Is it the best choice for your bedrooms? Flooring isn't a decision you can easily replace in a few weeks if you don't like the looks and functionality. And if you make a decision you don't like, it can be a costly mistake you'll regret for years in the future.
Bedrooms are typically thought of as our own personal sanctuaries.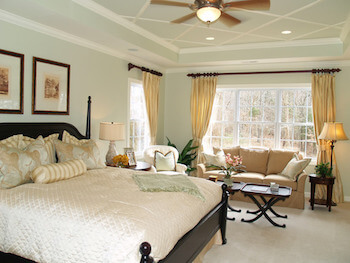 We want peace, warmth, comfort and style. Above all, we want a place we can retreat to and feel comfortable with, every day of the year. Will hardwoods be a mistake when it falls below freezing? Will carpet be a regret if you choose the wrong color or style? Overall, your final choice should be made based on your personality and your desires. But there are a few things that can help steer you towards one choice over another.
Benefits of hardwood floors:
Hardwood adds a sense of luxury. With its old world charm and appeal, you can have a prestigious look that compliments any décor.
Hardwood will last and last. Especially in the bedroom where you'll never have a high level of traffic, hardwood flooring can last indefinitely.
Hardwood are always in demand, and will add in to the resell value of your home.
Hardwood is easy to maintain. With a damp mop, you can have clean floors in a matter of minutes.
Hardwood will help alleviate allergies, especially important if you have a family member with allergies or asthma.
Benefits of carpeting:
Carpeting can add style and color to your décor. With thousands of choices, its an easy way to help with your decorating plans.
Carpeting is an affordable choice, with options only constrained by your pocketbook.
Carpeting is easy to care for. With a simple vacuum every week, and an occasional steam clean to go in depth, you'll have a flooring choice that will last for years.
Carpeting adds warmth. Nothing feels as good on a cold winter morning as carpet between your toes.
Carpeting adds both a softness and a sound barrier to your home. Something that works well with small children.
So which is the best choice for you? Let lifestyle and personality direct you towards the right flooring choice. There is no right or wrong answer; either way, you're sure to enjoy your new flooring now and well into the future.