One of the best investments you can make in upgrading the look and feel of your home is by choosing new flooring. It's the one thing that will catch the eye of everyone who walks into your home, give you a fresh, clean slate to work with when upgrading your decor, and add value if you decide to sell.
Homeowners today love high quality flooring. Here across the Front Range, that often means hardwood. But it isn't the only choice you can make. Depending on what room you're remodeling, many modern-day choices make your house look great. How about a high-quality carpet? Or luxury vinyl planks in the basement?
With so many choices out there, ready to add to your home's personality, we have a few tips we offer our clients to help them avoid making mistakes when finalizing their choices. Instead of choosing a flooring simply because it's always been at the top of your wish list, it's what all the modern-day home improvement shows say you should install, we have other options for you to consider. If you install flooring for the wrong reasons, it can leave you with a serious case of buyer's remorse.
That's why we want to help you approach your final decision of selecting new flooring in a slightly different way.
Don't buy flooring without a game plan 
This sounds almost too simple – what homeowner would buy flooring without a plan? Yet we see this happening all the time.
We suggest that homeowners shouldn't fall in love with a flooring choice before they visit our showroom. Having a general idea of what you want is necessary. But there's something even more important for you to consider first.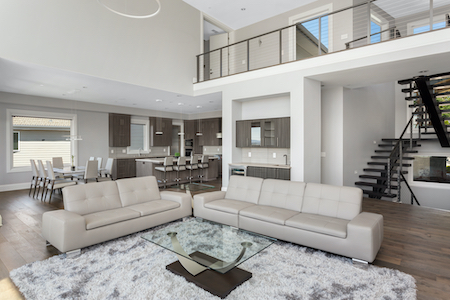 Pay attention to where your new flooring will be installed. What's your lifestyle? How much activity happens inside that room?
Because a dining room that only gets used on major holidays will have entirely different needs than a family room where kids and guests and pets romp around in every single day.
Instead of focusing on finding photographs of your favorite flooring choice, focus instead on listing out your wishlist of what your flooring will endure.
I want flooring that is durable enough to wear well with three kids under ten, and two large dogs that follow them everywhere.
I want a soft flooring that we're just as comfortable laying on as we are walking on.
I want a sophisticated flooring that sets the stage for my decor.
These are ideas to help you get started with your own plans. Once you've made your game plan, then it's time to shop. Come in with an open mind, and we'll show you a variety of different flooring choices, and give you an idea of how well each can fit into your life.
You might be surprised at the results.
Don't buy in a hurry
When you're choosing new flooring, spend time evaluating your wants and needs. Never visit a showroom for the first time with the goal of making a decision and having it installed that week.
That's when you make your poorest decisions. That's when buyer's remorse can kick in. And when you're making a large investment, one that can be a part of your home for years – decades – to come, it's worth spending time to weigh your options.
Do you want a light, medium, or dark tone, for example? Within each tone, you might find dozens of varying shades. Do you want a little more yellow in your brown? Or do you prefer a little more red?
As you start narrowing down your choices, it's important to bring a few samples home. Lay them in the room where you'll be installing it. View it morning, noon, and night, in all kinds of lighting conditions.
If you're selecting hardwood, even after you make your final selection, you still shouldn't install it right after purchase. Instead, hardwood needs to be brought into your home to acclimate for a few days before the installation process. That gives it a chance to become familiar with your home's environment. It gets used to the temperature variations, and how much humidity is in your home. This will help protect it after it's installed, decreasing the chances of warping later on.
Don't forget about the subfloors
Homeowners often forget that flooring needs a strong base to look and act its best. Some flooring is more forgiving than others. If you place a flooring on the wrong type of subfloor, you'll have nothing but problems down the road.
Carpet is forgiving because it's flexible by nature. The backing of the carpet and the padding underneath can all accommodate small issues with a subfloor, such as one that isn't perfectly level.
Try that with ceramic tile. Without a perfectly level subfloor, the tile will sit without a strong base. That means every time you walk on it, there's a chance it can crack from the weight above. Without the proper support, an air pocket forms, giving the tile a chance to crack under the pressure.
While you may not realize your subfloor needs work before you pick out new flooring, it is something to consider as you shop, especially if you are changing from what's currently installed. Going from carpet to hardwood, for example, may require additional work to bring the subfloor up to par. That can add extra time to the installation process, and require extra funding for the additional materials and labor.
Don't start a DIY project if you're not going to do it right
You've been spending a lot of time at home. It's only natural to watch home improvement shows and want to step into the action too. But are you really up for the job?
We'll help you select the right material, no matter what your flooring dreams are.
We'll even give you pointers if you decide to turn a tile or LVT purchase into a DIY project.
But only you can know if you're really up for the job. Saving money is a big plus, but a job well done will truly stand the test of time.
Are you thinking of choosing new flooring for your home this year? Start with a game plan. Then stop by and learn more.
We're here to help you with all of your flooring needs.
Choosing The Perfect Flooring For Your Kids Room
Keyword: flooring for kids room
Summary: Remodeling your home to create more livable space for every member of the family? Choosing the perfect flooring for your kids' room doesn't have to be difficult. Here are a few suggestions.
If you're remodeling your home, and upgrading rooms to make them more suitable for every member of your family, your starting point may not be the paint color or the decor. Instead, it might be what's on the floors.
In a kids room, for example, it may have been a place they spent very little time prior to 2020. Now, they spend many hours a day attending school, doing homework, even attending Zoom activities. And it's a place they still hang out on the weekends, looking for comfort and stress relief after a busy week of activities.
Before you select flooring for the kids room, realize you'll have to take into account quite a few factors. Comfort, stain-resistance, and safety are just the start of what you're flooring will endure. What's your best choice to stand up to all of that and more? And be beautiful and stylish at the same time?
We help homeowners every day select the right flooring for their needs. Our top recommendations include:
Carpet
When it comes to making a space comfortable, carpet is still one of the most classic choices you can install. It's durable, soft, and adds warmth into the space.
Plus, it adds an insulation factor into the room to help absorb sound. That can be an added bonus whether they're spending an hour in gym class, or hanging out playing video games with their friends. When kids get a little rowdy, carpet is one of the best choices to have in place.
If you're sold on the benefits of carpeting in your kids room, you'll have a wide array of colors, styles, and patterns to choose from. We recommend paying attention to quality, and ensuring it's stain-resistant. It's the best way to protect your investment if the juice boxes go flying.
Nylon carpet will move to the top of your list because of the benefits it offers. Depending on which manufacturer you choose, you should also pay attention to the stain benefits. Have you heard of Stainmaster carpets? Each manufacturer offers its own level of protection. Compare and choose the right one based on your family's needs.
Also, the more time your kids spend in their room, the more often you should vacuum it. One of the quickest ways to soil your carpet and create stains that won't go away is to allow things to settle deep within the fibers. Regular vacuuming will ensure you pick up dirt, debris, and other contaminants quickly, before they settle into the fibers.
Hardwood
As you finalize your decisions on flooring, take into account the activities your kids perform in their rooms. Smaller kids may be on the floor playing, while tweens and teens may spend more of their time in a chair or couch. Depending on your lifestyle, hardwood may be the perfect choice for you.
Hardwood is easy to clean and tends to last longer than carpet. It makes it easy to wipe up messes, and you can pick up dust bunnies with just a swipe of a broom or mop. Many homeowners love to carry hardwood throughout the home, including into the kids rooms. If anyone in your home faces allergies or asthma, hardwood can be a great addition as it doesn't collect animal dander, dust, pollen, or other contaminants.
Be aware that hardwood is durable, but it can be more prone to scratches. If your kids love to roughhouse with the family dog, or take game night to a whole new level, it's something to think about before installing hardwood. If you do, you may wish to invest in an area rug to help cover the floor, and add furniture leg pads to chairs and other items they may pull around.
Laminate
If you love the idea of adding hardwood to your kids room, but are concerned about the upkeep and care, laminate may be a better choice for you.
Laminate may look like hardwood, but it gives you added benefits that make it worth a second look. It's scratch-resistant, moisture-resistant, and wears well over time. Like hardwood, it's easy to clean – just use a mop to keep the surface clean, and vacuum occasionally to pick up dust and debris.
Laminate comes in a wide variety of colors and patterns. You'll often find color choices even more in abundance from hardwood. If you have an idea, you'll likely find a laminate choice to suit your needs. And like hardwood, if you want to soften the look or add a little warmth, place an area rug down to add a pop of color.
Luxury vinyl
One of the newest options we've seen going into kids rooms is luxury vinyl – either luxury vinyl tile (LVT) or luxury vinyl plank (LVP).  LVT and LVP resemble some of the most loved flooring products on the market, but add the benefits homeowners want.
Luxury vinyl planks can resemble any style of hardwood you desire. Luxury vinyl tile resembles anything from marble to slate and more.
When you install luxury vinyl into your space, you're adding a protective layer like no other. Many products on the market offer you waterproof solutions. That juice your kids spilled and forgot to tell you about? That wouldn't be a problem with luxury vinyl.
Of course, you still want to clean up messes as quickly as possible. Deep-seated spills may still stain the top layer, depending on what it is. But in general, luxury vinyl offers a wear protection layer that gives strength and durability unparalleled to other flooring products.
Plus, it's softer than hardwood, adding a cushion to every step you take.
What's the right choice of flooring for your kids room?
There isn't a right answer when selecting flooring for a kids room. There are ways to make it both beautiful and durable, a space where your kids love to spend time in.
Visit our showroom today and talk with one of our flooring experts about the right flooring product for your lifestyle. We'll help you make the right selection for your needs.