Nothing can help you relax more after a long, hard day than sharing a bottle of wine with your friends. While some prefer to go out and select a bottle from the wine list at their favorite restaurant, others turn wine into a passion they bring into their homes.
A recent report from the National Association of Home Builders found that in the luxury home market where home buyers have an income of $150,000 or more, 31 percent of them list having a wine cellar as a desired amenity. This isn't just a corner closet where the homeowner slips in a few bottles from time to time. Home wine cellars are meant to be displayed. They have beautiful decor. They showcase a prized investment.
And that means few homeowners will settle for anything but the best when it comes to decor. Of course, you'll need wine racks and a wine cooler. But before you start bringing in your favorite bottles, there's something else to think about: the flooring for your home wine cellar.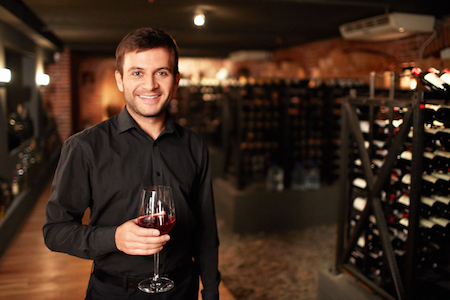 For most home wine cellars, it's all about the wine. Row after row of pinot noir, chardonnay, and Syrah line the room. As the bottles add up, they bring a lot of weight, something your flooring will have to take.
The average full wine bottle weighs 2.65 pounds. The average case weighs 30 to 40 pounds. Even a small home wine cellar can weigh one ton or more. That's a lot of weight for your flooring to take.
The flooring in your home wine cellar will have to support the wine racks, the refrigeration system, furniture, cabinetry, and of course, the wine itself. Choose the wrong floor, and it can buckle under the pressure.
Flooring basics for your wine cellar floor
When you select a floor for your wine cellar, it's a careful balance between looks and functionality.
Weight – Just 500 bottles can weigh up to one ton. That's a lot of pressure in one section of your home. While most homeowners select a basement location for a wine cellar, no matter where you choose to put yours, ensure it has the proper support. Also, ensure your flooring choice can handle the pressure without succumbing to cracks and breakage.
Environment – Especially if you are holding wine as an investment, think about the environment as you lay everything in place. Constant temperatures and humidity levels are everything to ensure the wine holds its value. That's why many wine cellars are built in the basement, so that they can be built over a cement slab. Be sure a proper vapor barrier is in place to avoid moisture.
Durability – Invariably, there will be spills and messes. While you hope never to drop a bottle of your favorite cabernet, it sometimes happens. If you're sharing dinner with friends, you might shatter a glass. Or drop the fresh catch of the day or even the chocolate cake you meant for dessert. Cleanup should be a breeze without worrying about staining, mildew, or mold.
We'll just say it – that means NO to carpet. While carpet has its place in your home – plush fibers always feel good in bedrooms on a cold winter morning – carpet and wine cellars don't mix.
What flooring does work best in a home wine cellar?
Depending on your style and personality, there are a wide variety of flooring options that will work perfectly in your wine cellar.
Stone
Stone has been around for centuries because of its durability and good looks. Depending on which stone you choose, it can be a good addition to your home for decades to come.
Try travertine, granite, marble, or natural stone. For a truly unique experience, don't stop at using stone flooring for your home wine cellar design; continue the look up the walls as well. A quick search on your favorite design site can help you pick out ideas to incorporate into your own home.
Hardwood
Hardwood is also a natural choice for including in your wine cellar design. If you already have hardwood flooring throughout your home, it's only natural to continue the look into your wine cellar as well. But don't be afraid to play it up a bit and create something unique. Because wine cellars are most often closed environments, it's okay to create a more personalized experience.
You don't have to stick with the most popular hardwood choices. Think exotic instead. Or mix and match – why not weave several different hardwood styles and colors throughout the floorplan to give you a unique look?
Cork
Cork and wine seem to go hand in hand. Cork is growing in popularity as a flooring option for every room in your home – why not your wine cellar as well? Cork is an eco-friendly option that handles well in all situations. Plus cork also brings a softness factor that stone and hardwood can't. That softness makes it more enjoyable to walk and stand on, as well as quieter because of its natural shock absorbency.
Plus its cork – did we mention that? It has the look and feel of being naturally placed inside a wine cellar. If you are placing it in a wine cellar, be sure to have it properly sealed so it can withstand the occasional spills.
Vinyl
The luxury vinyl market isn't what you remember from growing up. Today's luxury vinyl mimics the wildly popular flooring choices like stone, marble, or hardwood. It gives you the look of the best flooring on the market, while also providing the convenience of vinyl. It's less expensive than other flooring choices, and is easier to clean and maintain. If you're looking for a budget friendly flooring choice, you can't ignore luxury vinyl.
It's time to make your choice – what flooring do you want for your home wine cellar?
Depending on your personality and style, there's a perfect choice waiting for you. Your wine cellar should be as unique as the wine cellar you are installing into your home, whether it's ultra modern, or you're mimicking an old world cellar from the heart of wine country.
How can we help you make the perfect choice?