For most homeowners, they have an automatic like to a decor style. Contemporary or classic? Country charm versus ultra modern?
When you scan through home improvement sites, do you gravitate to certain looks? If you've started a pinboard on Pinterest, what decor do you most likely pin?
Chances are when you look at design, you'll see patterns develop. And you'll naturally gravitate towards light or dark floors.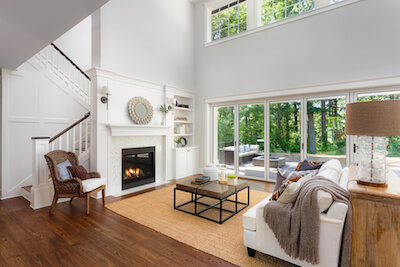 Thankfully, when it comes to flooring, there is no one size fits all. Some prefer dark, some prefer light. And there are many options that can please every taste, even if you and your partner/spouse differ in what that should be.
The first step is learning more about both. Which suits your needs?
Here are some factors to consider when selecting the color of your floors:
What do you prefer?
What style is your home? Why do you prefer in your decor?
Do you have a busy household? Do you have kids and pets?
How often do you clean?
How particular are you in having dirt show on your floors?
How much light does your home receive?
What color are your walls and decor?
What color is your cabinetry in the kitchen?
In general, lighter hardwoods are easier to keep clean then their darker hardwood stains. But if you love dark and still want ease, select a slightly lighter color (jacobean rather than ebony). Also, choose a satin finish as this will hide dirt, scratches, dents, and other imperfections easier.
Darker hardwoods will also show scratches and dents easier. The primary reason is that most wood floors are light and if you scratch through the dark stain, you'll see the contrast in color from the wood underneath. If you like your dark floors, a simple solution is to recoat your floors every three to four years to ensure the finish lasts longer.
If you are trying to make a space cozier, darker colors may be better. Dark floors tend to make a space look a bit smaller. They work well in larger homes and homes with larger rooms or open concept design. If you like darker flooring in small spaces, be sure to complement it with lighter shades of pain and consider adding overhead lighting for compensation.
How light or dark you should go all comes down to preference.
Head back to your pinboards. What do you prefer? Use your ideas when you shop to find the perfect solutions for your home.