Here throughout the Rockies, we love our hardwood floors. But hardwoods can be cold in the winter, and can be easily damaged in high traffic areas. Which is why many of us turn to decorating with area rugs to add protection to a room.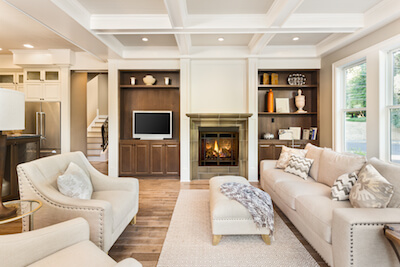 Before you begin shopping, it's important to accurately measure the total width and length of your room. It's also important to measure the functional pieces in your room. In the dining room, for example, measure the dining table and chairs. Sketch a floor plan to show furniture placement and traffic flow.
Once you have all measurements in place, go back and subtract the area rug from your room measurements to judge the exposed floor space. How much space is there between the wall and the area rug? This measurement will help you determine the proper size of a rug to ensure it fits both with the look and functionality of your space.
A rug in the dining room should be large enough to fit the table and the chairs when all of your guests are seated, and the chairs are pulled out. This will give your room a balanced feel, as well as prevent your hardwoods from getting scratches. In most cases, your area rug should be at least three feet wider and three feet longer than your dining table when all chairs are pushed in. An average sized dining room table with six chairs works well on an 8×10 rug. A larger table that seats eight or ten would work best on a 9×12 or slightly larger rug. A 10×14 works well for 10 chairs.
Ensure three to four feet of hard surface around the perimeter of the rug to give the illusion of a large, roomy dining room. The exposed floor underneath also works as a border to the rug. All other furniture in the dining space, such as buffet or china cabinet, should rest on the floor, not on the rug.
In a living room or family room, rugs are a great way to define living space and make them appear cozy. You can build a conversation area in front of a fireplace by using an 8×10 rug with a sofa and two chairs arranged around a coffee table. Then create a corner reading area with an armchair, ottoman, bookshelves and a lamp table offset by a complementary 4×6 or 5×7 rug.
The size of your room will determine how many functional spaces you can build. If your room is small with one focal point, such as a fireplace, it's best to choose a rug that doesn't compete or distract from the focal point. If you use more than one rug, it's best to vary the scale of the pattern and alter the design. Rugs don't have to be identical, but should match in tone and feeling.
How can you use area rugs to define your space?
---
About Pro Flooring Brokers in Denver
We are a one stop shop for all of your flooring and installation needs. Located in Denver, CO, we have been family owned and operated for over 30 years! Our passion is your project.
Have a Flooring Project in the Denver Area?
Commercial and residential customers love our huge selection of carpet, hardwood, porcelain tile, natural stone, luxury vinyl tile/planks, laminate flooring, and sheet vinyl flooring. Check out our products to learn more. Visit our showroom, meet our team, and let's start your flooring project together. We offer:
Complimentary on-site measuring
Flooring estimates based on floor plans or blueprints
Installations performed by trained and qualified installers
Full one-year guarantee on all workmanship (in addition to manufacturer's warranty)
Flooring and installation are made easy with the PRO! Flooring Brokers. Contact us, visit our showroom, or call today at 303.788.0113. We look forward to helping you!