What do you think of when someone mentions vinyl flooring? Most people have a distinct thought pop into their minds. Maybe it's reminiscent of your grandmother's house. Maybe you think of yellowing surfaces where the wear layer peels back and cheapens the look.
If this is close to your beliefs about vinyl flooring, it's time to upgrade your thinking.
Today's vinyl flooring is growing in popularity. If you haven't seen the latest in vinyl flooring, it's time to take a second look.
Do you believe any of these vinyl flooring myths?
Myth #1 – Vinyl flooring is bad for your health
Are you trying to clean up your living arrangements? Want a cleaner, more sustainable home?
Manufacturers get that. That's why they're dedicated to making a better product, one you'll want to install inside your home.
Heading back in time, vinyl was created with high concentrations of lead, cadmium, and volatile organic compounds (VOCs). People weren't aware of toxic chemicals, and never gave a thought to how flooring was produced. Even today, vinyl is a petroleum-based product made from polyvinyl chloride (PVC), and if it's manufactured from a less-that-reputable source, it could off-gas VOCs into the environment for long periods of time.
Manufacturers supply what consumers are willing to buy. Because more homeowners are asking for a cleaner product, they've gone to great lengths to provide it to the marketplace.
The EPA provides guidelines for manufacturers to follow to ensure safer products. Many other organizations have started to review product lines and give consumers safety scores. Places like Scientific Certification Systems provide FloorScore to show how a product will impact indoor air quality.
If indoor air quality is at the top of your wishlist, and you're worried about air quality, talk with a flooring representative. They can show you clean lines of vinyl flooring you'll be happy to install inside your home.
Myth #2 – Vinyl is all the same
You might have a picture in your mind of what vinyl will look like. We find it's usually based on the flooring they remember from their grandparents' homes.
It's time to take another look at vinyl flooring.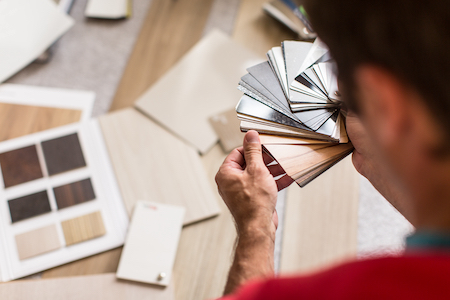 When you start looking at vinyl flooring, you'll quickly find a variety of products:
What does it all mean?
Yes, vinyl comes in peel-and-stick tiles, or vinyl sheets where you can roll it into place. The colors, patterns, and possibilities are vast; it's still a great way to add flooring to areas that need water-resistant or waterproof flooring.
Vinyl has also created a whole new market thanks to Luxury Vinyl Flooring (LVF).
The luxury vinyl market is built to mimic some of the most popular flooring products available. Stone, tile, hardwood – there's a luxury vinyl product that closely resembles it.
WPC offers a wood-plastic composite core that ensures a waterproof structure. It's soft underfoot and works well in residential situations.
SPC refers to a stone-plastic composite core, also known as rigid core. Its waterproof features stand up well in both residential and commercial applications.
Luxury vinyl planks mimic hardwood so closely, even the experts have to take a second look. They work great in situations where you might be holding back from installing hardwood, like the basement. It creates a dynamic look and feel, with qualities you'd never expect from traditional hardwood.
Myth #3 – Vinyl is only good for bathrooms or laundry rooms
We get it; you're trying to put function over design. With today's vinyl flooring, you no longer have to compromise.
Homeowners before would often select vinyl for the smallest rooms in their homes. You can always add a rug in the bathroom – you'll never notice it's vinyl.
Luckily, you no longer have to worry about combining good looks with functionality. You can have both – and you'll want to install it all over your house.
Luxury vinyl planks are growing in popularity because of their classic good looks. One glance, and you'll be sold – they really do look like hardwood. Yet you'll also get the advancements luxury vinyl brings to the market. By choosing the right product, you'll have a water-resistant or waterproof flooring.
That means you can install it in your entryways, kitchen, laundry room, and bathrooms. It's a perfect choice for the basement, where the moist environment has impacted other types of flooring.
Myth #4: Vinyl is outdated
You want something new and refreshing. You want the latest styles and trends.
It's time to give vinyl another look.
There was a time when vinyl was the most basic floor covering. No more. Today's vinyl offers you everything you want from flooring … and more.
Technology has made it possible for vinyl manufacturers to create realistic flooring that mimics the most in-demand flooring. If you want natural stone or classic hardwood, yet installing either isn't practical, luxury vinyl may be just the thing you're looking for.
Homeowners love today's vinyl products because they combine the latest styles and trends with waterproof technology. If you've been holding back from installing hardwood because you know it doesn't work with your lifestyle, luxury vinyl planks may be the perfect fit. It protects your floor from water damage, while remaining beautiful at the same time.
Myth #5 – Vinyl is hard to install
If you're looking for a do-it-yourself project, vinyl might be just what you're looking for.
Luxury vinyl planks and tiles come with tongue and groove installation. Also known as click-and-lock, each tile or plank snaps together, requiring no adhesives. It floats into place, making it easy to install and easy to remove. Need to repair an area? Not a problem.
Even if you stick with more traditional vinyl, you'll find it easy to use. Tiles with peel-and-stick installation mean you can place them anywhere, at any time. Just peel back the paper and stick it into place. Press down … and your new floors will be ready.
Sheet vinyl is even easier, just roll it out and cut it to fit. When you're ready to install it, spread the glue into place. You'll have durable flooring ready in no time.
Is vinyl flooring the right choice for you?
Did you believe any of these vinyl flooring myths before?
Now that you know many of these myths are no longer true, it's time to give vinyl a second look. Today's vinyl is the perfect choice for many homes. Whether you choose tiles, sheet vinyl, or luxury vinyl planks, you'll love the look they give each room in your home.