Deciding what flooring to install inside your home can be a challenging task. But if you've settled on ceramic tile, the decisions have only begun.
Ceramic tile is a popular choice for today's homes. It's durable, easy to clean and maintain, and can give any room a fresh new look. Plus, you'll find endless opportunities when you start making your final decisions. The designs, styles, shapes, textures, and colors available can match any decor.
What is ceramic tile?
Ceramic tile is one of those concepts we've all heard of, yet when you try to define it, you might be puzzled.
Ceramics are traditionally made from clay. You might be familiar with it when shopping for dishes, pots, or other earthenware. It's created by baking or firing clay in a kiln. (As a side note, ceramic tiles are fired at 1400 degrees Fahrenheit, compared to porcelain tile, which is created at 2300 degrees.)
Today's ceramics are made from a formula of water, sand, and clay. When combined with grout, which is placed between the tiles when they are laid into place, it can create a hard surface that provides years of enjoyment.
You'll find ceramic tile comes in two major categories: quarry tile, which uses natural clay or shale pulled from the earth, and a handcrafted tile made by compacting clay dust.
Ceramic tile also comes in different grades:
Grade 1 – usually placed on walls
Grade 2 – used for residential flooring
Grade 3 – used for light to moderate foot traffic
Grade 4 – for commercial use
Grade 5 – for heavy foot traffic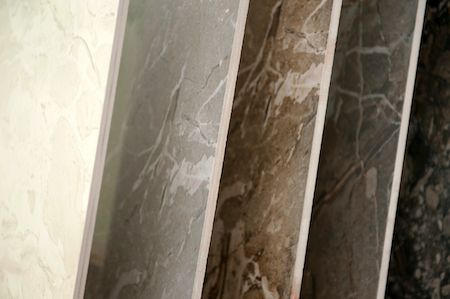 Of course, you can mix and match, depending on your desires. Installing a commercial grade tile in your home may provide better results, especially if you have an active household. When in doubt, talk to one of our sales associates who can help you finalize your decision.
What does ceramic tile look like?
Because ceramic tile can take on any look, and is available in many different formats, it's often one of the best choices for your home. Having trouble agreeing on what flooring to install in your home? Often, homeowners can agree that ceramic tile is the perfect way to blend everyone's needs and desires.
That's because ceramic tile manufacturers can create almost any look when developing the finalized product. Circles, squares, hexagons – you'll find many shapes. While the majority is square or rectangular, if you have something special in mind, we can help you find it.
In some places, like the bathroom – you may choose to create elaborate designs with small mosaic tile. For use in main area living spaces, why not try one of the latest design trends and use large tiles. Ceramic tiles come in standard 6, 8, or 10 inch squares, or try large sizes like 12×24, 24×24, or even 12×48 inch tiles. Each creates a unique look in your area, depending on your wishes.
What about ceramic tile types?
Not every ceramic tile is meant for use as flooring. Pay attention to the type to determine how well it will wear. Typically you'll find ceramic tile labeled as:
Glazed – glazed tiles are coated with a protective finish to protect the design underneath. They can be shiny and glossy, or come with a matte finish perfectly paired for natural stone designs. Glossy may be chic and perfect for wall designs, while a matte finish may work better in larger spaces and for flooring.
Wall tiles – this is where you'll find perfect choices for showers, backsplashes, and other accents throughout your home. You'll find your most variety in wall tiles because they can add personality anywhere you desire a pop of color. They are more fragile than other tiles, and can't handle daily wear on the floor.
Floor tiles – these are specifically designed for use on the floor. Usually with a matte finish, they provide anti-slip qualities that make them function well over time.
It's important to note the composition of the finish. This will tell you how well the tile will handle in different situations, which can be especially important in kitchens, baths, and other areas where moisture might be a problem.
Tile density will give you an idea of the strength – how well it handles under pressure.
Moisture absorption refers to the amount of moisture the tile can absorb. A dense tile repels rather than absorbs moisture. This indirect relationship determines what tile is best in each situation in your home.
Non-Vitreous – these are tiles that absorb 7 percent of more moisture. They handle well in indoor situations
Semi-Vitreous – they absorb from 3 to 7 percent moisture. They are for indoor use only.
Vitreous – they absorb less than 3 percent. They are frost-resistant, but cannot handle extreme conditions, which may cause them to crack.
Impervious – they have less than .5 percent moisture absorption, and can be used outside.
What's underneath the tile
When you select your flooring, it's good to keep in mind that all flooring sits on top of a subfloor, and will only do as well as the subfloor was designed.
Very rarely are subfloors "perfect." It's hard to make them level, or create a perfect place for flooring to reside. Depending on what is underneath ceramic tile can cause a hollow sound. This does not impact the integrity of the tile. But it can impact the sound quality, especially in larger rooms.
Because tile is often considered a "cold" flooring, here in the Rocky Mountains it's a perfect choice to combine with radiant heating. It conducts heat well, warms up quickly, and is a perfect way to heat your home from the ground up. Many homeowners wouldn't have anything else in their bathrooms because of ease of use. If you've been thinking of expanding these qualities to other rooms in your home, this may be the perfect reason to do so. You'll love the results.
Is ceramic tile the perfect choice for your home?
Now maybe the right choice to make the change, and bring ceramic tiles into your home. They look good in any room, can add ambiance and classic good looks in a wide array of sizes, colors, and shapes.
Is ceramic tile right for you?