Having wood flooring throughout your home is at the top of most homeowners checklists. It's beautiful. It's durable. It matches any decor.
The good news is that installing wood flooring isn't rocket science. With a little due diligence, an installer can create flooring that will last for years. However, if you take shortcuts, plenty of problems can surface almost as soon as the flooring is installed.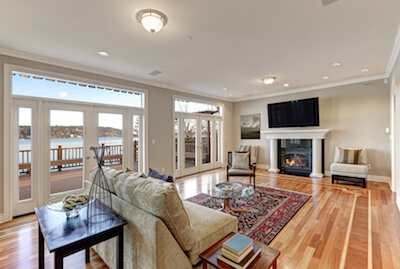 Being guilty of these common mistakes will cause problems almost from the start.
Not Checking Moisture
Moisture – or lack thereof – can be a big problem after the wood flooring has been installed. Here's how.
A contractor receives shipment of solid wood flooring from a location outside of the Denver Metro area. He stores it in his warehouse until he needs it for a project. Due to time sensitivities and delays, he brings it into a clients home and installs it right away. The flooring looks great and the client is happy with the job. A few months later, after season changes and a cold winter, the client runs the furnace frequently and starts to notice some of the boards have gaps between them.
The likely cause: the flooring wasn't acclimated properly for the conditions.
Whenever possible, the goal should be to install the flooring at a moisture content between the extremes of summer and winter living. While gaps are a natural part of the process, they should never be large enough to cause a problem.
Not Preparing Subflooring
The subflooring in your home sets the stage for how well your wood flooring will behave. If the subfloor isn't prepared properly, you'll have a variety of problem with your wood flooring. Have you ever had wood floors:
A floating floor with enough deflection that things shake when you walk by
A glued down floor that is loose in some areas
A solid strip floor that squeaks in different places.
It's not the floor; it's the way it's installed. It comes from not ensuring the subfloor is primed and ready for installation. It might not be flattened throughout. It might have leftover drywall, plaster, or paint from renovation. Or the subfloor may be inadequate or inappropriate, such as particleboard.
Think "clean, dry, and flat" before you ever tackle a project.
Not Enough Nails
Some less than stellar contractors do just enough to get by. But if you don't put in enough fasteners, the problems will surface quickly. Floors without enough fasteners will be loose, which can cause them to move and squeak. They are also more prone to have gaps between the boards as they move and settle with time and the weather.
Simple rules of thumb should be:
Every board must have at least two fasteners
There should be a fastener 1 to 3 inches from the end of each board
Standard strip flooring should have fastener spacing about every 8 to 10 inches
Plank flooring should have fastener spacing every 6 to 8 inches
Always follow manufacturers guidelines
Have you ever had problems with your wood flooring installation?