In many ways, home decorating is difficult because there are too many choices vying for your attention.
Even after you've settled on a particular type of flooring – carpet? Hardwood? Luxury vinyl planks? – there are so many options even within a specific style. Color, patterns, sizes – how are you supposed to make a decision when it's something you'll have to live with for years to come?
If choosing new flooring is leaving you nervous and overwhelmed, take a step back and make it an easier process. We have several steps you can take that will make it easier to choose.
Settle on the type of flooring that makes sense for your rooms
You can fall in love with traditional hardwood, but if you lay it in a heavily used bathroom, you might come to regret your decision not long after installation.
Every room has specific needs. Is it a high traffic room? Does it receive a lot of moisture and humidity? What overall purpose is the room used for?
All of this dictates what flooring is best to suit the function of the room.
Carpet is a great choice in low traffic rooms like bedrooms. It cuts down on noise, and adds warmth to a room. That can be a very good thing on a cold winter morning. It also provides softness that makes it a great choice for a kid's room. If they lie on the floor playing board games and make-believe, carpet is almost always a great choice.
Hardwood is a great choice for main living space. It functions well under normal living conditions, and looks beautiful as you enter your home. If you pay attention to manufacturers, you can install sustainable flooring that doesn't harm the environment. With so many choices in species, colors, and patterns, you can find one that suits your tastes as well as your desires.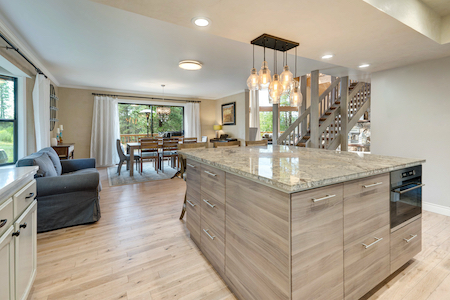 Engineered wood is another top choice for main living spaces. Homeowners often choose engineered wood because it steps up the durability factor. It looks like traditional hardwood, but it stands up better to moisture. If you spend a lot of time in your kitchen, this may be a perfect choice for flooring for your home.
Ceramic tile is a popular choice for rooms throughout your home. It makes a great addition to entryways, where cleanup will be easy to do. It holds up well to moisture and water, which is why you often find it in the bathroom. And if you want unlimited choices, and have a desire to create a unique look all your own, look no further than ceramic tile. Sizes, textures, patterns, colors – you'll be pleasantly surprised at all the options waiting for you. Maybe that's why ceramic tile is often adhered to the walls, countertops, backsplashes, and more, in addition to the floors.
Luxury vinyl is growing in popularity because it offers waterproof flooring options with a look homeowners demand most. Want hardwood but nervous about how it will stand up to your family's activities? Give luxury vinyl a look. It comes in many formats, but currently, people are excited about LVP and LVT – luxury vinyl planks and luxury vinyl tiles. Both mimic the most popular flooring on the market today in looks, but offer a lot more durability than other choices you can install. The hardwood and stone can look so real, even an expert will have to take a second look to see it isn't real.
Have your type in mind? Now focus on your style.
What holds a lot of homeowners back from making a choice is their heads and hearts are requesting different things. Maybe you've dreamed of hardwood for so long, yet after all the research you've performed, you know it might not be the smartest choice given your lifestyle.
We suggest you spend some time seeing a few different choices. When you come into our retail location, we can show you lots of options to suit your needs. Bring in your questions and concerns. We can help you compare and contrast different choices, and make the right selection for your home.
Don't forget to keep your lifestyle in mind.
We know that many homeowners right here along the Front Range have fur babies as well as kids. When the two combine, it means a house full of love … and the occasional chaos that goes along with it.
Will they chase each other through your home? Of course.
Will they spill and track in things you might not even want to know what it is? You bet.
That's a part of raising a happy, healthy family.
But isn't that what you want from a flooring – a product that stands up to all you dish out, without having to worry about how it stands the test of time?
We're at one of the best times for marrying up functionality with personality. If you really want hardwood, for example, but have reservations about how well it will stand up to the punishment your family dishes out, give luxury vinyl planks a look. Maybe the 100 percent waterproof, durable, pet-resistant, scratch-resistant flooring is just what you need.
Now let's look at long term value
The last thing you want is to be sorry you installed flooring soon after you purchase it. Flooring is supposed to last for years. You'll have trouble looking at it if you regret your decision a few months after installation.
That's why it's important to take your needs into consideration, and think about how well a flooring will work for you over time. Will it continue to hold its value as your family grows and changes?
Also consider your own goals. Are you fixing up a house you hope to sell in just a few years? Or is this your forever home, one you hope to grow old in?
Homebuyers look for quality, and they know what they want. Hardwood floors continually top their desire lists. But that doesn't mean they aren't open to other options. If you install a high quality luxury vinyl plank, and it moves into the bathrooms and offers waterproof features where a homeowner needs it most, that adds value.
The more you focus on what choices make sense in your life, the more a potential homebuyer will see that as added value too.
Ultimately, what flooring you choose is up to you. Spend some time considering your options carefully, and purchase something you can live with now and well into the future.