You're ready for new floors. You have an idea in mind.
But flooring isn't just about picking out the material. It requires a whole collection of accessories to finish the process.
Granite
Marble
Hardwood
Linoleum
Laminate
Carpet
Vinyl
Stone
Each material requires its own extras to complete the project. Transitions, trims, vents, underlayments – it's all required and needs a decision before you finalize your purchase.
The more you know before you start shopping, the better prepared you can be to finalize your decisions.
Transitions
When planning a remodeling project, the main focus falls to what material you select. It's fun to choose what you'll install, and select the perfect color.
It'll quickly become apparent that your new floor will have to sit adjacent to another floor, and it'll have to blend together. This junction plays a vital role in visual appeal and overall durability. The standard way to transition from one floor to another is by using a transition strip. Here's how you identify what works best.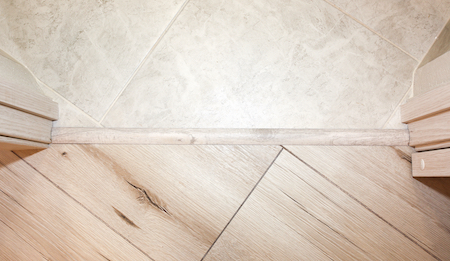 What purpose will it serve? Transition strips can perform several different functions. The most obvious is to cover the joint where two separate flooring materials are joined together. Transitions can also help secure the flooring material into place, helping to protect it from wear and tear. It should be large enough and secured into place to prevent foot traffic from knocking it loose. Transitions can be similar to one flooring material, blending in nicely. Or make it visible to signal a change in height or texture of the flooring.
What flooring are you transitioning? Specific flooring materials need different transitions. Not all transitions will work in every situation. Are you moving from hard to soft flooring? Is there a difference in height? The material and height of the connecting surfaces will help you determine the best transition piece. A good installer will make recommendations and help you select the right piece for your home.
What transition strip do you need? A reducer helps transition from thicker flooring to thinner material, such as hardwood to sheet vinyl. A T-Mold helps transition hard surfaces of the same height. Carpet strips help transition from carpet to any other type of flooring. End molding provides a final edge instead of transitioning it to another material. Stairnose transitions from the edge of the stair tread to the flooring material. Tile strips provide transition between tile and any other type of flooring. Installers can get creative and make any transition durable and look great.
Trim and molding
Trim and molding are an essential part of any flooring project. They are flooring edge pieces that transition your flooring material to stairs, another floor, or walls. They are the finishing touches to complete your flooring renovation.
They come in many forms and materials, such as wood, rubber, vinyl, fiberboard, and more. Trim is a term used to describe edging material used around doors, windows, between different floors, and on walls and ceilings. Molding is a grander version of trim. Baseboard molding, for example, would be a decorative trim meant to stand out and create a custom look.
Like transitions, molding is chosen based on a variety of things:
Location
Floor type
Size
Style
Baseboards are considered to be the finishing touches. It fulfills two purposes: they serve as a transition from floor to wall, and cover any gaps between the floor and the wall. It gives a room a finished look, and can add to the overall architectural component.
Vents and registers
Vents and registers are standard and essential elements of any flooring remodel. Depending on your HVAC system, you may have several vents in the flooring. This requires you to incorporate them into your finalized flooring project to give your floors a flush fit, and ensure it isn't a tripping hazard.
There are two essential elements to picking a suitable vent: function and aesthetics. Vents must allow your HVAC system to function as designed. They should work well with your flooring and allow airflow into the room. Vents should also be aesthetically pleasing. With many different types, it's easy to find one that fits well and works with your room's decor.
Underlayment
Underlayment sits just under your visible flooring choice and provides a smooth, flat surface area for your flooring to be installed. It can be made from different materials, and should be chosen depending on what flooring you're installing. It comes as plywood, padding, hardboard, and cement board, to name but a few.
Underlayment isn't the same as the subfloor. A subfloor is a part of a home's framework and structure. Underlayment serves mainly as a flat surface area to make it easier to install your new flooring.
In some cases, it can also serve as additional insulation to help reduce noise as people walk across, or to soften the feeling of the floor underneath. It can also provide a moisture barrier, depending on what flooring you're installing.
When installing hard surfaces like tile, underlayment provides a good surface area to adhere to the tile. It allows grout, adhesive, and tile to expand and contract if installed incorrectly. Be sure to select a quality underlayment for full protection.
It can also provide structural stability. Especially in older homes where the subfloor may not have the strength of modern-day building materials, the right underlayment can provide structural support.
Maintenance
From the moment you install your new flooring, you'll want the proper tools to maintain it. If you've never had hardwood before, you'll want something to dust away the daily dirt and debris. Installing carpet may require a vacuum to give you flexibility and ease while keeping it clean. Installing new linoleum? It requires occasional waxing to ensure it retains its good looks.
Before you rush out to your favorite big box store, check with your flooring manufacturer to ensure the products you use match what they suggest for warranty validation. Many of the top cleaners you'll find on the shelves aren't suitable for floors and can strip them of their good looks.
Have further questions? Just ask. We're here to guide your flooring project every step of the way.