What's the most strenuous thing a floor comes in contact with? If you said a stiletto heel, you are correct. Stilettos are notoriously dangerous to flooring, having the ability to scratch, scrape and dent your floors. While you may love them for the way they make you look, every time you walk on your flooring, you risk damaging it beyond repair.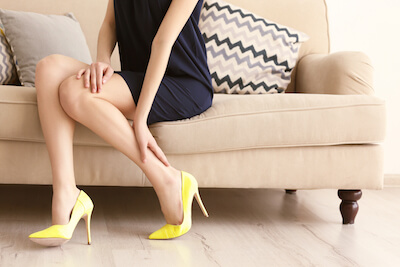 Love your stilettos? Never want to give them up? Then it might be wise to change out the flooring in your home to create a harder, more wear-resistant surface to ensure your heels don't damage the floors. Here's what you can choose.
Laminate Flooring
If you want the look of hardwood flooring with a harder surface area to stand up to more abuse, laminate flooring may be the way to go. Many manufacturers offer twenty-five-year warranties against wear and tear, knowing they can easily stand up to the punishment your heels can put out. Plus, laminate flooring is just as good to the abuse caused by pet claws, which means you can dance the night away with your dog or cat happily dancing right alongside you.
Vinyl Flooring
Like laminate flooring, vinyl flooring has come a long ways over the years. It's a synthetic flooring material that can mimic the look of just about any other flooring option out there. While it may be slightly softer and more resilient than laminate, it's a great budget-friendly option that provides beauty and easy living to any room in your home. In comes in sheets or tiles, so it's easy to place in all of your rooms.
Natural Stone Flooring
Natural stone flooring is growing in popularity because of its beauty and endurance. It will hold up against any high heel you can think about wearing. You'll find natural stone flooring in materials like marble, granite, limestone, travertine and slate. While it may be the priciest of the options, its durability will more than make up for it by giving you a flooring that will last for many years to come. And if you're worried about the coldness of stone flooring in the winter time, consider radiant heating – it's a great option underneath stone floors.
How durable is the flooring in your home?