We've all been there. We've all had space that feels completely overwhelmed. We walk into the room and feel closed in, like the walls are caving in.
The answer doesn't always lie in moving to a larger space. In some cases, selecting new flooring can be the start of creating the illusion of more substantial square footage.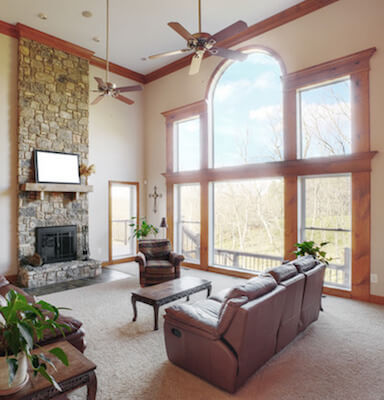 Select Lighter Colors
Choosing a lighter color palette can expand the perceived size of any room. Start with the floor and select light beige or cream carpets. Or select a light wood or tile to set the stage. Then move up from there, using light paint, furniture and window treatments to finish the look.
Use light colors to make the most of great rooms and open concept spaces to create sleek lines. Wider plank sizes can help maximize the space enhancing effect. Think subdued rather than wild. If flooring looks too busy, the pattern can contract the space. Tile flooring should feature tiles at least 12 inches square, using light colored grout to help maximize the size.
Divide Rooms For Creativity
Many homes today play on the open concept. For large open spaces or studio apartments, you can give the appearance of the space being larger by breaking it up in artful ways. Plan out each area: living room, office, bedroom, dining room. Then select a different area rug to help with the division. More subtle color transitions can create a gentle flow, especially with a lighter tile or hardwood flooring choice underneath. This will also allow you more flexibility and creativity to create space throughout the year.
Creating Illusions 
Your floor plan contains valuable real estate that you can use to build the look you desire. By starting with a light flooring choice as you enter, and using darker tones in receding spaces, you can create the illusion of having more space than you actually have. Alternating solid colors with tasteful patterns in others can help brighten and open up a home while preventing it from looking too homogeneous.
Bring It All Together
No matter how your rooms are split up, remember that the final goal should be one conclusive look. Consider furniture and design accent pieces to complement your flooring color to help enhance space enhancing objectives. Long floor to ceiling window treatments in a similar shade can also help a space to look its largest. Floor to ceiling cabinetry or shelving has the same effect. Make sure your lighting is bright as well to avoid shadows and bulky shapes that close down the space.