Installing new flooring in your home is a big decision. It's not a remodeling task you take on every day. So of course, you do your research and spend days – weeks – trying to decide the best choice for your lifestyle. 
You pay attention to current flooring trends to determine what other homeowners are installing in their own homes. You read home improvement magazines, maybe even start a Pinboard on Pinterest to track your favorite looks. 
While you want to choose a flooring trend that adds value to your home, you don't want to get too trendy and have your final choice go out of style almost as quickly as it came in.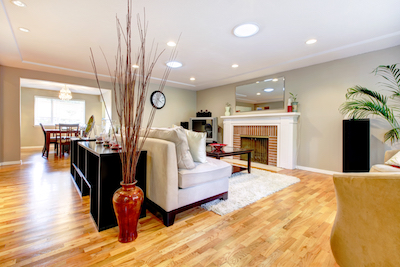 What should you do?
Our suggestion is to pay attention to two things:
1. Your lifestyle – the easiest way to be disappointed with your flooring selection is if it isn't easy to maintain. If you have pets and kids, you're going to need a more versatile flooring selection than if you're an individual living on your own. 
2. Your personality – don't let anyone convince you to stay neutral or make your final selection based on resale value. You have to live with your choice. If your gut tells you to make a certain choice, that's why there are thousands of different flooring choices on the market today. 
With those two things in mind, here are top flooring trends we see staying around for a long time. 
Fumed Hardwood Floors
Here in the Rocky Mountain region, we love our hardwood floors. Maybe it's the mountains calling to us telling us to stay as natural as possible. Maybe it's the ease – hardwoods are perfect no matter if it's a snowy or sunny day. In any case, hardwood flooring and Colorado homes have always gone hand in hand together. 
But for some homeowners, they want a more unique look. Skip the staining; they want to see the beauty of the natural wood. That's why fumed hardwood floors are growing in popularity. 
Fuming is a process of placing hardwood planks in a closed environment, and allowing airborne ammonia into the air to react with the wood to change its color. The ammonia is never applied directly to the wood, as that can weaken the wood fibers. The longer the ammonia is left in the air, the more the wood's color and characteristics shine through. Just like other coloring options, no two pieces will ever be the same. That's what gives fuming its unique look. 
For many, fumed wood floors have a richer, more luxurious look than the traditional staining methods used before. If you are interested in this latest flooring trend, stop by today and let us show you how it looks. 
Bleached Hardwood Floors
Not every homeowner prefers the dark hardwood look. Some prefer a lighter, more open look. That's why the softer, bleached hardwood floor is peaking in popularity too. 
To get the bleached hardwood floor look, hardwood undergoes a blanching process that involves placing a chemical solution onto the surface of the planks to get rid of the color. Blanching gives the wood a whitewashed look while the natural grain still shines through. 
You don't lose the charm of the natural wood planks you've chosen to install. They just shine in a lighter, more natural way. 
While some homeowners try and achieve this look with their current hardwood flooring, it can be an expensive and tedious process. Selecting ready-made blanched wood planks is often an easier choice. We'd be happy to show you a selection to help you make your final choice. 
Hardwood Porcelain Tiles
Colorado homeowners love the look of wood. Unfortunately, traditional hardwood isn't always the right choice for every situation. 
That's why we've fallen in love with hardwood porcelain tiles, and know they will be a flooring trend that's going to be around for a very long time. You get the beauty of hardwood and the durability of tile – what can be better than that?
That makes hardwood porcelain tiles the perfect choices for rooms you might not think of installing traditional hardwood. Like bathrooms. Or the laundry room. Or basements. 
What's more, by adding hardwood porcelain tiles to your living space, you can install them directly over radiant heating. No more cold floors in the morning when you rise from bed. Nice warm flooring in your living space on a cold winter day! That alone makes this flooring trend worth a second look. 
Wood Flooring and Patterns
Unless you have a fully customized home that was built for you, chances are your flooring was installed with a "lay it quickly" mindset. Subdivisions were created by duplicating processes over and over again. And that means your flooring looks like your neighbors, looks like your neighbors … You get the picture. 
But with today's flooring options and technology, individuality and personality can be added to your decor like never before. That's where your Pinterest Pinboard can help you create a look all your own. Why design a floor like everyone else's? Try creating a pattern in any room in your home. 
We love the Chevron or Herringbone patterns. We've seen them installed nicely in kitchens and bathrooms. 
Or how about combining tile and hardwoods to create a look that's creatively your own?
Why not lay tiles along the baseboards of a room and add hardwood in the middle? It's a pleasing way to give your home a customized look, and you can add a pop of color anywhere with this easy strategy. 
The best way to create a house you'll love is to let your imagination run wild. 
And the best way to do that is to stop by and see your options today. Come in with an open mind, and we'll help you narrow down your ideas and bring a few samples home. Once you see how they add life and ambiance to your room, you'll find the perfect selection for you. 
How can we help you make the right flooring choice for your home? You can never go wrong with the current flooring trends sweeping the nation.