Are you considering adding hardwood flooring throughout your home? Nothing beats its beauty. 
But hardwood isn't like other types of flooring. It provides different strengths and weaknesses when compared with tile or carpet. Yes, hardwood can be a beautiful addition throughout your home. But there are a few things you should never do. 
Leave your shoes by the door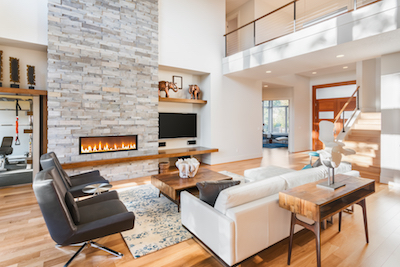 If you love wearing high heels, be sure to leave them by the door. Every time you walk across your hardwood, it has the potential of leaving tiny divots in the floor. And it's not just high heels; any shoe has the potential for bringing in dirt or sand from the outside, and tracking it across your hardwood floor. With every step, tiny scratches can work their way into the wood, scuffing and marring the finish. If they have moisture, they can leave water behind, penetrate into the grain and warp your hardwood. 
Leave rugs in one spot
While you may love the current setup of your living or dining room, experts agree you should never leave a rug in one spot for too long. The sun will gradually lighten the wood and bleach it out compared with the surrounding wood underneath. This can be difficult to fix as the wood changes characteristics. 
Use your steam mop
Steam mops and mops that spray as you pass by are all the rage. And they work great on tile. But if you use them on your hardwood, the moisture can wreak havoc across your room. The more moisture you put onto your hardwood, the more it can settle into the cracks and warp the wood. 
Let your pets have free reign
Remember the advice to take off high heels before walking across your floors? The same advice holds true for your pets. Those tiny, sharp nails work similarly to your high heels. Keep them cut trim and short to keep damage to a minimum. Also, realize that your pets will damage hardwood. You will have to maintain and refinish them more frequently than homeowners without pets. 
Use Vinegar as a cleaner
Vinegar works as a natural household cleaner in all kinds of areas of your home. But keep it away from your floors. The acidity in vinegar will strip away the chemicals used to adhere your planks to the floor and keep the beautiful look you've grown accustomed to. Instead, follow the advice of the manufacturer of your hardwood planks. 
Place furniture directly on the wood
Take a look at the furniture throughout your home. Tiny legs on bookcases and sofas can dent your hardwood. Chairs can scratch and dent as they are moved throughout the room. And if you have hardwood in your office, be sure to add protection before using caster and rollers on your chairs and files. 
Put off refinishing
It's easy to put off refinishing indefinitely. But every year your flooring is subjected to a little more wear and tear. And that means individual floorboards may be at more risk. Most manufacturers will recommend you refinish hardwood every 10 to 15 years, depending on use. Be sure to check with your manufacturer when you install. 
Are you ready to install hardwood throughout your home?