Home improvement projects can be expensive. Even simple tasks can become overwhelming when you see costs grow right before your eyes.
The average cost of new flooring today can range anywhere from $3 to $22 or more per square foot. That adds up to thousands of dollars, depending on the size of your room and the flooring choice you make.
How do you ensure you don't have buyer's remorse from the moment it's installed?
Buying new flooring is a big decision. Even if you have a flooring type in mind, it's best to head to your flooring dealer with a few questions in mind, to ensure you select a product best suited for your lifestyle.
As flooring consultants, we love helping homeowners select flooring they'll love for years to come. When we advise flooring clients, we ensure they've thought about these questions and more.
Is this the right flooring product for my lifestyle?
We can't tell you how often homeowners have come in with a particular product in mind, only to install something they'd never considered before. That's because it's easy to fall in love with a floor when you view it online or in home improvement magazines, only to discover it would be a disaster inside your own home.
If you have a busy household with kids and pets, a white carpet probably isn't on your list. Yet there are different flooring choices that might be better suited to your busy lifestyle.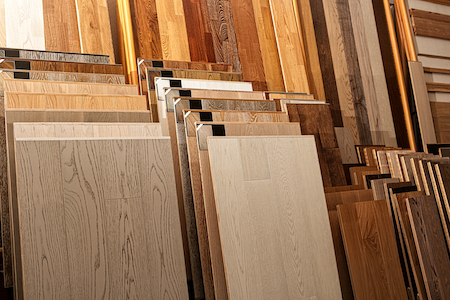 Before we even get into looking at flooring choices, we like to gain a better understanding of what a home is like. Where will you be placing the new flooring – kitchen, living space, or bedroom? We also ask questions about an average day in the room you'll be replacing. Take a kitchen as an example. Do you use it simply to warm up leftovers? Or are you in there morning, noon, and night, whipping up creations to present to family and friends? Messes are commonplace, and you wouldn't have it any other way.
Flooring type doesn't necessarily determine final looks. With today's flooring products, even if you love hardwood yet know it wouldn't handle well in your home, there are other products that can satisfy all of your needs and desires. How about luxury vinyl planks? Or tile that takes on a hardwood appearance?
Instead of coming in with specifics in mind, sometimes an open mind will lead to a better product that will be perfect for all of your family's needs.
What are the hidden costs?
Have you seen the ads on television that promise to install new flooring into a room for a very low price? Something inside tells you it's too good to be true.
It is.
These companies market to bring you in with a low price. But once they meet you in your home, they start adding on additional costs. And depending on how far along you are in the process, it can be a little unnerving to see just how high the final price grows.
Before you say "yes" to anything, it's important to understand all of your costs first. That includes the cost for the flooring product, installation fees, underlayment charges, delivery charges, discarding old flooring materials, and any other handiwork needed to install your final flooring product.
You can ask this question in different ways:
What other costs may be charged during the entire process?
What unexpected items may be added to my final bill?
What isn't included in the cost listed here?
You can also use these questions to get a better understanding of the ethics of the flooring consultant you're talking to. A reputable company will give you complete answers and bring up concepts you may not have thought about. If they are hiding something, you'll feel it as you dive deeper into asking questions.
Trust your gut when buying new flooring – you'll know if you're working with a reputable company after spending even a little time with them.
What about warranties and guarantees?
A lot of places with prices "too good to be true" won't stand behind the work they do.
New flooring products come with warranties from the manufacturer. This protects you from any defect within the product itself.
Reputable flooring retailers will also stand behind the products they sell and install. They want to make sure you're happy with your flooring and the way it's installed.
Get all warranties and guarantees in writing, and ask questions if you don't understand. This is the best way to stay protected in the weeks and months to come.
What about the installation process?
Did you know hardwood floors need time to acclimate to your home before installation? That adds time to the full installation process.
Or did you know that some flooring choices are better suited with different types of subflooring? If you have a concrete subfloor, that can influence the final product you install.
Because you don't install new flooring regularly, you might not understand the full installation process. If you have certain expectations about how fast the installation occurs, this can impact what product you select.
A reputable dealer will be able to walk you through the entire process, so you understand it from beginning to end. This also gives you a chance to ask about additional costs if something pops up along the way.
What about maintenance?
We find a lot of people ask questions about products and installation, but forget to ask about maintenance for the years to come. This can shorten the life of your flooring product, or even null and void the warranty.
Different manufacturers require different maintenance items to keep the product in good condition. For instance, some manufacturers have specific cleaning processes for daily maintenance as well as deep cleaning. Knowing this ahead of time can ensure you keep the proper tools on hand, and aren't tempted to grab cleaning solutions that might harm the floors.
Is new flooring in your future? 
If you're in the process of buying new flooring, focus on what questions to ask before you settle on a product.
The more you know about the flooring you choose, the happier you'll be once it's installed.
How can we help you find the right flooring for you?