Are you thinking of installing vinyl in your home? Before you make your final selection, you may want to consider the longevity of what you will be installing. Every material has pros and cons, and what you select is often at the intersection of affordability, durability, and aesthetics.
Today's vinyl flooring options can meet all three of those requirements, which is why its a popular choice. Vinyl plank flooring has grown in popularity because of it's ability to look like the real thing, while giving you the affordability and durability you'll love.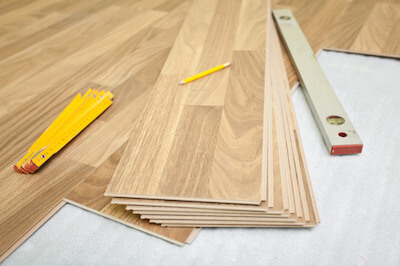 The longevity of vinyl plank flooring depends on the thickness and the wear layer of the product you are purchasing. Some of the thicker vinyl floors on the market come with warranties for up to 25 years. If you are using a thin vinyl, you'll most likely get a wear life of somewhere between 5 and 10 years with normal use.
Vinyl plank is designed to resemble hardwood, and it comes in strips in much the same fashion as a hardwood alternative. You can find this product in a number of looks and styles, each mimicking a specific type of wood. Because it is designed to imitate hardwood, you'll find a version that matches your home's decor.
Vinyl plank has many advantages over its hardwood counterparts.
Because many models are backed with a felt product, when installed it provides a softer floor with more give. That means less breakage when things are dropped, which is good news for plates and glasses in the kitchen.
Vinly floor is water resistant, making vinyl plank the perfect choice in kitchens and bathrooms. In fact, vinyl is better at sealing against water damage, so it's especially durable in basement locations.
Vinyl plank can be installed directly on your subfloor, which makes the process quick, cost-effective, and easy to handle.
And because vinyl is one of the easiest surfaces to maintain, it's a wise choice in a busy household with lots of foot traffic.
Keep in mind that while vinyl will hold up for many years, it can be damaged quite easily. Avoid moving heavy furniture around, which can result in scuffs and gouges. If any particles are left beneath during installation, it can create bumps or warps in your floors. And keep in mind that vinyl does little to add to the resale value of your home.
But in the right location, it can be the perfect choice for your home. Want to see our complete selection of vinyl plank? Stop by today.