When it's time to choose the right carpet for your home, where do you start? It's a major undertaking. Because carpet has the biggest impact on how your room looks and feels, it's important to take the time and get it right. It can last for years – a very long time if you don't like it from the moment it's installed.
At the same time, there's more to selecting carpet than color and price. If you focus on just those two points, you might miss installing the best carpet for your lifestyle. Style, texture, pattern, padding – there are a lot of decisions to be made to ensure you get the best flooring for your needs.
Where do you start?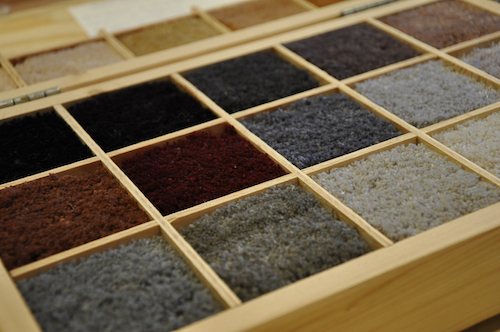 Where are you installing new carpet?
Your first step is to plan out where your new carpet will go. Are you installing it throughout your home? On one floor? In the bedrooms? In high traffic areas?
Let the amount of traffic the rooms receive guide you to make your decision. If you'll regularly be entertaining in the room, ensure it can handle the foot traffic and potential spills. If your new carpet is going in the dining room, stain and soil resistance is a must. If it's being installed in a bedroom or playroom, softness underfoot will be nice throughout the year.
How much are you willing to spend?
We realize that cost is a major factor when settling in on a floor. While it's important to choose the right carpet for your needs, it's equally important to realize there are other costs in your decision. Padding plays an equally important role in how well your carpet wears and lasts. Installation is also a factor in the final pricing.
The final cost often increases because homeowners forget about the little things that impact price. Have you considered closets, hallways, door frames, and other protrusions that require carpet too? Have you considered repeating patterns, seams, and furniture placement that will impact how much carpeting you need?
How do you pick styles and colors you like?
Wall to wall carpet has a big impact on the overall personality of your space. It can stay quiet and subtle, or pack a punch and be put on display.
Still, a lot of homeowners are nervous when it comes to color. They often shop with one thought in mind: I want it beige-y but not too beige-y. Have you ever thought that?
Looking at the vivid colors and patterns on display might capture your eye. But how do you make a final decision? How do you choose the right carpet for your room?
Start by talking with one of our flooring consultants. We can help you narrow down selections that would work well for your lifestyle.
Also, realize you won't be making your final selection in just an hour or two at the store. You'll want to live with your choices before you narrow in and make your final one.
We suggest narrowing in on three to five carpet sample boards. They usually are arranged with multiple choices, from darkest to lightest in descending order. Looking at them, you can probably eliminate most of the colors. But there will be several that are contenders. These are what you should focus in on.
Lay the sample board down in your room. Then cover up the samples you won't choose, and compare the others and how they look in your home. Keep in mind that carpet usually looks about half a tone lighter once it's installed because of the way the natural light will hit the fibers.
Live with your samples for at least a full day, watching the way the light changes. How does it look in morning sunlight? How about midday? Or evening light?
Then settle in on undertones. When you look at certain color choices, you'll see certain colors. Maybe one color has too much grey, while another has too much brown. Compare it with your other decor – does it blend or contrast with your new couch? How about the wallpaper? Or the new drapes being installed?
If you get it down to two or three and still can't make a decision, come back in. We can even order larger swatches for you to bring home and compare once again. A larger piece means you can move it more freely around your home. Butt it up against the baseboards, or throw it out in the middle of the room. You'll be living with this for a long time; taking the time to order larger swatches and live with it for a few days is worth the hassle and time.
What carpet is right for each room in the house?
While there isn't a set guide for what carpets work best in each room, we do have a few guidelines we suggest.
For living rooms, we feel plush or Saxony will hold up well. Well-constructed nylon will bring years of service to one of the most functional rooms in your home.
For family rooms, your best bet is a dense carpet that holds up well under pressure. Might we suggest a Berber in a neutral color? This will give you years of functionality and will stand up under pressure.
For dining rooms, ensure a stain-resistant carpet. Don't go too light; instead, choose a shade darker. You might even want to focus in on texture and patterns to keep your carpet looking good for years to come.
For bedroom living, these are the lightest traffic rooms in the home. Yet don't skimp on comfort, because nothing feels as good as scrunching your toes into the carpet on a cold winter morning.
Of course, beneath it all is equally important. A good padding minimizes wear and tear on the carpet. When in doubt, bump up the level of padding and decrease your choice in carpet. You'll be glad when you see how well your carpet handles under the pressure.
Is this the year you upgrade your carpet?
Are you ready to choose the right carpet for your home? If you've decided that this is the year, it's time to take action. Stop by today and let us help guide you towards the right carpet selection. With hundreds of styles, colors, and patterns, there's a perfect choice waiting for you.
Are you ready to find it?