I stopped by a friend's house the other day. She'd invited me over for coffee and conversation.
"And bring your dog."
Our puppies grew up together and were great friends. As we entered, I bent down, wiping her paws off with a towel.
"Don't worry about it. The floors are beyond repair anyway. There isn't a flooring choice out there that can survive when you're a pet owner."
What!?
And as I looked around, I saw what she meant. Her hardwood was scratched, possibly beyond repair. The living room had threadbare carpets in place where her furry friend dug into the floor. I'd never noticed it before, but her flooring was truly a mess.
I compared it to mine when I got back home. Without my dog by my side, you couldn't tell pets resided in my home. The flooring looked great! What was the difference?
Is it possible to have great looking flooring when you live with pets? I was determined to find out.
What pets do to flooring
People own all sorts of exotic pets. But in general, dogs and cats far outweigh any other kind of pet ownership.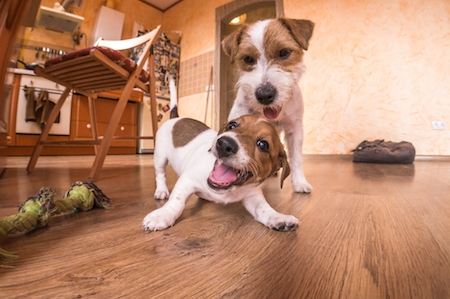 While dogs and cats are distinctly different in the way they impact flooring, you'll face three different categories of problems that affect how well your flooring wears:
Pets make messes. Their fur accumulates everywhere, meaning you'll be sweeping and vacuuming more. They spill their water and food when they eat and drink. They may knock things over as they run and play.
Pets scratch. They like to run across the floor, playing with a ball, or fetching a toy. They dig in for traction. They dig … who knows what may be underneath the flooring, or at least in their minds.
Pets have accidents. Just do a quick search in Google on pet urine, and you'll find millions of entries making recommendations for how to remove unsightly stains. It's bad enough when you see the accident. If it goes unnoticed for days, you may never be able to remove it entirely without stripping the flooring down to the core.
Factors to keep in mind when selecting pet-friendly flooring
If you want to have great looking flooring and have pets in your home, it does take a little extra work. Still, with a bit of research, before you make your final selection, you can choose wisely and be happy with your decision for years to come.
The best flooring when you have pets should be:
Scratch-resistant. While both dogs and cats can have sharp nails that dig into the flooring as they walk and play, dogs have the added issue of weight. A one-hundred-pound dog playing as they run from room to room has the potential for doing a lot more damage than a twelve-pound cat. Pet-friendly flooring is one that stands up to high levels of scratch-resistance, no matter how hard your pet plays.
Stain-resistant. When you bring a puppy home, you're going to face a lot of accidents. But even a well trained pet will occasionally have accidents on the floor. Even food and water can be a problem, especially when it sits in place for too long. The perfect flooring stands up well no matter how much your pet dishes out.
Safety. If you've ever watched a dog trying to gain traction on a slippery floor, it might look like it's straight out of the funniest home videos show. But it can be a safety hazard that has the potential to injure your pet. Your pet walks, plays, and lies on the floor all day. Shouldn't it be something that's safe and comfortable?
What is the best flooring for pets?
Now that you have a better idea in mind of what factors to look for in a flooring, let's talk about what options make great choices.
Hardwood. We start with hardwood only because it's one of the most popular choices here across the Front Range. Most hardwoods aren't meant for the abuse that typically comes with owning and caring for pets, especially larger dogs. If you don't want to sacrifice your hardwoods for the sake of pet ownership, however, spend the extra time looking for the hardest wood you can find. Check the Janka hardness factor for specific types of hardwood, and select on the side of the hardest of woods. You might even consider adding even more protection by applying a urethane coating to minimize damage from scratching and messes.
Laminate. If you love the look of hardwood, but want added strength and durability, consider laminate flooring instead. Laminate is designed to imitate the look of hardwood, yet depending on the product you select, it can actually be as hard as stone. Laminate is made up of several different layers of materials, giving you the freedom to select many different looks, while having a durable product that can stand up to whatever your pet dishes out. What's more, laminate flooring is easily cleaned and rarely stains, making it a great product to stand up to those occasional accidents your furry friend may make.
Vinyl. We love vinyl flooring, and recommend it all the time to pet owners. Don't think you'll have to compromise on looks to have vinyl installed in your home. Today's luxury vinyl flooring mimics the most popular flooring on the market so closely, even experts have to lean down to tell it isn't real. If you want hardwood without the hassle, look at luxury vinyl. If you want a softer version of stone, check out the options with luxury vinyl. Plus, it's one of the lowest costing flooring choices, meaning it's economical for all budgets.
Stone. Natural stone is one of the most expensive options, but its timeless beauty also makes it one of the best. If you're worried about scratches in your flooring, you won't have to think twice when you install stone. Even large dogs will have little impact against stone. And when it comes to clean up, as long as you have a proper sealant in place, clean up is as easy as wiping away the mess for good. We also love stone because you can install it over radiant heating, something your furry friend will love on the coldest of nights.
What pet friendly flooring choice is right for you?
These are our top flooring choices for homeowners that own pets. Though a lot of it depends on your style, personality, and the pets you care for.
If you're thinking of changing out your flooring, what choice is moving to the top of your wish list? What questions can we answer for you?