If you're in the market for new tiles, you've probably noticed that today's selection gives you infinite possibilities. Visit one store, and you'll have thousands of tile shape options. Head into another, and you'll be faced with thousands more.
It's all a little overwhelming. Where do you start?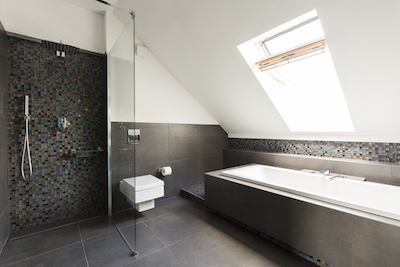 Especially when you're only goal was to remodel a room and give it a fresh, new update.
But now that you've seen the tile selection that's out there, you're ready to begin. You want something different, something with personality. You're ready to expand beyond the norm, and head for the wow.
Skip the standard sizes, shapes, and colors. You're ready for something more.
What does that mean? How about these for a few fresh, new ideas.
Penny Tile
Instead of going with a large or even extra large tile, think small instead. One of our favorite tile shapes is the penny tile. Penny tile, or circle tile, is making its way back on the scene. Originally popular around the turn of the twentieth century, these small circular tiles were found in black and white in all kinds of places.
No more. Today's penny tile comes in a wide array of colors, styles, materials, and finishes. And once installed, the look is fabulous.
Because penny tile is small, it's easy to install. That makes it perfect for a do it yourself project you've been itching to try. And because they're small, they can be placed just about anywhere. Move them up from the floor, into your shower stall, and even covering the wall.
Of course, with a smaller tile, it means they will require more mortar and grout than larger tiles. But that roughness can create a safer, more slip-resistant surface. They do come in sheet format to make it easier to work with and easier to install.
Mosaic Tile
If you don't want small circle tiles, how about square tile shapes instead? Mosaic tile usually come in small squares of two inches or less. And like the penny tile from above, mosaic tile comes in an array of colors, styles, patterns, and materials.
If you've ever traveled through history, looking at photos or movies about times past, you'll notice mosaic tiles in their homes and open spaces. Yes, mosaic tile has been around a long time. Maybe it's because of their versatility. Maybe it's because you can create any design you please with just a little thought and ingenuity. Use them to cover your floors and walls. Use them to brighten up a border. Use them to compliment your bigger tile and open up the space. There isn't a bad way to use mosaic tile.
Subway Tile
You can't talk about tile shapes and not discuss the classic subway tile. This tile shape was made popular in the early 20th century when they were used in the design and creation of the New York City subway stations. And ever since, they've been a mainstay in the tile industry because of their beauty and versatility.
Subway tiles come in a variety of dimensions. They typically come in widths of 1 to 4 inches, with lengths of 4, 6, 8, and 12 inches.
If you think about the way subway tiles were initially applied, they were most often placed on walls to create an easy atmosphere for both durability and ease of maintenance. While they may have been designed for walls, they look just as good on floors. Mix and match.
What's more, you can play with different color tiles, contrasting color grout, and move from subdued to vivid and bright with just a few changes. You can keep them straight in a line, or switch it up with a herringbone pattern to add uniqueness to your room.
Square Tile
You can't discuss tile shape without talking about squares. This has been the most popular, widely used tile shape throughout history. There really isn't a square too small or too large to create an elegant decor. Try small tiles in 1, 2, or 3 inch square for a colorful mosaic design. Think large with an 18 or even 24 inch square to create a clean, modern look. Or mix it all up for a design all your own.
Square tiles have an advantage of being easy to install. They easily fit together, and you never have to second guess how to create a pattern or look. You can mix and match with different colors or patterns. You can even combine them with other shapes for a more dramatic backdrop.
Just remember that with smaller tiles comes more grout. And more grout means a more textured, slip-resistant space. That gives you plenty of ways to create traction in water-prone areas such as kitchens, bathrooms, laundry rooms, and even your outdoor space.
Plank Tile
Plank tile is taking the industry by storm, and for good reason. With the advances in technology, today's tile can take on any look, pattern, or color.
Want the look of hardwood and the durability of tile? You can have it now with plank tile. Technology can mimic hardwood patterns so closely, you'll have trouble telling it's not hardwood until you touch it.
Yet you'll appreciate the difference when you make a mess in the kitchen, or the kids bring the outside in, tracking water and dirt all over your floors. Because it's tile, it's simple to clean and wipe away, without the worry about stains or scratches.
Don't confuse plank tile with subway tile. Plank tiles are going to be wider and longer. You'll find widths from 4 to 9 inches, and lengths from 12 to 48 inches. They are designed to mimic hardwood, and in some cases can do it better.
Looking for a whitewashed look? Want reclaimed wood? Have a specific color in mind? Sometimes that can be hard to find with real wood. But through technology, they've made it easier to get the lights and darks into the finished product, and make it look good in the process.
And just like hardwood, you can be as creative as you desire. Lay them straight out, or give a herringbone design a try. Stick with one color or mix and match with several. The possibilities are endless – one of our design consultants is happy to help you design and create the perfect space for your home.