Do you love watching home improvement shows on HGTV? The ones where the hosts walk into truly ugly homes, rip it all apart, and build it back up again from the ground up?
Me too.
It's a great way to get ideas from some of the top interior designers in the country. You can see the "in" colors for the year. Learn how to mix and match colors, styles, and patterns. And even take note of specific manufacturers, gaining valuable insight when it comes time to remodel your own home.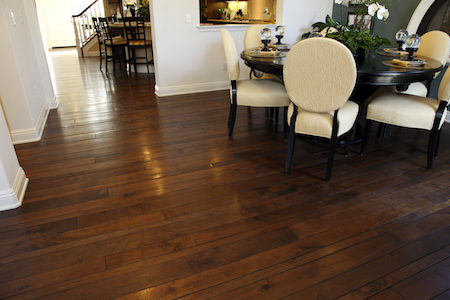 If you watch them as much as I do, I'm sure you've noticed there's a trend in hardwood flooring. And it's probably led you to ask a question if you're thinking of redoing your own home:
How wide should hardwood floors be?
Because the trend is definitely moving upward in width.
In most cases, traditional hardwood planks are 4 inches in width. A narrow plank floor would range somewhere between 2 to 4 inches in width. You'll find wide plank flooring starts at about 5 inches, and goes up from there, depending on the wood and the manufacturer.
Is one width better than another? Is there an easy way to make the perfect choice for your home? Let's start with one of the first questions we receive when someone is considering hardwood flooring.
Are wide plank floors trendy?
One of the biggest reasons people hold back from selecting something new and different is out of fear. How will it look in the future? How will it hold up over time?
Wide plank flooring isn't for every home. That's where consulting with one of our flooring experts can help. We can assess your room size, your current decor, and even your personal taste. Wider planks can take center stage, adding grandeur across a wide open space. Go with a lighter shade and it can create a sleek, yet modern appearance.
The wider the plank, the more it tends to show the characteristics of the wood. You'll see knots and grain. You'll see more of the imperfections. Wider plank brings a lot of the focus back down to the floor. It helps give the room a one-of-a-kind appearance.
Plus wide planks mean you'll have fewer seams between the boards. That means less interruptions of the natural lines both in the wood and the way the room flows.
Of course, you wouldn't want to put them in a busy room, it can make the room feel cramped. And if clean and polished is your thing, the busyness of the wood can sometimes be a distraction. Those imperfections really stand out, especially if you use darker woods.
What does all this have to do with being trendy? It's our way of saying – no way!
The purpose of flooring is to provide a foundation your decor can grow on. And if you love the way it looks, if it suits the flow of your rooms, why not make wide planks your final choice?
Let's talk wide plank hardwood humidity levels
If you've done any research on installing wider planks in your home, you've probably noticed a lot of talk about how humidity levels can impact the structure of your floor. Considering we live in a very dry Colorado climate, it's important to take this into consideration.
Depending on the manufacturer you choose, not all hardwood planks are created the same. When deciding how wide hardwood floors should be, you can't overlook that wider planks will be impacted by dryness and moisture. Humid August weather patterns will affect it one way, while continually running the furnace in the dead of winter will dry everything out.
Wider planks quite obviously use more wood per plank. And therein lies part of the problem.
Inexpensive wood flooring is cut from every part of the tree. These manufacturers will use limbs, branches – any piece where they can get what they need to create a plank.
The wider the plank, the more surface area a manufacturer will need to create the plank. Most lengths run one foot to six feet, coupled with a wide width means the manufacturer will use only the thickest part of the tree.
Better wood means better results.
Yet you should still pay attention to how much humidity is in your home. Especially upon installation.
A reputable hardwood flooring installer knows it takes time to acclimate the hardwood to your home before it's installed. Professionals will leave wood to acclimate to your home's conditions before the installation process begins.
Why does this matter?
Let's say your floor is installed using glue-down method. Wood floors maintain their structure when your home is kept somewhere in the 28 percent to 48 percent range of humidity. But if moisture levels drop considerably, parts of the floor might not contract if the glue holds firmly in place, especially if the wood isn't high-quality and has more movement in its structure. This can cause what is called "dry cupping." Your floors can warp and bow.
Sometimes putting humidity back into the home can help. Sometimes it takes overhauling the wood, sanding it down and refinishing it once again, fixing any areas that were damaged in the process.
Unfinished vs Pre-finished
All hardwood flooring comes in both unfinished and pre-finished product lines. This is a matter of personal choice when you're installing it for the first time.
Pre-finished allows for the fastest installation. With the hardwood already finished in the factory, it's a matter of lining up the planks and putting in the finishing work.
Unfinished allows you to finish your floors on site. While it takes more time and is a bit messier, the benefits are you can finish it in any color you choose. You don't have to stick with what the manufacturer produces.
Unfinished also means the entire surface area is covered and coated. Even the seams in the floor will be covered, making it even more water-resistant that pre-finished.
If you are considering wide plank hardwood flooring, start by giving us a call. We can help you craft the hardwood floors of your dreams. Something you'll be proud to have in your home for years to come.