Open concept. It's taken on new meaning in recent years as we get more creative in the way we design our space.
Put in a sliding wall of glass, and you'll suddenly transform what used to be indoor space into something more. Take advantage of the nice weather. Continue with the view. And let your guest list grow as you have even more space than before.
Of course, that also causes a design problem for functionality and flow.
You know you can't bring hardwood from inside to the outside. What flooring choice do you use?
Indoor-outdoor space
Indoor-outdoor transitional spaces allow you to move freely between indoors and out. They are ideal for areas that have milder weather throughout the year that will enable you to enjoy all that indoor-outdoor living has to offer.
That describes Colorado living perfectly these days, as we're seeing milder weather well into the fall. With covered patios, outdoor fireplaces, heated floors, and gourmet kitchens, this is a place you'll use consistently, whether it's to watch the fireflies play in the backyard, or tailgating before your favorite games.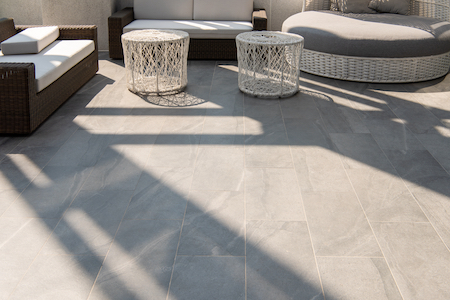 Transitional spaces don't need to be entirely open to the outdoors. Many homes use floor-to-ceiling windows and walls of glass to give the appearance of outdoor living. A well designed indoor-outdoor space will:
Extend the reach beyond the physical limitations of a standard wall
Create a uniform design and appeal that moves from indoor to outdoor living space
Allows you to enjoy your outside living space more months of the year
Incorporates what you love most about nature into your design space
Studies show that a well crafted outdoor living space can add as much as 10 percent to the asking price of your home when it comes to selling. On a million-dollar home, that means a well crafted outdoor living space can add as much as $100,000 to the final asking price.
Are you ready to design your indoor-outdoor space?
Indoor-outdoor tile
With so many positives, it's no wonder homeowners are making this one of their biggest remodeling projects. Yet before you start enjoying the fireplace, or making your guestlist for the next party, you'll have to settle on flooring choices.
The most logical choice is a tile floor. But if you've ever looked at tile, you know it can seem like there is unlimited potential.
To fully protect your transitional space, the tile needs to accommodate a full array of concerns.
Withstand heavy use
Avoid stains and resist spills
Handle well in all weather conditions without cracking and breaking
Withstand intense heat under the blazing sun
Colorado's weather is often extreme, moving to both ends of the spectrum sometimes within hours. Ever experienced snow one moment, only to have it climb and set records a few hours later? That's Colorado weather.
When looking for the right tile to use both indoors and outdoors, you'll want:
Durability – outdoor tiles must withstand freezing temperatures, high heat, ice and snow, as well summer storms.
Texture – slipping can be a problem if tiles become slippery when wet. Slip-resistance means you'll have added benefits in all kinds of weather, and it'll be easier to clean the flooring after a dinner party.
Unglazed – to withstand freezing temperatures, you'll want tiles that are frost-resistant and unglazed. This ensures they won't crack on the coldest days of the year.
Weather-resistant – we've mentioned this several times for a reason. To ensure a fully transitioned flooring from indoors out, it's important that tiles endure whatever weather Colorado dishes out.
You can easily bring outdoor tiles in. They are already designed for outdoor living. Bringing them in means they'll function well in all conditions.
The easiest way to accomplish this is by looking at:
Ceramic and porcelain tile
Stroll through the tile section, and you'll find an array of choices using both porcelain and ceramic. They both can be used for indoor and outdoor use.
The difference is in both composition and manufacturing.
Porcelain tiles are made of a finer, refined clay that is pressed harder and under more pressure, making it denser than ceramic. It is fired at a higher temperature, which makes it stronger and more scratch resistant.
Ceramic tiles are less dense and more porous, and can be glazed for smoothness or left unglazed for a more natural feel.
Porcelain is less vulnerable to water and other liquids, but ceramic comes in a wider array of colors and patterns and can be easy on the budget as well as the installation process.
Natural stone tile
Natural stone tile is a beautiful choice for both indoor and outdoor living spaces. With natural stone tile, you can select from:
Marble
Travertine
Granite
Slate
Quartz
Limestone
Natural stone has a slip-resistant surface that gives you, your pets, and your indoor-outdoor furniture traction and stability. Because it's more durable than other tiles, it won't fade in the sunlight, or break down or become damaged in harsh weather conditions.
Its classic good looks are something you'll love everywhere in your home, inside and out. Natural tile has been high on homeowners' request lists for generations, and with today's manufacturing process, it will continue to be in high demand for years to come.
How do you choose? 
Selecting the right indoor-outdoor tile can be difficult, especially when there are many styles to choose from. We recommend for our customers to:
Start with your budget – there can be a big price jump between the different types of tile. Understanding your budget helps direct you to the best choice based on your budget and needs.
Consider where they will be installed – take note of daily activities and what your flooring will face year round. Note if the flooring will be covered, how you plan to use your space, and your plans for entertaining. Big groups of people every weekend require more thought than if you and your family are alone every day of the week.
How much light you get – a north-facing patio will receive different elements than a south-facing space. This can help you select color, material, as well as design. If your space rarely has sunlight, you might prefer a lighter color that highlights your surroundings. An area that always has sunlight streaming across might lead you to select one that won't fade quickly in the summer months.
Your style – personality should always direct your final choice. Make sure you won't regret it by selecting a flooring that won't be easy to maintain. Yet when it comes down to style and color, let your heart lead the way.
Having an indoor-outdoor living space is a fun way to add more space to your home. Want to finalize your flooring choice? Stop by today and see our entire selection.