I'll never forget restoring an old house we bought many years ago. We walked around shortly after closing, dreaming about how each room would be designed.
"Get rid of the old carpets."
That was first on our list of to-do's.
And as we peeled back the carpet, hardwood shined from underneath. Sanded, stained, and polished, it's been a mainstay in our house ever since.
So why would I be considering carpet once again? Is carpet coming back in style? The answer may surprise you.
The history of carpet
You might think carpet is a relatively new flooring material. Think again.
The very first carpet were rugs made from sheep wool or goat hair. They entered residential locations over 4,000 years ago, when people used them to make their living spaces more comfortable. Many still sat on the floor for a variety of activities, and rugs made the flooring space easier to sit on.
Surprisingly, these early rugs have stood the test of time in appearance and quality. We still use rugs for a lot of the same purposes, although the patterns, colors, and uniformity have improved.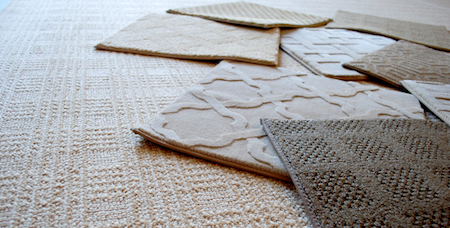 Our modern-day carpets originated back in the 1800s as manufacturing picked up speed, and the power loom was created to weave carpets. This increased production, which meant costs lowered and the product became more in demand.
Today, people still use rugs and carpets to enhance their homes. One study shows that 79 percent of all respondents state they have at least one area rug inside their home.
Is carpet the right choice for your home?
Top reasons people are installing carpet
Chances are you already have a deep-rooted feeling about carpet. Maybe it brings back memories of childhood. Or maybe you picture softness and warmth.
It doesn't take much time shopping to realize there is an abundance of carpet choices on the market today. This isn't your mother's – or grandmother's – carpet choices. Today's carpets are better than ever, and offer you benefits that stand out over other flooring.
Need a reason to add carpeting to your home?
Carpet offers warmth and insulation – if you already have a cold room, carpet will add warmth underfoot. The padding underneath adds an additional layer to help fully insulate your home.
Carpet provides sound reduction – this can be especially important in a home with multiple layers and lots of heavy foot traffic. Carpet will muffle every step you take, and will help hold the sound inside the walls of the room it's installed in.
Carpet provides safety – this can be especially important in a home with elderly or small children. You'll never slip on carpet, and it provides extra padding if you do.
Carpet provides limitless possibilities – because carpet is in abundance, you will find any color or pattern you're looking for. It's a great way to add a pop of color to any space.
Carpet is economical – if you want a low cost flooring option, carpet comes in a full spectrum of pricing options. It's a great resource to use in rental properties, or in a room where you might be changing the decor frequently.
Still considering carpet? Here are a few modern-day choices you're going to love
Being in the business, we see the current trends that hit the market every year. Flooring can be a major purchase. That's why we recommend thinking about your purchase, your goals, and choosing a flooring material you're ready to live with for the foreseeable future.
While hardwood comes in stains bordering on more natural tones and colors, carpet choices stretch as far as your imagination. Want the brightest red? A vivid green? Plaid, stripes, or animal prints? You'll find a carpet to suit your desires.
Natural carpet always tops the list, and will never go out of style. What's fresh and current today is incorporating natural fibers into your carpet choices. Look to fibers like jute, sisal, and seagrass. You'll create organic aesthetics with a versatility that only natural fibers can bring. Wool is growing in popularity because of its hypoallergenic qualities. If you're trying to create a cleaner, more natural home space to live in, wool carpet may be the perfect addition to your home.
Of course, staying quiet and subdued isn't for everyone. Luckily, there's a carpet choice for you. Boldness is in right now because it adds personality to your living space. Bold prints and colors have been on the rise because of what it has to offer inside a room. Choose your color – red, pink, or blue. Go wild with patterns – how about a paisley print? Somewhat reminiscent of the 70s, you'll find bold designs that can pack a punch into any room in your home. If you want a bedroom that screams personality, or an office that speaks directly to your mood, this is an easy way to do it.
Patterns are even bigger than before. Thanks to modern technology, carpet no longer is about uniformity, one color, pattern, or style. Instead, you'll find bolder designs that can set the stage for your room design. We're wild about flower patterns, geometric shapes, and colors that river their way through the entire design.
Spend some time looking through online resources – Pinterest can be your best friend when it comes to finding new design ideas. You might be surprised at the ideas you come up with, and the concepts you pin to your board.
Don't be afraid to stretch a little and create a space different from what you expected. Sometimes the best way to personalize your space is to go bold with your choices.
Carpet is the best place to start when bringing color into a room. It sets the tone and anchors the aesthetics into place.
Use it to set the stage for the rest of the items in your room. Go bold. Stay soft. Or get wild and crazy … the choice is yours!
Is carpet in style right now? You bet! With today's carpet choices, you can create any design you can dream of.
So start dreaming today!