Looking for waterproof flooring? Look no further than the latest in luxury vinyl.
As homeowners, we put each room through a lot each day. But while your normal activities may take place on a countertop or a table, invariably a lot of your messes will head down to the floor. Whether you spill or drop whatever you're doing, the floor can be a pretty messy place.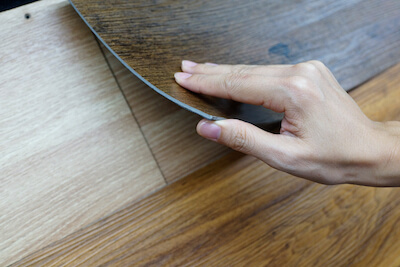 That means your flooring has to withstand it all. It has to be easy to clean. But more importantly, not absorb the potential messes it has in store.
You may not cry over spilled milk, but you will cry if it seeps into your flooring and has you replacing it because of mold or buckling of the floor.
Waterproof vinyl flooring is a luxury vinyl that is 100 percent waterproof. (Also known as WPC vinyl flooring.)
Waterproof flooring typically features a four-layer construction that includes a waterproof core. It has a:
Wear layer – this provides its stain resistance and makes it easy to clean
Luxury vinyl top layer – this is what gives it its look
High density core – this is what makes it waterproof
Underlayment – this is what provides sound insulation and makes it easy to install
Wear Layer
Just like traditional vinyl, this protects your floors. It prevents scratches, dents, etc from impacting the lower layers of the vinyl. Think of it as your buffer zone to give added protection.
The Top Layer
This is where you get your color, patterns, and style. Photographs are used to make vinyl look like natural materials like stone and wood. Often, waterproof vinyl flooring is the highest quality vinyl on the market. This means you get the most realistic looks that people will swear look like real stone/wood.
High density core
This is your most important layer. This gives the floor stability so it won't contract or swell when it connects with liquid.
Underlayment
If you've ever walked on a floor without underlayment, you know it has a hollow sound. Vinyl needs underlayment for both comfort and sound absorption. With waterproof luxury vinyl, the underlayment is attached, making it that much easier to install.
Sounds good, right? The best thing is the style. You can select vinyl plank, vinyl tile, vinyl stone. Whatever you desire for the look and feel of your home, there's a vinyl flooring option for you.
Stop by and see what we have available for your home. You'll be surprised.