Shopping for new flooring can be an overwhelming process. Enter a flooring store, and you'll walk into thousands of choices. Even after you select material, color, pattern, and style choices can leave you thinking and comparing for days.
But once you make a decision, flooring associates will dive in deeper into material selections. It's not just what flooring you choose that determines longevity. Your subfloor materials impact lifespan too.
Subflooring? Do you really need to understand subfloor materials? There are many advantages to selecting the right subflooring. Choose wisely, and it can improve energy efficiency, make your living space more comfortable, and make your flooring choice look better, longer.
So what do you need to know about subfloor materials before you start shopping for flooring?
Your flooring is multi layer
When you walk across the floor, you tend to focus on the top layer – the layer you can see and feel. But there are one or two other layers as well.
Many flooring choices need an underlayment. Underlayment is put into place to provide a sturdy, durable layer for your flooring to sit on. Underlayment can be made of many different materials, but the goal is to provide added support for your flooring.
The subfloor lies beneath the underlayment. A subfloor is the foundation of the entire flooring structure. It's secured to the baseboard joists to provide structure to your flooring. Subfloors are usually made from plywood, particleboard, or oriented strand board (OSB).
Though the different types of subfloors are often treated similarly in building, they are quite different. Plywood is made from thin strips of wood veneer, layered at 90-degree angles, glued, and hot pressed together. Particleboard is composed of small wood particles that are glued and pressed together, and formed into sheets. OSB consists of 3 to 4-inch strands of wood layered and configured into a cross pattern, then glued and pressed together.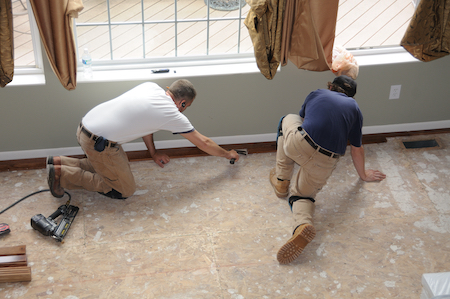 OSB is the newest entry to the market, and has a lot of benefits, depending on what flooring material you are using.
OSB is considered to be more structurally sound as it uses smaller strands of wood than plywood. Because plywood is pressed sheets of wood veneer, if any one sheet is weak or compromised, it can leave a soft spot in the flooring. OSB creates a denser product because of the smaller strips of wood.
OSB is better at warding off moisture. Once wet, plywood does a better job at drying out. This makes OSB weaker at the edges, where moisture has a better chance of seeping through.
OSB often costs less than plywood because of its method of construction. Because plywood depends on larger pieces of wood, it can fluctuate in price depending on the wood market.
Concrete subfloor is also an option in some cases. Tile and stone flooring can be installed directly over concrete, but most other flooring materials require some kind of underlayment, as well as a waterproof barrier for added protection.
Ensuring is subfloor is the right thickness
Depending on what material is used for the subfloor, ensure the proper thickness for the right support for your flooring choice.
The minimum suggested thickness for plywood is about ⅝ inch. OSB won't hold fasteners as well as plywood, so it's recommended to increase the thickness level to ensure a quality subfloor. These are minimum suggestions. When making a final decision, it's important to consider the flooring materials selected to provide the proper support.
Joists are the horizontal structure beams used to frame in the open space beneath the floor. They serve to provide the stiffness and structural support that lies just beneath the subfloor material. The farther apart these supports are, the greater thickness needed in the subfloor material to ensure a durable floor.
For example, if the joists are 16 inches or closer, the contractor may have installed a ½ inch plywood subfloor. This will handle well with many different flooring options. In an older home where the joists are farther apart, using a thicker plywood of ⅞ or more may be required for the same stability.
The stiffness of the subfloor also matters. While you might have more wiggle room when laying carpet into place, tile and wood planks need a flat surface to ensure a smooth, even flooring once everything is laid into place.
Selecting flooring material thickness will also provide an R-value, or insulating qualities for your home's comfort level. R-value is the ability to keep heat from escaping through the floor in the winter, while preventing it from seeping up into the home during the summer. A thick, wool carpet would have high R-value, while a thin laminate would have lower R-value.
This also applies to subflooring. Plywood has a lower R-value than OSB because of the way the subfloor is structured during production. While you can often get by with a thinner subfloor, it may make sense to increase the thickness for more warmth and protection to ensure insulation qualities.
Select the right subfloor material for your needs
It's easy to ignore what's underneath your flooring choice, and let contractors install the cheapest option out there. But that may not be the best choice to keep your home safe and comfortable.
With a basic understanding of subfloor materials and how they contribute to better insulating your home, you can take the next step in ensuring you select the right flooring materials for your home. An experienced flooring associate can help you select the right floors for your personality and living space. With that step chosen, you can make a more informed decision about what goes underneath – and helps with both structure and insulation of your home.
Whether you know exactly what you want for your home remodel, or aren't quite sure about how to change things up, we have a wide variety of options that will make perfect additions to your home.
Stop by or give us a call. We can help you select the right floors, and the right subfloor material, for your needs.