It's the most wonderful time of the year …
Unless your flooring isn't up for the occasion. Maybe your floors are already looking a little worn and dated. Maybe you're worried this year's festivities will only add to the problem. Or maybe you want something new.
The question is: What should you do? It's the holidays. With a bit of flooring advice, you'll be ready to greet each guest with a smile, knowing your floors look great and will wear well in the coming years.
Protection is key
Holidays are synonymous with parties, great food, and lots of action. They're also reminiscent of spills, stains, and damage.
Many homeowners face the New Year looking at red wine stains on the carpet, scratches and dents on the hardwood, and rips and tears on vinyl. But it doesn't have to be that way. Prevention is the key.
To avoid the many things that can impact your flooring, it takes a little planning. Anticipate the problems before they occur, and you're more likely to build in protection. You can:
Place mats and trays at the entryways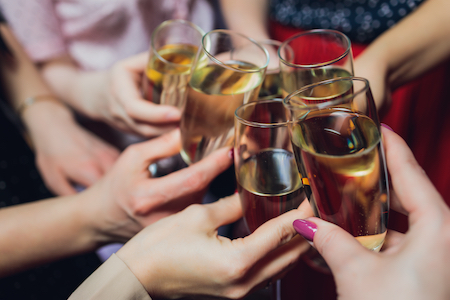 The quickest way to damage floors is by tracking the outside in. Taking off your shoes at the front door will save mud, rocks, and other loose particles from spreading throughout your home. Keep plenty of mats and trays by the front door, and request guests take them off. If you want to ramp up comfort and thoughtfulness, have a selection of slippers nearby they can slip into if they desire. Look for rugs that are easily washed, won't slip, and aren't rubber-backed, as they can mar floors.
Use area rugs
For high-traffic areas, consider area rugs to protect the floors. They come in all shapes and sizes, so you can use them anywhere. Choose permanent fixtures under your dining room table, in the living room, and by the front door. Purchase high-quality rugs to ensure they absorb moisture, pick up dirt and debris, and prevent slips. You can use temporary rugs for high-traffic areas during parties, then remove them when it's just your family.
Build a spill kit
If you've ever had a stain set because you didn't have the right removal gear ready, you know how frustrating it can be. To avoid stress and prevent permanent stains, build your spill kit before the first guest arrives, and keep it handy nearby. There are products specifically for wine, and others for ground in dirt. Do your research early, and select the best products for you. Be sure to test them ahead of time to ensure they are color-safe.
Prep your furniture
When Uncle John drags the chair across your new hardwood floors, your anxiety won't peak if you've already prepared. Ensure all furniture legs are affixed with felt pads to so they won't scratch and dent when the unexpected happens. Replace rugs if they might be a tripping hazard, or add backings to ensure they stay in place. Safety is critical – and you'll be thankful you prepared ahead of time for one less thing to worry about.
Upgrade for better durability 
Have your floors come to the end of their useful life? Sometimes the only way to make flooring look better is by ripping it up and starting over. Yet the thought of doing it before the guests arrive might leave you a little nervous. Who wants spills, dents, and damage to something brand new?
You're in luck. By selecting suitable flooring materials, you'll create a space that is as functional as beautiful.
Use resilient flooring for your entryways
Wouldn't it be advantageous to have resilient flooring that pops back no matter what you do to it? It's possible! Manufacturers have resilient flooring in many product lines, including vinyl products like LVT, rubber, cork, and linoleum. What makes them great for your entryways is they withstand scratches and dents, and resist moisture. In some cases, they may be waterproof. That makes them perfect for entryways where you pile boots and shoes regularly.
Use luxury vinyl planks in the kitchen
If you've been avoiding hardwood in the kitchen because you regularly make messes, there's another flooring choice that might be perfect for you. Consider luxury vinyl planks. They have the look and feel of hardwood, tile, or stone, yet offer the benefits of being scratch-resistant and waterproof. No more worrying when someone drops a plate of cranberry sauce on the floor. Just wipe it away.
Use hardwood in the dining room
Hardwood will always be a popular choice because of its classic good looks. To make a bold statement, place it in the dining room where you and your guest will spend hours talking. With hardwood still in high demand, manufacturers have made it even more durable than hardwood you might have installed before. Look for high-performance hardwood that will give you a durable surface area that can withstand lots of pressure.
Tile is perfect for bathrooms
More visitors bring more trips to the bathroom. That increases the risk of water hitting the floor and puddling unnoticed for hours.
You won't have to worry if you install tile flooring. It's the smart choice for any high-traffic, high-moisture surface area. And you won't have to compromise on looks. Tile has more patterns, colors, and styles than ever before. If you want to carry the classic looks of hardwood throughout your space, you'll find tile that mimics it closely.
Are you ready for the next holiday party?
Whether you're ready for new flooring, or trying to protect existing flooring, the more you prepare ahead of time, the longer your floors will last.
Start by selecting the right floors for each room. Make sure they're up for the job, for all you can dish out.
Then have your toolkit ready for when the spills happen. It's the holidays – spills will happen. But if you have the appropriate products ready for action, you'll never worry when someone yells, "uh-oh."