When you live here in Colorado, hardwood flooring is a natural choice for your home. However, just because you love its looks, doesn't mean it's the right choice for your home or your situation. If you have an active household, filled with kids and activities, pets and parties, hardwood can be a problematic flooring choice to take care of. You may regret your decision almost as soon as it's installed.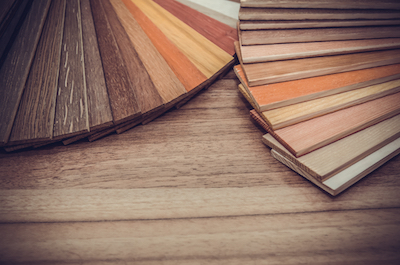 Consider laminate flooring instead. 
Why laminate flooring?
Because laminate flooring looks as good as hardwood, but it offers benefits that make it the perfect choice for busy households. 
Laminate flooring offers the stunning looks of hardwood, only with more durability. Today's laminate flooring isn't what it was even a few years ago. You'll find today's laminate choices in abundance, with colors, styles, patterns, and looks to suit every taste. 
It's stronger than hardwood. If you've ever dropped a can from your pantry onto your hardwood, you know those dents can add up. That won't happen as easily with laminate. It's also scratch-resistant. That means it's a better choice for a family with pets, or with small kids where they love to play on the floor. 
Is laminate flooring a good investment?
If you are currently designing your forever home, you might not be worried about the investment value of the flooring you install. But if you're planning on selling in the near future, it becomes more of a consideration. 
Nothing motivates a potential buyer more than hardwood. Especially here in Colorado, where architecture and design likes to focus on natural beauty, hardwood is one of the most popular choices you can make for your home. 
But not all rooms are meant for hardwood.
Laminate is an excellent addition for places that need extra protection from water or humidity. It can be a great choice for the walkout basement you're refinishing, where potential water damage can impact the structure of the flooring in many ways.
What are the advantages and disadvantages of laminate flooring?
Still not sure if laminate flooring is the best choice for you? Here are just a few of the reasons we see customers choosing laminate flooring for their home. 
It's durability
We've covered this a bit earlier, but it's worth mentioning again. Laminate is one of the best ways to get the look and feel of hardwood in a much stronger and more durable package. It's a great choice for heavy traffic areas, areas prone to moisture or humidity, or for homes with pets and kids. 
It's easier to install
Laminate can be easier to install compared with other flooring choices. Laminate boards are created with an interlocking system, making them a snap to install. Plus laminate flooring is designed to "float", meaning you don't have to create a perfect subfloor before you start the installation process. Whether you're choosing laminate as a DIY project or just want your remodeling project finished quickly and easily, laminate may be your perfect choice. 
It's more forgiving
Have you ever been told you can't install hardwood in your home because your subfloor won't handle the installation? You might be the perfect candidate for laminate. 
Laminate is versatile and can be installed on almost all types of subflooring. Have a base of concrete? Not a problem. Have vinyl or linoleum flooring in need of replacing? You can often install laminate directly over the existing materials.
It's easy to clean and maintain
Because laminate flooring is a hard, durable surface, clean up is a snap. With just a quick sweep or vacuum, you can keep your flooring looking its best all the time. What's more, you won't need a lot of special cleaners or waxes as a part of the upkeep. Check with manufacturers guidelines, but in most cases, you can wipe away messes with little more than water. 
It's hypoallergenic
One of the best flooring choices for people with allergies is hardwood – there isn't a place for dust, dirt, and other particles to hide. Laminate flooring provides those same benefits, but makes it even easier to keep clean. What's more, laminate is built with a multilayer system that includes underlayment that not only protects the floor from damage, but it also prevents mold from growing underneath. That makes it an excellent choice for worry-free care. 
It's stylish
No matter what style of flooring you're looking for, or how much personality you wish to incorporate into your final design, there's a laminate product for you. 
If you stop by and take a look at our full selection, you'll be amazed at all you can do with laminate flooring. Want laminate that looks like oak, maple, or even rustic wood? There's a choice for you. Want the look of natural stone without the hardness factor of laying down stone tiles? Laminate is for you. Love the look of ceramic or porcelain tile? You can get laminate with the same good looks. 
Laminate typically has four layers. 
Layer one is the backer paper, or the bottom layer that provides the backing and seal for the product. This ensures the laminate maintains stability as it's laid into place. This backer paper often decreases the need to have a subfloor in place.
Layer two is the core board. This is the fiber board that gives laminate its strength and durability.
Layer three is the decorative paper. This is what gives your laminate the look of real wood, stone, or tile. Plus it can provide a multitude of colors and patterns, often far more than you can get with other products. 
Layer four is the overlay layer. This gives laminate its seal and protects the laminate floor from everyday wear and tear. It also shields the decorative paper layer from harmful UV rays as the sun scatters across your floor from windows and doors throughout the day. 
A few things to consider
You may be sold on laminate flooring, but there are a few things you should keep in mind. 
Laminate does a good job mimicking hardwood, but it's not. That means as good as it looks, it will never provide the ultimate look and feel of the real thing. If you want the natural blemishes real wood provides, you'll have to install the real thing. 
While laminate is moisture resistant, it's not waterproof. That means if you have a room that is regularly subjected to water and large spills, think twice about laminate. It can handle the occasional messes, and will last for years with quick attention to accidents. But if water is allowed to sit for too long, it can penetrate between the spaces and ruin your floor. 
And the one thing people always notice is it feels slightly different underfoot. Run across it, and it has a somewhat hollow sound. That can be reduced by opting for thicker, more expensive laminate. But because of its construction, it will never have the acoustics of real wood. 
Want to way the differences and see what makes your best choice? Stop by today and see our entire selection of laminate flooring. There's a choice perfect for your home.