When someone mentions "laminate flooring," what do you think? No matter how long a flooring material has been in the marketplace, there are always misconceptions that follow it.
Laminate flooring is no different. Yet as of today, laminate has a firm hold within the flooring industry, and people who install it fall in love with it instantly. Should you consider laminate flooring for your home, pushing the common myths aside?
What is laminate?
One of the easiest ways to debunk myths is to learn more about the product. Laminate flooring was invented in 1977 by the Swedish company Perstorp, selling a product that went by the name of Pergo. That's where a lot of the original myths formed.
Laminate has changed a lot over the years.
Laminate flooring is multilayer floor covering that consists of a particleboard wood base, an image layer, and a wear layer.
The dense base layer gives it strength and durability. Technology has changed a lot since the original product back in 1977. The base used in today's products is the same in many of the top engineered hardwood flooring products. Its stability ensures your laminate flooring will last a long time.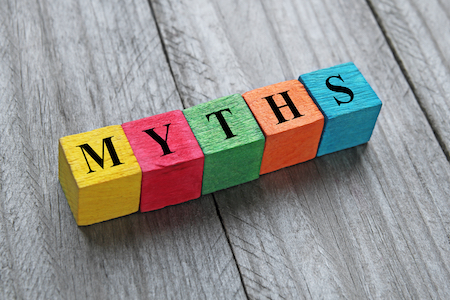 The image layer is a high-resolution image layer that can take on any look. Today's digital savviness makes many products look so real they fool even the trained eye. You can have any look you choose: hardwood, stone, or metal.
The protective layer provides years of wear. It creates a rigid and protective shell that makes laminate one of the most durable flooring options available on the market today.
Still skeptical of laminate flooring? Read on to continue debunking the top myths.
Myth #1: Laminate isn't very durable
The wear layer concept might leave you skeptical – can a thin wear layer really protect from everything your family can dish out? The answer is: Yes.
No floor can survive everything. Carpet will be ruined in a flood. Tile will crack if you drop a heavy object. And laminate can be destroyed if you abuse it. But in normal living conditions, laminate flooring can handle all of your daily activities. Care for it well, and it will give you years of life.
As you start looking at new flooring, you'll discover laminate flooring comes with an Abrasion Class (AC) rating to help you determine how much foot traffic it will stand up to.
AC1 – performs well in closets and bedrooms
AC2 – performs well in dining rooms, living rooms, and family rooms
AC3 – performs well in high-traffic areas in your home and light traffic commercial areas
AC4 – performs well in all residential applications and medium-traffic commercial
AC5 – performs well in high-traffic commercial spaces
Myth #2: Laminate looks cheap
Worried people will take one look at your flooring and know you opted for laminate? Stop worrying.
While the original product may have produced stories about flimsy images that peeled back to show the core material, you won't have to worry about that with today's high-quality product. Advances in technology have made digital images more realistic than ever. It captures wood grain so well, it's equally comparable to the real thing.
Moreover, you'll find laminate flooring in the most popular color choices. If you've had difficulty finding what you want in the right size, laminate may be your choice. With a full array of colors, patterns, and textures, there's a choice for every homeowner.
Myth #3: Laminate is easily destroyed by water
On the surface, laminate might seem like it won't stand up well to water. With a particleboard core and a digital image layer, water wouldn't be a friend.
Yet manufacturers have been working hard to create a product that wears as well as it looks. With the right laminate product, you can easily install flooring with water-resistant and waterproof features.
Not all laminate is waterproof. Do your due diligence if this is important to you. A waterproof seal will ensure the surface is coated with a product that protects against spills and moisture from seeping through. Watertight joints will keep each plank tightly sealed together, overwrapping the plank's edges to ensure moisture can't seep through. Water-resistance compresses fiberboard and resin together to ensure more water resistance.
While water-resistant offers protection on the surface, only a waterproof laminate will protect from the bottom up. Even if water seeps down through the edges, the planks will continue to hold their shape.
Myth #4: Laminate flooring can't be repaired
Nobody wants to install a flooring that looks bad from the very first spill. If it doesn't clean well or can't be repaired, why install it at all?
Fortunately, laminate flooring provides lots of opportunities for looking its best throughout its lifespan.
Laminate flooring is sold in planks similar to hardwood. You lay it into place using click-and-lock technology. Each piece fits solidly with those around it, creating a smooth surface area that resembles a hardwood floor.
If one plank is damaged beyond repair, you can always replace it with another. The click-and-lock technology means it's not adhered to the surface, and can easily be pulled out and replaced. Be sure to order extra planks to keep on hand for the just-in-case.
Like hardwood, a minor scratch on the surface can often be repaired with a wax pencil or a laminate repair kit.
Myth #5: Laminate is expensive
Like other flooring materials, laminate flooring comes in many different price ranges, and provides you with many colors, patterns, and textures. How much you're willing to spend will determine the quality of the final product you install inside your home.
Consider the average lifespan for laminate flooring is anywhere from 15 to 25 years. Of course, how long it lasts is determined by your individual circumstances. It depends on:
The quality of the flooring – selecting a lighter grade of laminate will create a more durable flooring.
Proper installation – if you have doubts about how well you can install the product, rely on a professional to give your professional results.
Amount of traffic – hundreds of kids running around in their stocking feet isn't the same as a few women in high heels. Pay attention to the type of traffic to ensure the best results.
Maintenance – clean your floors regularly to ensure dirt and debris don't remain on the surface, easily ground into the surface.
Is laminate flooring right for you?
A quick search will lead you to many popular laminate flooring myths. Don't believe them without a little investigative work.
In truth, laminate flooring is one of the most durable and beautiful flooring choices you can install in your home. For some households, it's the perfect choice.
Is laminate flooring right for you?