Sometimes only the best will do.
Other times you go bargain hunting, looking for a better deal. That's how many owners start searching for "cheap flooring."
Maybe you're shocked at the prices you see when you start shopping. You're looking for economical flooring options to complete a project you've been working on. Yet even though your mind says "cheap," you still want a product that will stand the test of time. You may be willing to cut back on some characteristics, but durability and good looks aren't it.
Luckily, there are many great options for you, whether you're remodeling a space in your home on a budget, or are looking for options for a rental.
Even if money isn't an issue, with today's innovations, some of these choices are so good, everyone is giving them a second look.
Where should you start?
Carpet
There's a reason carpet stays at the top of flooring choices to consider: Its price and its availability. While studies show carpet sales have fallen since 2020, it still remains the largest flooring segment, accounting for 48.4% of the overall 18.969 billion square-foot flooring market in 2020.
Carpet sticks around in the marketplace because it works well in so many situations. With a variety of styles, materials, patterns, and colors, it can be a perfect choice for many rooms in your home.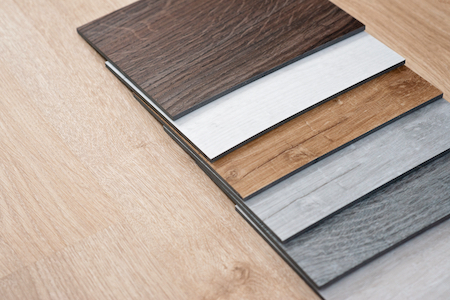 Carpet works well in lower traffic situations. You would never install carpet in an entryway, but it can be the perfect choice for a bedroom. It adds comfort that few flooring choices do. Digging your toes between the fibers on a cold morning feels great. It can also act as a sound barrier. That makes it a perfect choice in kids bedrooms, muffling the sounds of dropped toys and make-believe play.
While you can find carpet at every end of the cost spectrum, even the lower end provides comfort and added protection. Just because it's a "cheap flooring" option doesn't mean it won't serve you well. Carpet is built to be stain-resistant and is easy to clean, providing you attack potential stains soon after accidents happen.
If you want a budget-friendly flooring choice, carpet may be the perfect solution.
Luxury Vinyl Planks or Tiles
Homeowners love the look of real hardwood and stone. It's a top flooring choice for a reason.
That love holds tight no matter what budget you're trying to stick to. Luckily, there's an option for you, even if you know you're looking for the "cheapest" flooring around.
Luxury vinyl planks and tiles provide a realistic finish designed to look like the most popular flooring choices on the market today. If you love hardwood, or want a marble finish in specific areas of your home, you're going to love luxury vinyl.
Luxury vinyl has undergone an upgrade from what you remember from your parents or grandparents home. Vinyl planks are some of the strongest floors on the market, and if you're looking for durability, look no further. Luxury vinyl planks have grown so popular, they are often used in commercial applications too.
Because of their popularity, manufacturers have used upgraded technology to increase the benefits for you. In some products, you'll find the planks are waterproof – yes, they can withstand as much as your family can dish out. You'll never worry about these in a laundry room or bathroom. Just be aware that standing water is harmful in any situation. If a flood allows water to seep behind baseboards and into the subfloor, it will cause damage.
But luxury vinyl planks and tiles can be great additions in many situations. With their click-and-lock technology, it may be just the DIY project you've been looking for (making them even more budget-friendly!)
Laminate
Laminate is another product that's had a lot of growth and transitions over the years. Laminate has long since been a way for homeowners to get the look of hardwood on a budget-friendly payment plan. If you want the look of hardwood, laminate is often the way to go.
Because the laminate market continues to grow and change, you'll find laminate flooring has kept up with traditional hardwood's look and feel. If you have a specific look, style, color, or pattern in mind, chances are you'll find just what you're looking for with a laminate floor. Because the look is created with a photograph instead of actual wood, colors may even present a wider selection thanks to technology.
While laminate may not be water-friendly, what it lacks for in withstanding moisture, it makes up for in durability. Some manufacturers do a pretty good job at making water-resistant laminate. Its strength means you'll never have to worry about what your kids or pets can dish out.
And you can find laminate at all price points, meaning you'll be able to find the perfect look to fit your budget. Laminate is installed as a floating floor, meaning it uses click-and-lock technology to lay it into place. It's fairly quick to install it and have it ready to walk on soon after.
Tile 
Another flooring choice that covers all spectrums and price points is tile. You'll find bargains that can suit any budget, as well as customized pieces that can add an elegant touch.
The key is to look at the strength scale when looking for durability. The Porcelain Enamel Institute has created a PEI scale to help you understand industry standards, and ensure you install tile best suited for your needs. Choose one too low, and you'll find it's too thin and brittle to stand up to any kind of wear and tear.
But choose correctly, and you'll have a flooring that can last for years.
Tile is so durable, you'll see it all over town. Airports, hospitals, commercial applications, and retail stores all use it because of its strength. Tile is the number one choice in residential bathrooms. It works so well, you'll often find it in shower stalls, walls, vanities, and backsplashes.
Just be sure to install it correctly to ensure a good fit with the subfloor. When adhesive, grout, tile, and sealers are applied correctly, this is one flooring choice that will handle well for years.
What "cheap flooring" is best for you?
While you may have thought "cheap flooring" at the beginning of your search, chances are you're thinking a bit differently now. With so many options, a budget-friendly floor doesn't mean you have to sacrifice durability or good looks.
With so many choices for you, your toughest decision will be to make a decision.
How can we help you select the right floor to suit your needs?