Choosing new flooring for your home is one of the most important decisions you'll make. Choose the wrong material, and you'll regret it shortly after installation.
But unlike other home purchases, flooring isn't something you can replace easily. It's expensive. It's difficult to do – moving your furniture once is hard enough. Twice? You'll definitely think twice before agreeing to that move.
If you've made the decision to replace existing flooring with carpet, you're going to love the results. Carpet still is the most popular flooring choice, with nearly fifty percent of all sales in the flooring industry in the carpet niche. But even once you decide on carpet, you have more decisions to make. Because what carpet material you choose will determine how well it handles over time.
Two of the most common carpet materials are nylon and polyester. Want to know which is the right choice for you?
Nylon carpet
Nylon is the most popular synthetic fiber used in the carpet industry today. Nearly half of all carpet sold is created using nylon. It's wildly popular in residential settings, and crosses over into commercial settings too.
Why do people love nylon? After generations of improvements, nylon is one of the most durable, easy to care for carpet materials you can select. Because of its popularity, it also comes in many designs, patterns, and colors. No matter what you have in mind for your flooring design, you'll find it with nylon carpet.
Nylon is also one of the most wear-resistant plastics available. That means it's great in high traffic areas, and won't show wear and tear like other carpet choices.
Want stain resistance? Because of nylon's popularity, it's also where manufacturers have focused on creating the greatest technology to fight stains. Nylon carpet can help fight off all your family can dish out. Just be aware that nylon is still made of fibers, and certain products can and will penetrate into the fibers, staining over time. Kool-Aid, sodas, wine, tea, coffee – all of these may stain your carpet permanently. The faster you clean up the mess, the greater chance you have of making it disappear. Once it settles in, it may be there for life.
Fortunately, manufacturers of nylon carpet apply a variety of protectors to make the fibers more stain-resistant and able to fight off tough dirt and grime. Depending on the carpet, you may have to apply additional protectors over time.
Polyester carpet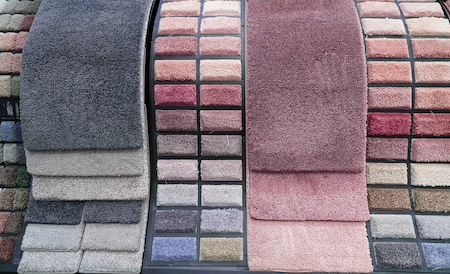 Currently, polyester carpet makes up about 25 percent of the carpet market. It's come a long way since it was first introduced into the marketplace.
While polyester is considered to be slightly less durable than nylon, it's come a long way since being introduced. Depending on the situation, polyester can be a good choice for your home.
Traditionally, polyester was the softest choice to the touch. If you want a luxurious feel, you can't beat polyester. Nylon has made some catchup in this department, but go with polyester if softness is your focus.
Polyester is also considered to be more environmentally friendly. But there's a caveat to that.
Polyester is made from corn, or from recycled materials such as plastic bottles. That makes it seem like polyester is the logical choice if you care about the environment. But to be truly eco-friendly, you also have to consider lifespan. And nylon is easier recycled at the end of life than its counterpart polyester. The choice is yours; you can speak to a flooring representative to learn more about each product before you buy.
Maybe one of the greatest reasons homeowners lean towards polyester is the cost. In most cases, you'll find your biggest bargains in polyester carpet. If you're looking to upgrade a room for a short time frame – maybe for selling your home – polyester may be the way to go. If you're upgrading a rental, polyester can make a fantastic choice.
Polyester carpet is typically dyed to create different colors and patterns. Polyester uses a solution dyeing method that is quite stain-resistant. Polyester fibers are also hydrophobic, meaning it'll be good at repelling liquid as well. Like nylon, polyester is further treated with stain resisting protectors, making it suitable for a variety of commercial applications.
Still confused on which makes the better choice for your situation? Let's look at the pros and cons in a straightforward way.
Nylon carpet
Pros:
It's perfectly suited for high traffic areas
It has high stain resistant qualities
It's easy to clean
It's pet friendly
It's easy to maintain
It fights mildew and mold
It fights allergic reactions
Cons:
It's the most expensive synthetic carpet on the market
It will produce static electricity
It's not as soft as other carpets
Polyester carpet
Pros:
It's one of the most economical fibers on the market
It has low static electricity
It's considered more eco-friendly than other options
It has a soft, luxurious texture
It absorbs less water
It's resistant to biological growth
It's pet friendly
Cons:
It's not as stain-resistant to oily spills
It's sensitive to direct sunlight, and will fade over time
What's the best choice for you?
Ultimately, flooring is all about giving you a base that best suits your needs.
Both nylon and polyester are synthetic fibers that make good additions to your home or commercial setting. If you're looking for inexpensive flooring, either will suit your needs just fine.
Thinking of adding carpet to your basement? Both can be a good choice, thanks to the fact that both are resistant to water. However, if you do place carpet in the basement, spend time considering moisture barrier padding too. Talk to a flooring representative for more information.
Both nylon and polyester carpet can make a great addition to your home. It's about choosing the right product to suit your needs.
What other questions do you have about choosing carpet for your home?