The past several years have found more homeowners at home for work and play. As they settle in and spend more time indoors, they've discovered they need more functionality in their space. Home remodels have continued to grow at 3 percent per year, with expected growth to continue at that rate for the next few years.
Are you planning a home remodel? While it's fun to look at paint swatches and shop for decor, it's the flooring that will set the stage for your overall design, and determine how well you enjoy your new space.
Flooring is one of the most important selections for any remodel.
What's trending in new flooring? What are the top flooring choices people are selecting? Read on for just a few of our favorites.
Hardwood Flooring
Hardwood floors are a timeless and classic choice for a remodel. They add warmth and character to a space, and can complement a wide range of decor styles. Additionally, hardwood floors are durable and long-lasting, and can be refinished multiple times over the course of their lifetime, allowing them to retain their beauty and value. They are also easy to clean and maintain, making them a practical choice for busy households.
One of the biggest advantages of hardwood floors is their versatility. They come in a wide range of colors, styles, and finishes, so you can choose the perfect look for your space. From light and airy to dark and dramatic, there's a hardwood floor option to suit every aesthetic. You can also mix and match different wood species and finishes to create a unique and personalized look.
Another reason to choose hardwood floors is their health benefits. Hardwood floors don't trap dust, allergens, and other pollutants, making them a great option for people with allergies or respiratory conditions. They are also hypoallergenic, making them a safe choice for families with young children or pets.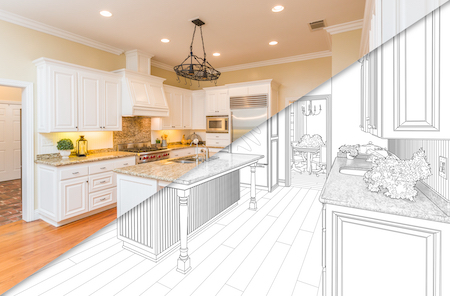 Hardwood floors are also a wise investment. They add value to your home and can increase its resale value. They are also more durable than many other types of flooring, so you won't have to replace them as often, which can save you money in the long run.
Tile Flooring
Tile floors are a great choice for a remodel because they are durable, easy to clean, and come in a wide variety of styles and colors to suit any design aesthetic. Tile is resistant to wear and tear, making it a long-lasting flooring option that can withstand heavy foot traffic. It is also water-resistant, which makes it an ideal choice for kitchens and bathrooms.
In terms of maintenance, tile floors are easy to clean and require minimal effort to keep them looking like new. They can be swept, mopped, or vacuumed regularly to remove dirt and grime, and spills can be easily wiped up without causing any damage.
In terms of design, tile floors offer a wide range of options to choose from. There are countless styles, colors, and patterns available to suit any design aesthetic, from traditional to modern. Tile can also be arranged in a variety of patterns, such as herringbone or diagonal, to create a unique and eye-catching look.
Additionally, tile floors are relatively easy to install, making them a cost-effective option for a remodel. They can be installed by a professional or DIY enthusiast, and the installation process is generally quick and straightforward.
Luxury Vinyl Tile Flooring
Luxury vinyl tile (LVT) floors are an excellent choice for a remodel because they offer the elegance and sophistication of natural stone or wood flooring at a fraction of the cost. They are also more durable and easier to maintain than their natural counterparts, making them a great option for busy households.
LVT floors are made from a combination of polyvinyl chloride (PVC) and a high-density fiberboard core, which makes them resistant to scratches, dents, and stains. They also have a protective top layer that makes them water-resistant, so they are ideal for use in bathrooms, kitchens, and other areas where moisture is a concern.
Another benefit of LVT floors is that they are easy to install. They can be floated over most existing flooring surfaces, so there is no need to remove old flooring or deal with the mess and expense of tear-out and disposal. This makes them a cost-effective and time-efficient option for a remodel.
LVT floors offer a wide range of styles and colors to choose from, so you can easily find a look that fits your personal style and décor. They are also available in a variety of textures, including wood and stone, so you can achieve the look of a high-end floor without the high-end price tag.
Carpet Flooring
Carpet floors can make a great choice for a remodel for a variety of reasons.
First, carpet is soft and comfortable underfoot, making it a great option for bedrooms and living areas where you want to create a cozy and inviting space.
Second, carpet is available in a wide range of colors, textures, and styles, so you can easily find a carpet that matches your personal aesthetic and complements the rest of your home decor.
Third, carpet is relatively inexpensive compared to other flooring options, making it a cost-effective choice for homeowners on a budget.
Additionally, carpet can help to improve the acoustics of a room by absorbing sound and reducing echoes. This can be particularly useful in media rooms or open-concept spaces where sounds can bounce off the walls and create a noisy environment. Carpet can also help to insulate a room and keep it warm, which can be beneficial in colder climates or during the winter months.
Carpet is also easy to maintain and clean. Regular vacuuming can help to remove dirt, dust, and other debris, and most carpet is resistant to stains and spills. If a stain does occur, it can often be removed when acted upon quickly, or by hiring a professional carpet cleaning service.
What's your flooring choice for your remodel? 
While there isn't a right or wrong flooring choice for your remodeling project, it is wise to solidify your decision before selecting other materials. Your flooring should set the stage for all of the other furnishings you'll be installing.
But with so many choices to select from, it should be easy to find the suitable material perfect for your lifestyle.