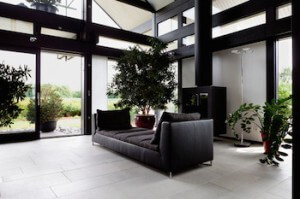 Natural stone is one of the most stylish and fashionable materials you can use for your flooring. You can use it inside and out. You can use it in any room in your home.
But there are a few things you should know before you make your final selection.
There are four types of natural stone that are popular choices homeowners select regularly; are one of these right for you? Below you will find more details about each variety of stone including where they perform best and where they may need additional consideration. With this knowledge, you will be able to decide on the perfect stone that matches your needs.
Stone Flooring Features, Benefits, and Disadvantages
Marble: natural beauty with limits
Marble is formed when limestone crystallizes as a result of high pressure and high temperatures while underground. As it crystallizes, it becomes harder and denser. This hardness allows it to be smoothed and polished during processing. Like all natural stones, marble must have a protective sealant applied before use, and must be maintained and reapplied regularly for full protection. Marble is susceptible to staining, so its important to clean up spills immediately to avoid potential damage. Everyday substances that contain acid – alcohol, fruit juices, vinegar, tomato products, mustard, salad dressing, tea, coffee, cosmetics – all can stain or damage the area is left sitting for any length of time.
Pros: Beautiful colors and patterns, because its natural, no two tiles are ever the same.
Cons: Prone to staining, will show wear quickly from acid based products.
Granite: tough but heavy
Granite is one of the hardest natural stones, which is why its used frequently in kitchens. Granite is formed from cooling magma underground. Because the cooling process is very slow, granite builds both strength and hardness as it goes through the process. Its made up of a variety of minerals, including quartz and feldspar, which give it its granular composition and texture. However, its strength is also its weakness. Because granite is very hard and unforgiving, when installing it as flooring, the subflooring must be completely level and have the strength to support its heaviness. If the floor has bumps or even tiny valleys, granite tiles will crack easily.
Pros: Beautiful color, hard surface that takes wear and tear from normal family life.
Cons: One of the heaviest flooring choices, must have support in place.
Slate: resilient but ununiform
Slate is formed deep in the earth as shale, and under the right combination of heat and pressure. Slate tile has a duller and slightly more uneven look than its other natural stone predecessors, which also makes it the tile of choice if slip resistant flooring matters to you. It comes in a variety of colors and patterns, often providing a rustic or modern look and feel. It is more stain resistant than other stone choices, takes water well, and is highly durable. Slate can be cracked if laid on an uneven subfloor, or if a heavy object is dropped on it. Because slate is formed in layers, in rare cases it has been known to flake or peel Its important to treat with a sealant immediately after installation and maintain the sealant on a regular basis.
Pros: Dark, earthy color pallets with a natural, rustic look. Tends to be more resilient than other stone.
Cons: Tiles can be uneven due to the layering quality of the tile.
Travertine: soft stone that feels great but wears more easily
Travertine has a similar makeup as limestone or marble, and is composed of a sedimentary rock, calcite. Travertine has been used for centuries around the world; look to the Colosseum in Rome to see it in use. Travertine is a porous stone with natural holes from formation. In order to protect it, it must be sealed prior to grouting and again after installation for protection. It will soak up liquids and will stain if left untreated. It is also susceptible to stains from acidic foods. Travertine is a softer stone, which means its also more prone to scratching and showing wear and tear.
Pros: Travertine comes in rich, earthy tones. Because it's a softer tile, it will feel soft underfoot.
Cons: It has a tendency to scratch, and will stain if not treated.
Contact PRO! Flooring today to speak to one of our flooring experts and find which natural stone tile will work best for your project.
---
About Pro Flooring Brokers
We are a one stop shop for all of your flooring and installation needs. Located in Denver, CO, we have been family owned and operated for over 30 years! Our passion is your project.
Have a Flooring Project in the Denver Area?
Commercial and residential customers love our huge selection of carpet, hardwood, porcelain tile, natural stone, luxury vinyl tile/planks, laminate flooring, and sheet vinyl flooring. Check out our products to learn more. Visit our showroom, meet our team, and let's start your flooring project together. We offer:
Complimentary on-site measuring
Flooring estimates based on floor plans or blueprints
Installations performed by trained and qualified installers
Full one-year guarantee on all workmanship (in addition to manufacturer's warranty)
Flooring and installation are made easy with the PRO! Flooring Brokers. Contact us, visit our showroom, or call today at 303.788.0113. We look forward to helping you.