It's hard to deny the look and functionality of a tile floor. Tile floors can be a beautiful addition to any room in your home.
But if you've ever had a tile floor, you understand that they aren't a DIY flooring choice.
Traditional tile must be laid into place using mortar across the subfloor. A thin layer of mortar is dragged across the underlayment using a trowel. If done correctly, it leaves a thin layer of mortar for the tile to be securely laid into place. The mortar adheres the tile into place, while filling in any cavities between the subfloor and the tile. When dried and finished, it creates a hard surface area that can last for years.
It may work well, but there's an art form to getting it right. DIYers may try it, but if you get it wrong, you can leave pockets of air, or uneven surface areas that can put the tile at risk for cracking and shifting.
And that means replacing it sooner than you'd like.
That's why floating tile stands out as an improvement over traditional tile.
Floating tile requires no mortar. Instead, tiles are pre-attached to durable rubberized track bases that interlock with one another. This simplifies the installation process as there's no need to ready the subfloor and smooth mortar into place. Once the tiles are interlocked, it creates a uniform grout line across the entire floor.
These tiles are referred to as floating tiles because they do not attach to the subfloor. They "float" over the subfloor and create a smooth flooring that looks and functions well when installed correctly.
When traditional tile is laid into place, the installer must space the tile evenly, following up with grout lines to further hold the tile in place. Cross-shaped tile spacers can help an installer create properly sized seams. These spacers are later removed as the grout is sealed into place.
With floating tiles, these spacers are already a part of the product, creating the plastic trays used to snap the tiles together and into place. The teeth snap together to create a perfect spacing between each tile.
Think floating tile may be the perfect choice for your home?
Pros and cons of floating tile floors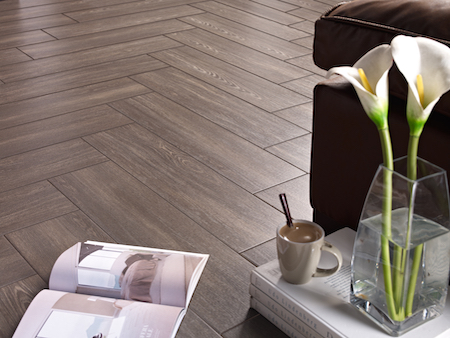 Like every type of flooring, there has been advancement in the industry to create the product line you'll find in the market today. When floating tile was first introduced, many products cracked easily and separated from the bases to leave a disaster wherever it was installed. Manufacturers took what they learned, when back to the drawing board, and created a product that functions well today.
Pros
You won't have to mix and use mortar – one of the most difficult things about laying tile.
You'll have perfectly even spacing between tiles – the grout lines will be an asset to the flooring.
Floating tile can be laid into place over a variety of subfloors, including concrete or existing products like vinyl or linoleum. As long as the floor is level, floating tile can be forgiving.
You'll never have a tripping hazard. If tile laid in the traditional manner isn't put into place properly, the top edges may not always be level. The click and lock technology assures tiles are always level.
Cons
Because floating tile is a small subsection of the tile market, you won't find the color or pattern choices in abundance like traditional tile. If you have a specific design in mind, you might not be able to create it using floating tiles.
Installation does require cutting the plastic backer when you fit the floating tile into place. It's important to have the right tools for the job before starting.
Floating tile uses a standard grout seam. You won't be able to have wider or thinner seams.
Floating tile is more expensive than many traditional tile choices.
Is floating tile installation for you?
What gives floating tile its edge over other products comes from its ease of installation. Some studies say floating tile can be installed as much as 75 percent faster than traditional tile.
The key to a successful installation process is ensuring your subfloor is in great shape. Floating tile hovers above the subfloor, but if the subfloor isn't even, has bumps or imperfections, it can impact the wearability of your floor over time.
If you're using floating tile as a DIY project, ensure you understand the job before beginning.
Be sure to remove molding before installing so you can create a finished look once the tiles are installed.
Establish your laying pattern before you begin. You can use a chalk line snapped to the center of the room as your starting line, or start with the longest wall away from the door. Be aware of where you'll need to make cuts to the tile, and how it will look when completed.
Have the proper tools on hand. You will need to cut tiles to fit them into place. Don't attempt it with the wrong saw.
Follow manufacturer's guidelines and use products they recommend to complete the job.
Seal gaps along the edges with a finishing flooring caulk.
Maintain floating tile according to manufacturer's guidelines
While tile is one of the easiest flooring choices to maintain, it's important to consider the product's guidelines as you establish your weekly routine.
Cleaning spills quickly will always ensure best results. Ensure you do so with a mild floor cleaner designed for your flooring product.
Sweep or vacuum regularly to remove dirt and debris.
Mop when needed using an approved floor cleaner. Don't just pick one up at your favorite big box store, as many of the chemical cleaners on the market today can do more harm than good. Be sure it's gentle and won't stain your floors. Avoid steam mops as they may damage grout lines and seep between tiles.
Is floating tile right for you?
If you would like to explore all of your flooring options, stop by today and see our complete line of floating tile.
Whether you're looking for a DIY project, or want full service, we can help you select the right flooring for your home.