Today's modern salons and spas offer a lot to their customers. Whether it's a retail chain or a privately owned business, a lot of thought goes into the look and feel you present to the outside world. 
Of course, you want it to appear clean and fresh when a customer walks in for the first time. You also need a space that is comfortable for the employees. They'll be on their feet hours each day.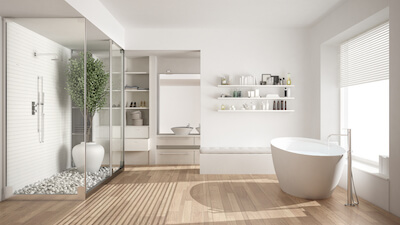 While hardwood creates a beautiful and aesthetically pleasing look, it can be difficult to take care of. Tiles offer endless possibilities, but they are a very hard surface. Standing on them can give employees health problems. And try dropping something on a hard surface; it can cost you big time in replacement costs. 
That's why many salons and spas find luxury vinyl is the best choice. 
And thanks to today's technology, you can find any look and style you desire. 
The biggest reason busy salons and spas choose luxury vinyl is because of the comfort. Stylists spend eight, ten, even twelve hours a day up on their feet. Why not give them the softest materials to balance on throughout their days? Luxury vinyl offers a cushion and is much softer than harder materials like hardwood and tile. 
Because of its softness, it also offers increased safety. Vinyl has natural slip-resistant qualities even in wet conditions. And because it's a high-traffic area, messes aren't always cleaned up as soon as they occur. 
You'll also like the soundproofing qualities vinyl offers. With clients coming and going all day long, you'll never hear the "clop clop" of feet underneath as people scurry back and forth. 
All of this also adds up to a highly durable flooring choice. Wash stations and sinks mean consistent moisture on the floor. Its nonporous surface means creams and gels won't soak in quickly. Even scuffs and scratches can be hidden if you select the right vinyl. (That's where we can help you select the right choice for your business.)
You'll also love its quick installation. It can install over many existing flooring surfaces. It doesn't require as much work ensuring the subfloor is "perfect." That means your business can be up and running – earning a profit on a much quicker basis. 
Plus if you go with tiles or planks, order an extra box or two, and you can easily replace areas without having to replace your entire floor. That can add longevity to your flooring choice, making it more economical over time. 
Have additional questions? We're here to help.