Are you shopping for new flooring? Are you looking for green materials?
Are you confused by some of the terminologies in today's flooring industry?
We get it. We see words like "reclaimed wood", "sustainable wood", even green flooring used in ways that leave us scratching our heads.
When what you want is flooring with a lower carbon footprint, materials that don't harm the earth, and have it look great in your house too, what should you do?
Let's look at the industry as a whole, and what these words mean and how they're used in the marketplace today.
How sustainable flooring became a marketing trend
When homeowners first started installing flooring in their homes, they looked to natural materials to make their floors warmer, more comfortable, and aesthetically pleasing. Over time, manufacturers looked for ways to improve production, get flooring products faster into the marketplace, and materials that were easy to produce and use for consumption.
That pushed a variety of materials out there, not all of them healthy for the environment. Or for people.
As we recognized that, the concept of sustainable living grew.
Sustainable flooring is produced from sustainable materials. It also uses a sustainable life cycle. This includes harvesting, production, use, and disposal.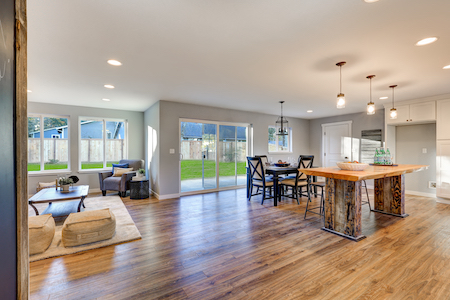 As awareness grew, various organizations stepped in to assure practices were truly sustainable and offered benefits to society as a whole.
The USGBC (US Green Building Council) was established to transform how buildings were designed, constructed, and operated. Their goal is to ensure buildings and communities use environmentally and socially responsible materials that improve the quality of life.
LEED (Leadership in Energy and Environmental Design) is the rating system used by the USGBC during all levels of project production. It utilizes a variety of tools and point-based systems to help every team member throughout the life cycle make wise choices about the materials they use.
BEES (Building for Environmental and Economic Sustainability) software measures the environmental performance of building products at all stages of life. It's a way to help people select cost-effective, environmentally-friendly building products for a project.
The FSC (Forest Stewardship Council) sets standards for responsible forest management. This helps bring lumber to market now while preserving solid, healthy forests for a viable future.
Green Seal is a universal symbol of health and environmental leadership. It's a way of recognizing those companies that use a safer, more sustainable way of delivering products and services to the market.
These are just a few of the many organizations that are doing their part to ensure a healthier world. Pay attention to where your flooring material comes from to learn more about the best practices used by individual manufacturers.
What is sustainable wood?
When you're looking for hardwood flooring, sustainable means wood that comes from sustainable management practices.
It starts with forest management. Is the wood harvested in a healthy way to ensure the forest has sustainability for generations to come? That's where markings from organizations like the FSC can help you recognize the ethical behavior of a particular manufacturer. Going with a reputable source will ensure the company sticks within certain guidelines. In the online world, trusting a "generic" source for cost only could get you less-than-stellar results with questionable business practices.
VOC (volatile organic compounds) are emitted as gasses from certain solids or liquids. They include a variety of chemicals, some of which can be harmful to human health. When flooring materials such as wood are created in unethical manners, they often use the cheapest materials and production processes to get the product to market. This means those harmful chemicals can live in your flooring, releasing gasses inside your home. By paying attention to the manufacturer and what organizations they belong to, you can reduce the potential harmful production methods a company uses to create a product or material.
How is sustainable wood different from reclaimed wood?
Reclaimed wood is also sometimes referred to as antique wood. It's a high-quality wood taken from a variety of resources, ready to be reused. The wood is usually taken from existing structures that are in the process of being demolished or removed. Instead of being disposed of in landfills, the wood is upcycled and reused to create new building materials.
Because the original resource is important, you should also pay attention to where the reclaimed wood comes from. FSC has guidelines on reclaimed wood use too. Reclaimed wood can come from a variety of resources, but many come from old buildings that are beyond repair, primarily barn and rural structures before the 1930s.
Hardwood, in general, can last for decades. Even when not properly cared for, as is the case in old abandoned structures, it still has a sound design that, with a bit of care, can bring it back to life.
Reclaimed wood will almost always have an old, rustic look to it. Because it uses wood taken from places with older production processes, you'll see different characteristics in the wood supply. That can be a welcome addition to many building projects, both commercial and residential.
Reclaimed wood is sustainable. But sustainable will not always be reclaimed.
What's right for you – sustainable or reclaimed wood?
You'll find sustainable wood choices in a variety of flooring options. Thanks to technology, many are easy to work with, easy to install, and make great additions to any building project you may be working on. They provide a smaller carbon footprint than other resources, meaning you'll know you're getting a product that can help you achieve whatever goals you're looking for.
Reclaimed wood has many of the same benefits as sustainable wood. Since the wood is taken from older projects, you can also get character and personality you might not find in other building products. It can truly create a visually appealing look and feel to wherever you install it.
No matter what material you choose – sustainable wood or reclaimed wood – be sure you trust the resource where you buy it. That way, you're ensured to get a high-quality product that will work well in your space for years to come.