As a homeowner, you might spend time dreaming about your perfect kitchen. You see it in vivid color. You have specific details laid out in your mind.
However, once you make plans to remodel and create the kitchen of your dreams, it's an entirely different story. Where do you begin?
One of the most important features of any kitchen is the flooring. With so many kitchen flooring options, starting at the bottom can help you lay the foundation for what you install in the rest of your space. It might not be as exciting as choosing cabinets or decor, but if you select the wrong floors, you'll never be completely happy with your space.
The right kitchen floors have a big effect on the appearance. And, of course, how much time you're going to have to spend in the kitchen cleaning. Kitchens are spaces where people congregate. Whether you're grabbing a snack for the big game, or whipping up a five-course feast, spills are part of the process. That makes your final choice important for aesthetics, strength, and durability.
Do a search online, and you'll find every flooring choice has an array of pros and cons. Here's our list of recommendations on what we see homeowners installing in their own kitchens.
Hardwood
Whether it's living in the Rocky Mountains, or simply built into Coloradan's psyche, homeowners all across the Front Range have requested hardwood throughout their living spaces for years.
That's because hardwood makes a great flooring choice, and has done so for centuries. Hardwood is durable, warm, stylish, and can stand up well to all that goes on in the kitchen. When laying hardwood in the kitchen, be sure to select a flooring product that is sealed and provides ample protection against moisture and spills.
While no hardwood will ever be waterproof, today's manufacturers have made great strides in creating products that do well in a variety of situations. If your family is tough on floors, you might consider engineered hardwood or laminate.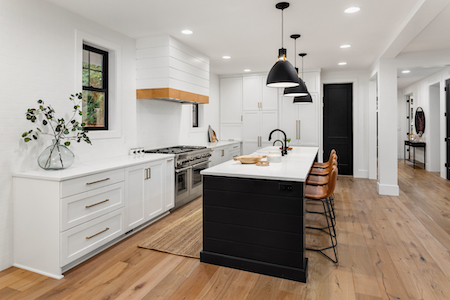 Because hardwood has been popular for so long, you'll find many different design options waiting for you. Current trends lean towards lighter finishes. You'll find hardwood in colors like blonde and honey, as well as whitewash and grays. But if darker wood is still your thing, you'll never be disappointed with deep walnuts and cherry finishes. They are considered classic and timeless, and stand the test of time.
You can also move into different patterns, or select hardwood that's reclaimed, recycled, or has sustainability features. It's driving the industry right now, and you'll easily be able to create any look you're going for.
Porcelain tile
If you spend a lot of time in your kitchen, or you're not sold on the features hardwood brings to the table, porcelain tile may be more suitable for your needs. It's long been a popular choice for kitchen designers because of its resistance to damage and waterproof features.
Unlike ceramic tiles, porcelain tiles are better suited for the needs of a kitchen. They're harder than ceramic tiles, and depending on the sealant, can offer waterproof features to your design.
If you have a color, style, or texture in mind, you'll find it with porcelain tile. Lay large tiles across your surface for a cohesive look. Or piece together intricate designs that showcase your personality.
The kitchen is often a place where friends and family gather. You can give the space added warmth by installing your porcelain tile over radiant heating. No more worrying about where vents and registers will be installed.
While porcelain tiles offer a lot to kitchen design, keep in mind that it's one of the hardest surface areas you can choose. If you're on your feet all day standing at the counter, you may notice it by the end of the day. That hard surface area can also be damaging to your glasses and dishes; they most likely will break if you drop them.
Vinyl
So you love hardwood, but are concerned with its durability. You're not sure if it's the right choice because spilling is second nature. You like the idea of porcelain tile, but you had in mind something warmer. Why not give vinyl a second look?
While you can still install sheet vinyl reminiscent of bygone years, today's vinyl is anything but blase and dull. Often referred to as luxury vinyl tiles or luxury vinyl planks, this product looks so much like the most popular flooring choices on the market, even experts need a second glance. It's designed to look like hardwood, marble, or stone. But it's softer, more durable, and more comfortable than other surface areas.
Plus it's waterproof. Yes, waterproof. Just be sure to mention it to your sales associate that waterproof features are high on your desire list. And if you're trying to match other design features, you'll have an easier time with luxury vinyl. The colors, styles, and patterns are almost unlimited.
Just keep in mind that with any luxury vinyl product, there is a shorter lifespan than both hardwood and porcelain tile. Hardwood can be refinished multiple times. And porcelain tile can withstand decades of use. Not so with luxury vinyl. But for the cost and durability, you'll be impressed with the results for many years to come.
3 great choices … How do you pick which one?
Do you have a kitchen flooring choice in mind? Have you gravitated towards one, convinced it's the right flooring for you? Then it's time to shop.
But if you're still debating between your options, ask yourself what the most important attributes are.
Do you want a long lifespan? Hardwood can be refinished multiple times.
Are you looking for a softer flooring choice? You can't go wrong with luxury vinyl.
Or maybe warmth is important. Radiant heating under porcelain tile can leave your feet warm even on the coldest days.
How big is your budget? Vinyl is at the lower end, while hardwood costs can escalate.
Whatever flooring you choose, learn about maintaining it, and build a maintenance schedule into your normal routine. It'll ensure your flooring looks its best from day one throughout its lifespan.
What's the right kitchen flooring for you?